The Lingnan Pi Jiu
| Alley Kat Brewing Company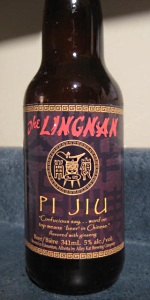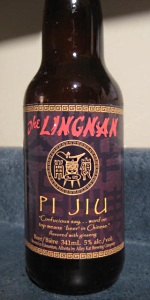 BEER INFO
Brewed by:
Alley Kat Brewing Company
Alberta
,
Canada
alleykatbeer.com
Style:
Herbed / Spiced Beer
Alcohol by volume (ABV):
5.00%
Availability:
Rotating
Notes / Commercial Description:
No notes at this time.
Added by IronDjinn on 07-13-2008
HISTOGRAM
Ratings: 4 | Reviews: 4
Reviews by ChrisCage:
3.78
/5
rDev
+7.1%
look: 2 | smell: 4 | taste: 4 | feel: 3 | overall: 4
So I'm now going to try the original Lingnan house brew...I have much more hope for this one compared to the abomination that Chinese New Beer is....
A- This is a slightly hazy and is a true golden color. There isn't much of a head at all, and even what there is doesn't retain well...leaving only a thin ring around the glass. The carbonation appears mellow and slowly rises to the top. As for lacing, well, this looks to be a watered down a fair bit, as the bit of foam available runs down the side of my glass rather quickly. Not a great looking beer.
S- This is an oddly unique, but good smelling beer. There is quite a bit of sweetness involved here....I pick up wildflower honey and malt. Then there is a spiciness, albeit mellow, lurking in the background....hints of mineral, and various herbal notes. There is also some deeper Earth like qualities that just make this a nicely aromatic beer.
T- Again, this has sweet flavors right upfront...they are mellow, but the flavor of delicate honey and toasted malt are noted, then give way to mineral character that dries the palate out, especially on the aftertaste. There are some herbal notes...probably the ginseng used in the recipe. There is some shallow bitter notes on the finish as well. Overall, a softly flavored, yet delicious beer!
M- Thin bodied, and the carbonation is slightly deceiving...as this beer scrubs the palate rather clean! The subtlety of the flavors really do come out well and I really get the point of this beer....light and slightly exotic! While I don't think this area is anything special, it is exactly what it should be
O- I can see why this was the house beer in a Chinese restaurant, and I feel would really work well with Asian cuisine. I don't understand why this was replaced though....I'd gladly drink this all evening...with or without food. Aside from the underwhelming looks, this beer delivers!
1,896 characters
More User Reviews:
3.33
/5
rDev
-5.7%
look: 3.5 | smell: 3 | taste: 3.5 | feel: 3 | overall: 3.5
341ml bottle. The best (downtown, at least) Chinese restaurant in Edmonton, for we of the pale Caucasian persuasion.
This beer pours a glassy pale golden hue, with three fingers of effervescence-prone, thinly puffy white head, which leaves some broadly webbed lace around the glass as after it settles in for a spell, before quickly melting away.
The aroma manifests in a saltine cracker maltiness, kind of pungent savoury earthy spiciness, and a bit of earthy, leafy hops. The taste is crisp pale, grainy malt, ginseng spice with an attendant (in my associative mind, at least) coriander and ginger edginess, with tame earthy, weedy, somewhat wood-tinged hops.
The carbonation is rather peppy, and a tad frothy, but not really a bother, the body medium-light in weight, and generally smooth, once the initial bubbles settle down. It finishes off-dry, the muddled stir-fry spice picking, picking away at the waning grainy malt.
I had this before, during, and after a nice tasty sauce-laden take-out meal from the Lingnan, and it was a decent palate cleanser, light and balanced enough to cut through the deceiving weight of the meal, and to aid in savouring the lingering effects all the same.
1,199 characters
3.27
/5
rDev
-7.4%
look: 3 | smell: 3.5 | taste: 3.5 | feel: 2.5 | overall: 3
I'm a Calgary resident that makes a stop into Sherbrooke whenever I head north, and this was in 6ers at my most recent stop, so I suppose this has made a comeback from retirement
A - clear bubbly golden, short white head dissipated to thin random islands, pretty average looker
S - very pilsnery with grassy hops an raw grain, then a bit of the unique herbal aroma arises
T - leafy hops with a metallic note that gives way to a unique herbal spicy note, grainy malt with metallic twinge
M - light body with a bit of a spicy tingle, but its mostly watery
O - I always appreciate the chances that alley kat & sheerbooke take on new idea and the fact that they give home brewers a way to contribute, this is generally easy drinking but it is just a little too pedestrian compared to what I've come to expect, not a bad beer but nothing to get excited about either
860 characters

3.75
/5
rDev
+6.2%
look: 3.5 | smell: 3.5 | taste: 4 | feel: 3 | overall: 4
It's my understanding that this was initially contract brewed with Alley Kat by the Lingnan Chinese restaurant, but also licensed with the Sherbrooke Liquor Store to sell as one of their limited edition in-store 6 packs as well. Therefore only available at the Lingnan restaurant (which is one of Edmonton's oldest and best Chinese restaurants, also recently featured on a program on The Food Network, which I haven't seen yet), and the Sherbrooke Liquor Store.
Purple and gold label, has the Lingnan Restaurant's Chinese character logo on it (which I'm assuming says Lingnan Reastaurant). Underneath the name of the beer is a little blurb: "Confucious say...word on top means 'beer' in Chinese." Zing! Jim strikes again. I think the base beer is something akin to the Charlie Flint's lager, but I may be mistaken....
Pours out with two fingers of white head that recedes to a thin cap. Golden amber in appearance.
Aroma is quirky, but in a positive manner. It's sweet, spicy and earthy at the same time, but layered. I'm picking up chili peppers in the mix.
It tastes like food...seriously. Um, beer is food, right? I'm picking up not only ginseng in the mix, but hot pepper, ginger, cumin and other spices, which are blended and balanced well. Base malt is biscuity, but simply described, the spices are also sweet, zesty, hot and earthy/woody all at the same time. It's most curious, tastes just like Chinese herbs and seasonings. This beer is playing headgames with me.
Mouthfeel is average, almost a bit flat, the carbonation is more prickly than smooth.
Still, this is one of the most curious and flavourful beers I've tried in a while, is fine on its own, but pairs incredibly with real Chinese cuisine very well (or even the greasy deep-fried Western take-out stuff), does nothing but compliment it. I have nothing else to compare it to, one of the best herbed/spiced beers I've ever tried. Alley Kay spun the wheel, experimented, and succeeded greatly with this one.
1,994 characters
The Lingnan Pi Jiu from Alley Kat Brewing Company
Beer rating:
3.53
out of
5
with
4
ratings