Dismiss Notice
Extreme Beer Fest:Los Angeles
Join us December 9th in Los Angeles for the ultimate throwdown of craft beer creativity!
Learn more...
Dismiss Notice
HeatSeeker Coconut Curry Porter
| Alley Kat Brewing Company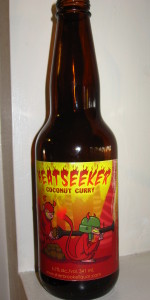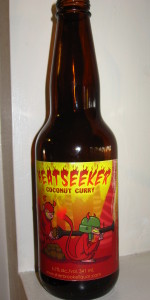 BEER INFO
Brewed by:
Alley Kat Brewing Company
Alberta
,
Canada
alleykatbeer.com
Style:
Herbed / Spiced Beer
Alcohol by volume (ABV):
6.10%
Availability:
Rotating
Notes / Commercial Description:
No notes at this time.
Added by prosper on 09-30-2008
HISTOGRAM
Ratings: 13 | Reviews: 10
Reviews by IronDjinn:

3.53
/5
rDev
-3.3%
look: 4 | smell: 3.5 | taste: 3.5 | feel: 3.5 | overall: 3.5
You know, I consider myself a pretty daring homebrewer in my own right, but never in my life would I ever have come up with an idea such as this. So I must give credit up front for the concept and the cajones to follow through. I think I heard at some point that this was to be Sherbrooke's anniversary release, the winner of a local homebrew competition having their recipe produced by Alley Kat in conjunction.
Pours out a deep, deep transluscent mahogany nut brown, tight tan head with good retention that slowly settles.
The sweetness of caramel malt and rich coconut are duking it out for supremacy in the aroma, low rumblings of savoury spice deep in the background. Smells like a Thai curry off the hop rather than an Indian curry.
Sweet creamy coconut milkiness up front in the flavour, caramel malt following shortly after, mild spice in the middle. Grassy malt finished along with more mild spice, dry nut in the aftertaste. It's the coconut that lingers on well afterwards however.
Light body, a bit of carbonation, a bit milky on the finish.
A success, really, as far as bringing into fruition the formerly inconceivable, and also making it a decent and drinkable offering. I'm totally pairing this stuff in my head with Asian noodle dishes, would compliment them quite well. Definitely something to try, at least once.
1,336 characters
More User Reviews:
3.48
/5
rDev
-4.7%
look: 4 | smell: 3.5 | taste: 3.5 | feel: 4 | overall: 3
341ml bottle, with an amusing nonsensical label, although if there's any meaning in the use of the demonic monkeys, it's beyond me, although I do now have the urge to hear some of the Gorillaz' latest album. And glad to know that this is '100% monkey poo free"!
This beer pours a somewhat hazy, dark copper brown hue, with a healthy dose of puffy, loosely foam, beige head, which fades away at a fairly hasty, steady pace, leaving some random streaks of arched lace around the glass.
I really can't seem to pin down the smell - it's herbal, kind of like cloves, with a nutty coconut fleshiness, combined with a swirling, threateningly spicy curry essence. Am I really smelling this? I suppose it should be like a Thai curry, of which I'm quite fond, but instead I'm getting a stronger Indian restaurant association here. Whatever it is, it's different, and actually kind of interesting. The taste starts with the same confusing juxtaposition of sweet, nutty coconut and sassy, muddled Asian curry, but evolves to show a hint of the isolated spice inherent in the name, with a sturdy caramel malt backbone, and any poor hops lost in the fray.
The carbonation is a bit peppy, but nothing beyond a trilling hum, with a medium-weight body, all of which makes for a decently smooth mouthfeel. The guest ingredients' marriage of flavours stay with you on the way down, and for a bit afterwards, where the gritty nuttiness became more intense. No real sign of the elevated ABV.
I guess I can appreciate this for its uniqueness, but as it warms the alcohol arrives, turning the whole affair kind of medicinal in bearing. So the lesson here is - drink this one cold, and try to grok the flavours quickly, or else this may fall prey to one and done syndrome.
1,752 characters
3.61
/5
rDev
-1.1%
look: 3.5 | smell: 3.75 | taste: 3.75 | feel: 3.5 | overall: 3.25
Pours a muddy black with quick dissipating head.
Spice in the aroma. Taste is curry and salt, coconut not to bad. A little chocolate. A few mouthfuls in fine, its a novelty beer.Not so hot a curry, closer to a mild version.
Average mouthfeel. Bottle from Presario.
265 characters
3.27
/5
rDev
-10.4%
look: 3 | smell: 3.5 | taste: 3.5 | feel: 2.5 | overall: 3
I love beer and I love Thai curry, but I gotta admit I'm a little scared going into this...
A - nearly impenetrable black, short head quickly dissipated to nothing, but I suspect the chili has a lot to do with this so I'll be somewhat forgiving
S - some definite spicy chili tickle, a bit of a sour fruit or milky odour similar to several japanese beers, don't quite know what to make of this yet
T - there is a relatively mild but noticeable vegetable flavour with very mild sweet heat, rich coconut milk flavour seeps through, strong roasty and nutty malt backbone
M - medium body, a little on the flat side, just a touch of heat tingle
O - big big big props as usual for thinking outside the universe, its more beer than curry which is a good thing, although I was hoping for a little more of a kick, not something I would buy regularly but a must try regardless of the ratings
880 characters
3.95
/5
rDev
+8.2%
look: 4 | smell: 4 | taste: 4 | feel: 4.5 | overall: 3.5
Dark ruddy brown with a finger of thick, foamy tan head. Good retention, the head sticks around until the glass is nearly finished.
Creamy light coconut smell with plenty of subtle spicing. Pretty appealing.
Tastes like a rich amber with a creaminess added to it. Coconut may only be apparent because it is mentioned on the bottle, but I seem to note it throughout. Finish is spiced, definitely a blend of spices. Do I taste ginger? Cardamon?
The body is smooth and creamy, almost like a nitro beer without needing a widget.
I won't drink several of these at once, but every one that I've had has been pleasant on its own.
626 characters
3.95
/5
rDev
+8.2%
look: 4 | smell: 4 | taste: 4 | feel: 3.5 | overall: 4
Bottle: Poured a medium clear black color ale with a large soft brown color ale with good retention and some lacing. Aroma is a weird mix between some coconut, light curry and some roasted malt. Taste is dominated by a well balance mix between some curry spices mix some coconut and some roasted malt - tis mix should not technically work but surprisingly generate some great results. Body is a bit with good carbonation and no alcohol was detectable. I am not sure I would try this one on a regular basis but a very interesting experiment that I would like to have again.
572 characters

3.64
/5
rDev
-0.3%
look: 3.5 | smell: 3.75 | taste: 3.75 | feel: 3.25 | overall: 3.5
Bottle that I got on my last trip to Edmonton and Sherbrooke Liquor.
Pours a deep reddish black color, tan head fades quickly.
Some curry/pepper/spices in the aroma, Coconut smells as well.
Taste has a nice blend of curry and coconut. Not a very strong curry flavor, but subtle is good in this instance, just a touch of peppery heat in the back of your throat.
Average mouthfeel, carbonation appropriate.
A uniquely flavored beer that works well
445 characters
3.82
/5
rDev
+4.7%
look: 3 | smell: 3.5 | taste: 4 | feel: 4 | overall: 4
Huge props to joemcgrath27 for the cross-Canada beer trade... Pumped to try out this anomaly!
A - Pours a nice dark amber colour, finger of head with little retention and no lacing.
S - Mild off the top, but the scent became more prominent as I got through the glass. The scents are subtle but complex, caramel, leafy hops, buttered bread and the spiced curry notes all come through.
T - Unique amber caramel notes paired with the fresh curry spices. A hint of heat from the curry emerges, and the aftertaste is reminiscent of finishing a meal of indian food. Bready buttered caramel, hint of pumpkin style spice, and loads of curry. I do struggle to detect the coconut though.
M - Medium bodied, surprisingly smooth and tangy with a touch of heat.
O - Given the concept, these guys managed to capture the idea and made it into a surprisingly drinkable beer. I didn't know what to expect, but was pleasantly surprised and I think this beer would serve as a fantastic pairing beer for many ethnic meals. Well done!
1,018 characters
3.41
/5
rDev
-6.6%
look: 5 | smell: 4 | taste: 3 | feel: 3.5 | overall: 3
One-time brewing by Alley Kat for the Sherbrooke Liquor store. Apparently this recipe was the winner of some home brewing competition or other.
Pours a very dark brown/amber. Leaves a good amount of creamy tan-colored head of fine bubbles, and some lacing on the way down.
Smells good. Malty grassy smells, backed up by a grapefruit/pine hops. There's no coconut or spice that I can detect in the aroma.
Taste is.... interesting. Malt and hops are initially present, quickly fading to a thai coconut curry zing on the way down. Everything fades to a harsh bitterness paired with a strange cloying sweetness in the end; if not for this I'd score it higher on the flavor category.
Mouthfeel is thick and almost syrupy.
For such an odd beer flavor pairing, the end result is quite drinkable.
804 characters
3.85
/5
rDev
+5.5%
look: 3.5 | smell: 3.5 | taste: 4 | feel: 4 | overall: 4
A coconut curry flavoured beer shouldn't work, but somehow this one does. Thanks to Voonder (Alex) for sending me one of the most unique brews I've come across!
Its with a mix of excitement and trepidation that I pour this beer, but it actually starts very promisingly. My tulip is soon full with a dark ruby liquid and a sticky off-white head. Good lace and retention. A sweet coconut aroma wafts upwards and mixes with lime, and while its not the traditional nose for a beer, I do find it to be very tempting and it appeals to certain flavours I adore.
Talking of which...the flavour reminds me of a very mildly spiced Thai green curry, with the coconut providing a strong jump-off point for fresh coriander and lime. I'm guessing that in the brewing process the curry flavours have mutated into the latter two, and I'm kinda glad because lime and coriander is just fine in a beer, but curry leaves? The aftertaste is lingering coconut sweetness and creaminess. As I would hope, the body is smooth with restrained carbonation that suits the beer well.
This is a weird drink, but ultimately one I really liked. The flavours worked really well together, and it was nicely executed. It deserves to be more than just a novelty.
1,228 characters
HeatSeeker Coconut Curry Porter from Alley Kat Brewing Company
Beer rating:
3.65
out of
5
with
13
ratings