Sherbrooke Aaiieeeeeeeeee Caramba! - Serrano Pepper
| Alley Kat Brewing Company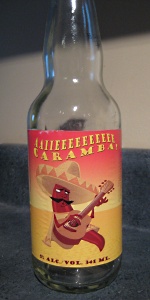 BEER INFO
Brewed by:
Alley Kat Brewing Company
Alberta
,
Canada
alleykatbeer.com
Style:
Chile Beer
Alcohol by volume (ABV):
5.00%
Availability:
Limited (brewed once)
Notes / Commercial Description:
No notes at this time.
Added by IronDjinn on 11-08-2008
This beer is retired; no longer brewed.
Ratings: 6 | Reviews: 6
Reviews by IronDjinn:

3.3
/5
rDev
+8.2%
look: 3.5 | smell: 3.5 | taste: 3 | feel: 3.5 | overall: 3.5
As far as I understand, this is a small experiment between the Sherbrooke Liquor Store and Alley Kat, brewed in small batches, with a different chili pepper added each new batch, making them all extra special limited editions. I think the base is also Alley Kat`s Charlie
Flint`s Lager. On the side of the label under the ingredients it says And now for the weather report: Chili today, hot tamale.
Comes in a clear 341 bottle, as to display the chili pepper floating at the top of it (which may be a good sign, as the nefarious Crazy Ed`s Cave Creek chili beer always had a chili floating at the bottom, and that stuff was scary...). The beer immediately starts to froth and foam as soon as I pop the cap off of it. Massive head on the pour into the glass, but it settles soon enough, I let the pepper fall into the glass. This time around is a long green serrano chili--I had to ask as I would have mistaken it for a jalapeno, I`m not very chili pepper suave, I`ll admit up front. The beer itself is a clear unassuming light golden hue.
The nose has a bit of kick to it, heat from the chili, as well as some roasted vegetable aroma. Not bad, it`s not very off-putting at this point.
Moderate heat from the chili, this bottle is about 3 weeks old at this point, fresh but enough time to start stewing in its own juices. Malty bready lager encasing a warm, medium spicy green veggie character from the chili. The heat carries well and long into the aftertaste, you`ll be walking around with this lingering on your palate and throat for quite a while. Not unpleasant and not overwhelming, this one would actually make a decent intro into chili beers for the uninitiated, or help others overcome their previous traumas with horrendous chili beers.
Mouthfeel is medium-bodied, smooth, and seemingly unnaffected by any secretions from the chili pepper that had been floating in it.
Once again, probably the best actual chili beer (as in with a pepper floating in it) that I`ve yet to try. This would also pair great with a plate of nachos piled high and garnished up to the tits.
Disclaimer: I didn`t actually eat the chili when I finished drinking it all. My old drinking buddy would have though....
2,202 characters
More User Reviews:
3.8
/5
rDev
+24.6%
look: 4 | smell: 4 | taste: 4 | feel: 4 | overall: 3
Wow, the chili jammed into this bottle has to be at least 4 inches long. Let's see what a few more months of chili infusion has produced...
This beer pours a crystal clear medium golden colour, with copious amounts of thin, puffy white head, which leave a bit of lace as it drops away. It smells, well, it smells like Kung Pao. Since Serrano peppers are what I use to make Kung Pao, that's what this smells like to me. That slightly smoky, resinous, oily, earthy, nose-crinkling, hot peppery goodness that is this pepper. Beyond that, I'm not getting anything else. The taste at least has a nice light grain maltiness at first, before being overtaken by the oily heat of the pepper essence infused in this beer. While it seems initially that this will ruin the beer, it's actually quite moderate, but that may just be many years of Serrano pepper consumption talking here. The carbonation is on the low side, the body is solid for the base lager, and it finishes with a sweet mild capsicum burn.
While I admit freely that this is a biased review, that just means that it comes down to this: if you like the Serrano pepper, then this decent lager, overrun with it, will appeal to you. Otherwise, not so much. I really don't know how else to define a 'Chile (sic) Beer'. Geez, now I'm craving a glass of chocolate milk!
Note: I had pint of this later in the same day at the local Cajun diner, after the waitress assured me that the Alley Kat 'Chili Beer' tap was connected to a keg that was 'full of' jalapeño peppers. Good enough for me. On tap, and probably much fresher than the bottle I had, the Serrano pepper's heat hadn't leached out much yet. Still a good, slightly tangy pint of decent lager, and really nice to see available by the glass.
1,750 characters
3.42
/5
rDev
+12.1%
look: 3 | smell: 3.5 | taste: 3.5 | feel: 3 | overall: 3.5
from notes...
A - Clear bubbly straw golden, small white head, and one hot looking chili pepper
S - Smoky, spicy, nutty, and bready, interesting
T - light smoked pepper, bready, but it mostly tastes like grilled asparagus, different but flavourful
M - Light and thin, somewhat bready, but nothing memorable here
O - It mildy spicy and sweet, the grilled asparagus flavour is different and tasty, worth a try (note that I ate the chili and it was super hot)
457 characters
1
/5
rDev
-67.2%
look: 1 | smell: 1 | taste: 1 | feel: 1 | overall: 1
Bottle: Poured a bright golden color ale with a medium foamy head with good retention and no lacing. Aroma of spicy peppers is dominating. Taste is also dominated by some spicy pepper and is plainly undrinkable. Body is average with average carbonation, alcohol could be apparent but this is so spicy that I can't taste anything else. I am not much of a fan of spicy meal so this didn't do it for me.
400 characters
3.37
/5
rDev
+10.5%
look: 3 | smell: 3.5 | taste: 3.5 | feel: 3.5 | overall: 3
Cheers to joemcgrath27 for the hook up on this one... Apparently they used a new chili every time, but I didn't write down which one this was, but it's from the 2011 run.
A - Pours a pale straw colour, finger of head with little retention, some sporadic lacing and a floating chili pepper.
S - Freshly diced chili's, touch of bread and green vegetables.
T - The chili pepper burns your throat and lights your mouth on fire. Touch of breaded malt does sneak through ,but this is intense stuff. Green veggies and peas linger on the palette. Very odd.
M - Nothing wrong in this department, medium bodied, though it is a bit hot going down.
O - Certainly a memorable experience and the first time I've ever had sweat on my nose from drinking beer. The taste was unique and the burning sensation intense. Worth blowing your brains out with it at least once, but I`m not certain I'd take down any more than that!
911 characters
3.4
/5
rDev
+11.5%
look: 3.5 | smell: 3.5 | taste: 3 | feel: 3.5 | overall: 4
So I'm pretty sure this is the Serrano chili. Its gamely floating in the neck of my clear bottle, and its not hiding anything. A light green in a sea of gold. It enters the glass like an Olympic diver and then bobs to the top, where its long stalk gamely tries to hold on to the lip of the glass, before being swatted down. What head appears does so quickly and violently, before dying in an instant. The beer looks identical to its bottled form, but now in a vessel that allows its vegetal chile aromas to escape and dominate the nose at the expense of all else.
This is no heat bomb. I don't know how long my pepper friend has wallowed in his golden bath, but the heat died long ago, if it was ever present. What is left behind is a stunning chili flavour, but without the burn. Remarkably for this style of beer, the underlying base is also apparent - generic pale malts with a hint of diacetyl. Spritzy carbonation is short-lived in the mouth and the light body goes down easily. Yeah... I'd actually say this was drinkable, which surprises me. I had expected to bravely suffer through a few sips before acquainting this beer with my drain, but its no problem to pack this away. A greater question, though, is would I really want to? Sure, its a drinkable chili beer, but its not a great beer compared to the broad range available. The whole style is a novelty - this one's approachable, but it won't set your world (or tongue) on fire.
1,441 characters
Sherbrooke Aaiieeeeeeeeee Caramba! - Serrano Pepper from Alley Kat Brewing Company
3.05
out of
5
based on
6
ratings.