Fireside Mild
| Alley Kat Brewing Company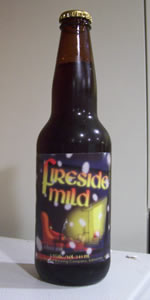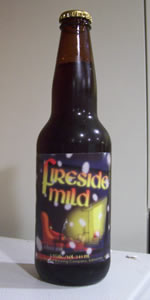 BEER INFO
Brewed by:
Alley Kat Brewing Company
Alberta
,
Canada
alleykatbeer.com
Style:
English Dark Mild Ale
Alcohol by volume (ABV):
3.50%
Availability:
Limited (brewed once)
Notes / Commercial Description:
No notes at this time.
Added by prosper on 01-09-2009
This beer is retired; no longer brewed.
HISTOGRAM
Ratings: 6 | Reviews: 6
Reviews by IronDjinn:

3.63
/5
rDev
+8%
look: 4 | smell: 3.5 | taste: 3.5 | feel: 3.5 | overall: 4
The latest seasonal from Alley Kat, toning things down a bit from all the bombastic creations they've been doing with the Sherbrooke Liquor Store, with an English Mild.
Pours out a rich transluscent chestnut brown with a creamy cinnamon-hued head that settles slowly to a frothy cap, along with intermittent lacing.
Contained aroma of chocolate wafer and roasted nuts, toasted malt and mild grassy hops.
A bit bland at first in the flavour, it picks up a distinct nut husk character in the middle, and finishes off with warm toasted malts and a slip of green grassy hops, the nutty character being what lingers longest into the aftertaste, along with a sharp spicy hop bite that pops out of nowhere. I can't fault this beer, there are no off flavours whatsoever and it lives up to the style, although a little more ambitious than most Milds in the aftertaste, which is where the party truly picks up taste-wise.
Mouthfeel is light without being too watery, matches the flavour profile and carries it well.
Well then, I think Alley Kat succeeded with this one. Not the most memorable beer I've tried from them, but in consolation, for being a Mild, that nutty and spicy hop aftertaste is STILL lingering with me long after I've finished my glass, which in turn gets duly noted and my respect for that.
1,305 characters
More User Reviews:
3.13
/5
rDev
-6.8%
look: 4 | smell: 3.5 | taste: 3 | feel: 2.5 | overall: 3
This beer pours a clear deep copper-brown, with a finger of thin tan head, that melts away quickly. The smell is roasted malt, roasted nuts, caramel, and floral hops. The taste is slightly bitter and nutty, the roasted malt essence fairly strongly apparent, with a very meek hoppiness barely showing itself. The carbonation is on the high side, and the body is quite thin. It finishes dry and clean. The weird thing, however, is the effect on the palate - it feels like the beer is hovering above my tongue, like it's too light to touch down. This mild ale isn't just thin, it's ethereal, it floats through my mouth. Is this what such a restrained ABV does to an otherwise decent ale? Maybe it's the lack of hop acidity to balance out the malt.
The promotion for this latest offering from Alley Kat seems to fit the time of year perfectly - lower calories, lower carbs, lower alcohol, lower fun...
898 characters
3.3
/5
rDev
-1.8%
look: 3.5 | smell: 3.5 | taste: 3.5 | feel: 2.5 | overall: 3
Aggressively poured to produce a finger of beige head atop the deep brown body. Body is fairly clear, head falls to a cap within the first minute or so.
Aroma is of toasty grains with a hint of caramel. Not much to say about it, but it isn't bad smelling.
Toasty grains again through most of the flavour, with a little less caramel than was apparent in the nose. The finish is certainly nutty, and lingers for some time. There is a bit of a watery feel to the brew, and the carbonation is relatively low.
Not a bad brew, but just comes across as a bit uninspired. Low enough in alcohol to make a great session brew, but doesn't really have the personality to keep me interested for said session.
698 characters
2.89
/5
rDev
-14%
look: 3.5 | smell: 2 | taste: 3 | feel: 3 | overall: 3.5
Pours a clear brown, somewhat darker than a newcastle with a generous tan head that has good retention and leaves some lace. Some sediment in the bottle.
Not much of a smell, really. Some sweet caramel and fruity hops, but both are faint.
Initial taste has something not right about it. Slightly acidic or acrid, perhaps - sort of like seltzer, and lacking a crisp IBU punch. Fades to a sweet caramelness, and then the biscuity nuttiness begins to show. I'm not really enjoying it until now. Tastes like soft water, it's missing that mineral 'edge.' Add some sulfate and up the IBU's a notch, and I think this would be much much better.
Mouthfeel is bigger than you might expect from a mild, though it has too many bubbles for a carbonic zing that just gets in the way.
But, that delicious nutty finish keeps you coming back for more.
This beer has promise, but doesn't deliver.
EDIT: That 'acrid' flavour I alluded to seems to be the high carbonation in conjunction with the thin body. When very aggressively poured, I get a big frothy head and less of that seltzer-like 'zap.' Now it's just more watery than metallic-sour, which is definitely a step up. I'm upgrading my 'not impressed' to 'average' in the flavour department, and also giving an extra half-point to mouthfeel and drinkability.
1,302 characters
3.58
/5
rDev
+6.5%
look: 4 | smell: 3.5 | taste: 3.5 | feel: 4 | overall: 3.5
A winter beer I am reviewing in June, so my perception may be slightly off.
Medium brown-mild mahogany colour with a thin, slightly off white head. Toffee, hazelnut scent with a bit of hops in there. Slight traces of butter, chocolate and coffee.
Somewhat sour notes on the taste, but this is overwhelmed by the malt, hazelnut and toffee flavours. Sourness is probably from the hops - the rest is from a nice mix of malts.
Not the best dark mild, but not bad. Perhaps a little bit stale now; I'd like to taste this fresh.
524 characters
3.6
/5
rDev
+7.1%
look: 3.5 | smell: 3.5 | taste: 3.75 | feel: 3.5 | overall: 3.5
It would appear this beer is back from retirement, as I just found it on tap at Beer Revolution in Calgary along with a whole slew of other Alley Kat offerings. It must have got tired of playing golf and politicking on the condo board. Makes a nice pint visually, a dark bronze tint with a little off-white head, like translucent caramel. Aroma mellow and smooth, pale sweet grains, a whiff of caramel, and a pleasing berry-like fruitiness. Taste mirrored this quite nicely, some peanuts, hazelnuts, and weak caramel toffee, strawberry fruit notes or perhaps a little bubble gum, some gooseberry-type wildness or green flavors although maybe that's the wrong word to use in reference to such a subtle brew. Of course one is not going to taste the low ABV too clearly, but because everything is so delicate and smooth you actually do get a hint of booze in there. Moderate carbonation lets everything breathe. Overall a tasty beer and obviously suited to long sessions. Reminds me of a bitter with the volume knob turned down and somehow treated to be less chewy, creamy and silky smooth. Does not taste overly English to me but some of these elements are present and should be appreciated on its own merits.
1,207 characters
Fireside Mild from Alley Kat Brewing Company
Beer rating:
3.36
out of
5
with
6
ratings