Dismiss Notice
Sorrentino's Garlic Lager
| Alley Kat Brewing Company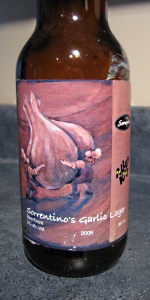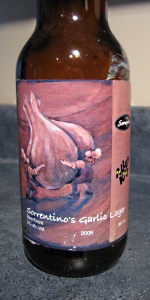 BEER INFO
Brewed by:
Alley Kat Brewing Company
Alberta
,
Canada
alleykatbeer.com
Style:
Fruit / Vegetable Beer
Alcohol by volume (ABV):
5.00%
Availability:
Limited (brewed once)
Notes / Commercial Description:
No notes at this time.
Added by IronDjinn on 04-27-2009
This beer is retired; no longer brewed.
HISTOGRAM
Ratings: 5 | Reviews: 5
Reviews by biboergosum:
3.87
/5
rDev
+24.4%
look: 3.5 | smell: 4 | taste: 4 | feel: 4 | overall: 3.5
Been saving this one for a little while, but seeing as tonight's nearing the last of the winter pasta from the cupboard, let's see how it does against a spicy, meaty tomato pasta dish...
This beer pours a pale golden yellow colour, with bits of sediment, presumably garlic, from the large raw clove that wedges itself in the neck of the bottle. There are a few fingers of lily-white soapy white head, that leave a bit of sparse lacing. It smells of raw garlic oil, kind of vegetal; it makes my nose twitch. If you regularly mince garlic like I do, this is a familiar sensation - just a small warning, as a few people I know are put off by this. The taste starts with more strong raw garlic essence, which fades to a minor garlic tingle, as the base lager appears, with a crisp white-grain cereal maltiness, which is actually somewhat sweet. No discernible hops, the garlic makes sure of that. The carbonation is very mild, the malt body has a decent medium weight, and it finishes dry, with a noticeable amount of that soft garlic burn, and a little residual garlic flavour. For the bang-on garlicky nature of this beer, its balance with the malty Alley Kat lager renders it actually drinkable, given you don't mind that Italian restaurant essence seeping from your every pore...
This went nicely, as expected, with a big ol' plate of garlic and onion infested pasta bolognese. A bottle of Chianti was found weeping softly to itself in a darkened corner nearby...
1,465 characters
More User Reviews:
3
/5
rDev
-3.5%
look: 3 | smell: 3 | taste: 3 | feel: 3 | overall: 3
Bottle: Poured a deep bright color lager with a medium pure white bubbly head with average retention and no lacing and a big chunk of garlic at the bottom of the bottle. Aroma of garlic bread is totally dominant. Taste is also dominated by garlic which is kind of weird and unusual. Interesting experiment and not as gross as I would have thought but still not something I would drink often.
391 characters

3.62
/5
rDev
+16.4%
look: 3.5 | smell: 4 | taste: 3.5 | feel: 3.5 | overall: 3.5
Curiously this isn`t the first garlic beer I've ever tried, yet the first from this brewery. I've had awful versions of this style, and surprisingly palatable ones, so I'm curious to see how this one stands up while subduing a whole lot of bias towards the concept of such a concoction.
From a 341 ml brown bottle, and it seems like it is contract brewed for the Sorrentino's restaurant here in Edmonton, and chances are the one in Calgary as well. Even comes with the prerequisite garlic clove nesting at the bottom of the bottle. Pours out a deep golden hue, lots of carbonation present, and a decent amount of creamy white head that settles to a thin frothy cap.
Regarding the aroma I'll be honest with you, you're gonna have to enjoy garlic to even remotely like this. Fortunately I fall into this camp, and although it is the predominant aroma (slight biscuit malt intermittendly makes a quick gasping appearance), if not for the most part the only aroma to be had. However it isn't overpowering or pungent, to my olafactory senses it seems just right.
Wow, even with such a garlic heavy aroma the flavour is predominantly the biscuit malt of Charlie Flint's Original Lager, finishing with a rounded garlic bite that lingers on into the aftertaste. Okay, here's some role-playing for you: imagine your favourite well-balanced lager or pale ale, replace the hops with garlic, and insert here.
Mouthfeel is medium-bodied, rounded, yet with some carbonation kick and bite.
By far the most drinkable and palatable garlic beer I've yet to try, and if it wasn't for the admirable balance of this beer I'd almost feel cheated not being overwhelmed by garlic. Yet a quick inhale of the aroma even satiates that deprivation. I even ate the clove, which was still fresh and crispy, although I guess as a result I'll be stuck with the option of only Eskimo kisses tonight....
1,876 characters

2.45
/5
rDev
-21.2%
look: 3.5 | smell: 3.5 | taste: 2 | feel: 3 | overall: 1.5
A: Gold with a white head, very little retention, slight leg.
S: G-A-R-L-I-C. Extremely over-power, but I thought it was somewhat enticing.
T: G-A-R-L-I-C with hints of underlying biscuity malt. The garlic is WAY over the top. I just can't hand that much fresh garlic flavour in a drink. Oddly, the clove that was floating in the bottle was tasty. It be interesting to cook with beer-infused cloves... but garlic infused beer just doesn't work for me.
M: Lower than moderate body, smooth, moderately light carbonation.
D: Boarderline aweful. My small sample went down the drain.
582 characters
2.59
/5
rDev
-16.7%
look: 3.5 | smell: 2 | taste: 3 | feel: 3 | overall: 2
The label reads: Sorrentino's Garlic Lager. How could I resist this unusual offering from Alley Kat Brewery?
Normally brewed for Sorrentino's Restaurants during their Garlic Fest, I picked up a single bottle from Sherbrooke Liquor Store (which I'm sure most Edmonton beer geeks already know has the best selection in Western Canada, including several brews that have been developed just for them).
The beer pours a golden yellow with a white head that dissipates relatively quickly, leaving behind just the faintest traces of head. There is some minor lacing.
The aroma is that of garlic, and lots of it. Even before I poured the beer I could smell a strong aroma of garlic---it wafts out of the bottle as soon as you open it. The garlic aroma masks anything else that may be present.
Flavour is similar to the aroma: lots of garlic and not much else. That said, it's actually not nearly as overpowering as I would have expected. While it's not a beer that I'd sit around and drink on it's own, if you pair it with a meal (I had BBQ ribs) it actually comes across as quite good. There is a very subtle hint of malt sweetness that helps to balance this lager, but mostly it's the garlic that you'll taste.
Mouthfeel is pretty typical for a lager. Not too thick, not too thin. Fairly smooth, but not really worth writing home about.
Drinkability on this one is not so good. While it is an enjoyable novelty if paired with food, I can't imagine drinking more than one of these in a single sitting---especially if I wasn't drinking it with a meal. There's just too much garlic and not enough malt, hops, or anything else that makes beer taste "beery."
While I won't say that I'd never drink this beer again, it's definitely not something that I'll be picking up on a regular basis.
1,784 characters
Sorrentino's Garlic Lager from Alley Kat Brewing Company
Beer rating:
3.11
out of
5
with
5
ratings