Brewberry Blueberry Ale
| Alley Kat Brewing Company
BA SCORE
83
good
12
Reviews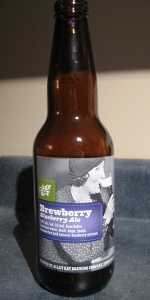 BEER INFO
Brewed by:
Alley Kat Brewing Company
Alberta
,
Canada
alleykatbeer.com
Style:
Fruit / Vegetable Beer
Alcohol by volume (ABV):
5.00%
Availability:
Rotating
Notes / Commercial Description:
No notes at this time.
Added by Shadman on 04-12-2010
Reviews: 12 | Ratings: 19
4.2
/5
rDev
+15.7%
look: 2 | smell: 4.5 | taste: 4 | feel: 4 | overall: 5
Always appreciate a good fruit beer...let's see how this one holds up!
A- Pours an interesting color of coppery pink, and it's has an ever so slight haze to it. The carbonation looks to be big and burly with no real columns rising, but rather random bubbles floating to the top. I poured this hard but didn't get much of a head and what did appear quickly fizzles into nothingness, save for a half ring around my beer glass. Looks thin with no lacing to speak of. Has a look of an Italian soda or something along those lines.
S- I like the aromas this gives off....primary smells of fresh blueberries and there is a soft yeast that permeates my nostrils. There is also some modest malt sweetness in the backround along with some very mellow woody earthiness on the finish...it's nice to take in!
T- The flavors are good, but not quite to the same degree as the aromas lead on. There is a distinct blueberry flavor, but it comes across slightly artificial, however, not offensive. Sweet malts and the soft yeasty bread is noticeable again, balancing the slightly tart finish....no real hop presence here.
M- Light, but becoming medium bodied describes this brew best. My palate feels as though I've just enjoyed some BC Blueberries that are just on the verge of becoming overripe....the best time to enjoy them. Carbonation is actually rather smooth, providing for that feel of actually enjoying real fruit.
D- Highly drinkable! If I would have discovered this earlier in the summer, I would definitely have enjoyed many of these, but now I will enjoy it as long as it's around this year and in the future. Very refreshing and makes a perfect patio beer on a hot day. I recommend this one and give props to Alley Kat for another job well done!
1,747 characters
4.14
/5
rDev
+14%
look: 3.5 | smell: 4.5 | taste: 4 | feel: 4.5 | overall: 4
A - pours a clear bronze, with a short slightly purplish head that didn't last long
S - definitely brewed with blueberries, no subtleties there, along with a nice bready yeast scent, remined me of a blueberry muffin
T - pleasant blueberries up front, with a creamy bready yeast finish
M - creamy and smooth, fills the mouth with that savoury chewy bread feel
D - the pleasant blueberry flavour and the creamy feel make me crave another, probably because it seems like desert, goes down smooth and creamy like the mouth feel
527 characters
4.02
/5
rDev
+10.7%
look: 4 | smell: 4.5 | taste: 4 | feel: 3 | overall: 4
A - A very pale gold with a slight pink haze to it. Poured a thin layer of bubbly head, which quickly dissipated, no real lacing.
S - Can definitely smell the blueberry's, very sweet with a bready malt scent on the finish. Also has a bit of a peppery scent present, very unique.
T - Much stronger blueberry taste than I would've otherwise anticipated. The tangy blueberry comes through, almost reminiscent of a sweet tart. A light woody malt comes through on the palette after, with a bit of pepper on the finish.
M - Very bubbly, a little too bubbly, for my liking. Almost reminds me of champagne as it fills up on the tongue. That being said it is still quite light, making it perfect for a summer day.
D - Very drinkable if you're in the mood for something a little different. I'm a huge fan of blueberry beers, especially those whose flavour is stronger, making this a wonderful example. Great effort by Alley Kat!
922 characters
3.97
/5
rDev
+9.4%
look: 3.5 | smell: 4 | taste: 4 | feel: 4 | overall: 4
Alley Kat's 2010 summer seasonal...
This beer pours a pale golden hue, with a purplish tint, and one finger of dense soapy off-white head, which leaves a thin meniscus of lace around the glass as it quickly abates. It smells of caramel malt, and woody, fruity blueberry essence. The taste is sweet caramel malt, woody semi-sweet blueberries, and a faint earthiness, the hops chiming in, in their own special way. The carbonation is moderate, the body medium weight and fruity, and it finishes off-dry, the soft blueberry essence melding with the caramel malt.
I've never been a big fan of blueberries, but this, this I like. The fruit and the malt are nicely blended, the hops play quietly in the background, supporting the earthiness of the whole deal. Once again, props to a fruit beer from my local purveyor of seasonal splendour.
835 characters
3.68
/5
rDev
+1.4%
look: 4 | smell: 3.5 | taste: 3.5 | feel: 4 | overall: 4
Enjoyed this last night, reviewing from memory, my bad! Anyways thanks to Stagger for canbiffing this my way. Looked pretty decent, although the blueberry is obviously mostly extract, as the colour was a dark coppery bronze... Nice enough head, some intricate decent lacings.
Nice aroma of blueberry, over some decent enough malt aromas of toasted whole grain bread. Simple and to the point. Some nutty yeast aroma in there as well.
No surprise in the taste, much like the nose. This is a well made fruit ale. Nothing extreme, nothing over the top, just an approachable blueberry ale. Better than decent, almost good!
I could go on and on, but this is just a tasty, simple, approachable blueberry ale that i enjoyed on a warm and humid summer's night. It hit the spot, and is certainly something i would recommend to fans of blueberry's, or just wanting to try something new and approachable. Id be happy to have this again.
927 characters

3.54
/5
rDev
-2.5%
look: 3 | smell: 4 | taste: 3.5 | feel: 3 | overall: 3.5
341ml bottle poured into pint glass april 18 2010
A clear bronze with a pinkish glow to it, no head or lace
S lots of blueberry with a little sweetness to it, I like the smell of the blueberries it smells natural
T again blueberry is in charge with a little honey and some malt, flavors are a little hidden compared to the smell
M its pretty thin and could use some more carbonation
D easy enough to drink, would go well with some sun but I don't see myself drinking too many of them in a row
another beer for my girlfriend to try, but not something I will be drinking much of this summer. I'm not saying this is a bad beer but with so many different brews out there I would prefer to try something new
710 characters

3.5
/5
rDev
-3.6%
look: 3.5 | smell: 3.5 | taste: 3.5 | feel: 3.5 | overall: 3.5
The blueberries are apparent the moment the cap is removed and burst forth. Pours out a slightly hazed ruddy gold, quick splash of white head that disappears as soon as it appears.
The nose has a bit more complexity for a fruit beer, some grainy malt, grassy hops, a good dose of blueberries, plus some spicy warmth.
That spiciness transfers over into the flavour, some neautral malt up front, reserved blueberries, and some white pepper on the finish. It's the white pepper that lingers on into the aftertaste as well, not the fruit.
Medium bodied, moderate carbonation, light bubbley finish.
I have ambivalent feelings about this one, it's put together pretty well, but for a fruit beer the fruit is quite muted when all is said and done. Not one-dimensional, however I feel a bit cheated in the fruit department. The dry spiciness provides a nice quenching finish though.
880 characters

3.5
/5
rDev
-3.6%
look: 3.5 | smell: 3.5 | taste: 3.5 | feel: 3.5 | overall: 3.5
341 ml brown industry standard bottle, label as shown.
Pale golden yellow, slightly off white head. Fizzy foam that rapidly recedes.
It smells of malt, slightly sweet, and a wee bit of blueberry - thought that might have been stronger.
The taste is on the sweeter side, blueberry id present with out being overpowering. Nice base beer with flavoring as a nice addition, opposed to taking over.
The carbonation and body are medium. Clean, easy to drink.
455 characters

3.42
/5
rDev
-5.8%
look: 3 | smell: 3.5 | taste: 3.5 | feel: 3 | overall: 3.5
Not too often does the Ol' Shadman get a beer scoop...
Certainly clear enough..sort of a reddish gold with a very fizzy white head that dissappated to a white ring too quickly.
Blueberrys of course, but the sweet variety. Honey like sweet aroma almost dominates after the initial blueberry.
Thin front end. Quite watery and bland until the mix of sweet blueberry and grainy malt make themselves known. Finish is what keeps me interested as the tartness that every blueberry fan loves comes into play.
i thought it ran a bit thin and watery and a touch on the flat side.
I like blueberry so I might be a tad biased. Nice summer beer and like their AproKat, sure to be a hit with the ladies.
695 characters
3.27
/5
rDev
-9.9%
look: 3.5 | smell: 4 | taste: 3 | feel: 3 | overall: 3
On tap at the brewery. A novelty, blueberry in the aroma and in the taste. Light mouthfeel and hard carbonation, wheat creaminess in finish. Lacey light golden.Syrup but nothing anyone I know would want to drink.Candy sweet. Fresh at the brewery.Refreshes.
256 characters
3.07
/5
rDev
-15.4%
look: 2 | smell: 2.5 | taste: 3.5 | feel: 3.5 | overall: 3
I bought this six-pack of bottles, with a little layer of dust, from the back of a Grande Prairie liquor store.
It pours with a big, white soapy head and leaves suds all along the glass. The body has a golden, and slightly cloudy, colour. It has the bouquet of a white wine (like a Sauvignon), kind of acidic or metallic. There is a faint blueberry aroma but a huge blueberry taste. It is a good use of blueberry. It mostly tastes real, but there is just a little something artificial about it. I think it is most similar to a wheat ale (with some citrus) or an unsweet cooler but with a fuller body. There is no alcohol taste at first, but the further I get into the bottle more alcohol comes out. The body has huge carbonation and a fuller body than I expected.
Overall, it is very easy to drink. A little rough around the edges (especially on the carbonation), but otherwise good. I liked it better than Alley Kat's Aprikat.
930 characters
3
/5
rDev
-17.4%
look: 3 | smell: 3 | taste: 3 | feel: 3 | overall: 3
My wife loves this stuff, so I thought I'd give it a go.
A- Both the body & head have a slight purplish/pinkish hue, the body is mainly a clear golden color though and the head a silky white. Retention is below average, and lacing is nonexistant.
S- Smells of grainy malt, sweet blueberries and grassy hops. The smell of blueberries is nice, but overpowered a bit by the grainy malt.
T- More of the same in the taste, I'm not sure I enjoy the sweetness from the blueberries and the flavor from the hops that finish & linger.
M- A little to watery for my liking, carbonation is moderate but tingles on the backend.
D- Alley Kat makes some nice beers, but this isn't one of them IMO. I guess it'll probably appeal to the masses though.
738 characters
Brewberry Blueberry Ale from Alley Kat Brewing Company
3.63
out of
5
based on
19
ratings.