Alley Kat 15th Anniversary Ginger Beer
| Alley Kat Brewing Company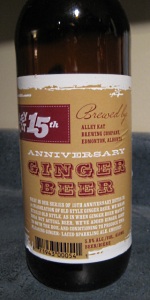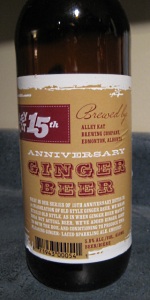 BEER INFO
Brewed by:
Alley Kat Brewing Company
Alberta
,
Canada
alleykatbeer.com
Style:
Herbed / Spiced Beer
Alcohol by volume (ABV):
5.00%
Availability:
Limited (brewed once)
Notes / Commercial Description:
No notes at this time.
Added by IronDjinn on 07-19-2010
This beer is retired; no longer brewed.
HISTOGRAM
Ratings: 8 | Reviews: 7
Reviews by joemcgrath27:
3.68
/5
rDev
-3.9%
look: 4.5 | smell: 4 | taste: 3.5 | feel: 3.5 | overall: 3.5
Another of the 15th Anniversary releases, 650ml bomber
A - poured a very bubbly clear bubbly golden with a generous white head that retains extremely forever and laces great. There is a non-stop stream of bubbles rising from the bottom.
S - a bready, biscuity, wheaty aroma along with definite ginger mixed with floral hoppiness
T - the ginger is very pronounced, and while I like ginger flavour, it seems to masks the other flavours. The wheaty flavour is there, and the finish is a dry flora lhjop and ginger taste.
M - a thin and very carbonated feel, fairly refreshing, somewhat pleasant dry on the finish
D - very drinkable in the feel sense, but the flavour is a little one dimensional. Not bad, and props for taking a chance, but not up to the standards of the other 15th Anniversary offerings. But then again, what do I know...
837 characters
More User Reviews:
4.04
/5
rDev
+5.5%
look: 3.5 | smell: 4.5 | taste: 4 | feel: 3.5 | overall: 4
Contestant #2 in the Summer 2010 Edmonton-Vancouver special release Ginger Beer taste-off!
This beer pours a hazy medium straw colour, with one finger of springy white head, which settles in a reasonable spell, leaving no lace at all in its wake. It smells of nostril-tickling fresh ginger root, and sourdough-like malt - oh yeah. The taste is sweet and spicy ginger, and crisp, bready, lightly crackery malt. A wee bit of earthy, leafy, and citrusy hops do their part to even things out. The carbonation is above average, and more beer, than soda-like, the body medium weight, and mostly smooth, and it finishes with a flourish of tangy gingery malt.
Alley Kat's version has more of a ginger-ale quality than the Granville Island offering. However, the spicy natural ginger comes through in both, dominating, but not blotting out, the slightly differing underlying malt characters. Thus, by default, my superior accessibility to the Alley Kat bombers gives them the nod in this 'competition'.
995 characters
3.88
/5
rDev
+1.3%
look: 4 | smell: 3.5 | taste: 4 | feel: 4 | overall: 4
Deep orange gold in colour with a nice finger and a half of white head. The head recedes to a thin cap, but doesn't totally fade.
Fairly strong ginger aroma, enough that the beer's other smells are pretty tough to dig up. Smell is nice enough.
Tastes like a golden ale mixed with a ginger ale. Light flavours, all pleasant and balanced. Good, not a whole lot to talk about, but it is a nice tasting beer.
Light bodied and well carbonated, but not prickly. Works well for this beer.
Really is a well put together beer. No one thing really stands out about it, but nothing needs to stand out for this to work.
611 characters

3.45
/5
rDev
-9.9%
look: 4 | smell: 4 | taste: 3 | feel: 3.5 | overall: 3.5
From a 650 ml brown bottle. Spongy white head on the pour that settles quickly. Body is a brilliant clear deep gold/light copper.
The aroma carries a character like gingerbread, the malt and ginger meld very well together, quite appealing.
The flavour is on the mild side, the malt steps into the background with a bready foundation, allowing mellow ginger and a citrus-like quality to run the show for the most part. However the malt does make a firm stand in finish, once again with a clean bready character. This provides a gingerbread character to the lingering aftertaste.
Medium-light mouthfeel, moderate carbonation, smooth with a spritzy finish.
Fairly mild, but a good summer hot weather quencher, the ginger and mysterious citrus presence is quite refreshing.
781 characters

3.94
/5
rDev
+2.9%
look: 3 | smell: 4 | taste: 4 | feel: 4 | overall: 4
Pleased to see the new Alley Kat Anniversary offering at the local Co-op!
A - Pours a pale copper, light visible carbonation, thumb of light bubbly head which dissipates quite quickly leaving no real lacing.
S - Ginger, wheat and bready malts, some sweet spices of nutmeg, vanilla and cinnamon.
T - Quite nice, the ginger is mellow and less pronounced than the scent implied. The sweetness comes through on the finish and gingerbread flavours linger on the tongue, along with the aforementioned spices. The bready malts come through nicely as well, making for a delicious balance. I really like that the ginger is mellow on this one... It has a nice ginger flavour, but enough bready malts come through to remind you that it's still beer!
M - Goes down quite smooth. I was expecting something with a little more heat and a little drier, but was pleased by how easily this one went down.
D - Pleasantly surprised by this offering. This is my first experience with a ginger beer, so I might not have the most sophisticated understanding of what such an beer should offer, but I was pleased with the result. I'm inclined to think this is more of a Christmas drink, over a summer beverage, but that might be from years of festive brainwashing... I would recommend this to anyone looking for a little spice in their beer or looking to revive their taste buds a bit!
1,365 characters

3.65
/5
rDev
-4.7%
look: 4 | smell: 4 | taste: 3.5 | feel: 3.5 | overall: 3.5
650ml bottle poured into pint glass oct26 2010
A clear pale golden with some big bubbles feeding a big two finger head that sit for some time but leaves no lace
S ginger ale with some ginger lemon tea and a little nutmeg
T not far from the smell with perhaps a little biscuit
M enters silky then turns to foam, gives you a little tingle in your mouth and a little spicy
D more beer then ginger but not by much, may score better under some hot sun but I live in Alberta so I'll never know
I still want to see some bombers of Olde Deuteronomy for the 15th but don't think that's going to happen
601 characters
3.97
/5
rDev
+3.7%
look: 3.5 | smell: 4 | taste: 4 | feel: 4 | overall: 4
An aggressive pour from a bomber into a pint glass produced a two finger bubbly white head on a clear gold. The head soon diminished to a ring. No lacing to speak of.
Ginger in the smell. Fresh ginger dominates the taste up front, but that gradually gives way to a well balanced but mild malt finish.
A light body with good carbonation. Smooth. It would make a good hot weather cooler but there is enough going on to make it a winter sipper as well. More beery than most ginger beers but there is still a nice strong fresh ginger flavor. I would definitely give this another go if it is still available.
605 characters
Alley Kat 15th Anniversary Ginger Beer from Alley Kat Brewing Company
Beer rating:
3.83
out of
5
with
8
ratings