15th Anniversary Apple Wit
| Alley Kat Brewing Company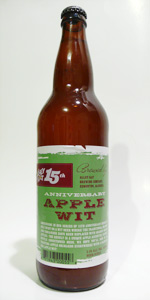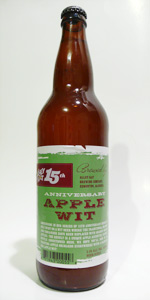 BEER INFO
Brewed by:
Alley Kat Brewing Company
Alberta
,
Canada
alleykatbeer.com
Style:
Witbier
Alcohol by volume (ABV):
5.40%
Availability:
Limited (brewed once)
Notes / Commercial Description:
No notes at this time.
Added by scott451 on 10-08-2010
This beer is retired; no longer brewed.
HISTOGRAM
Ratings: 10 | Reviews: 10
Reviews by elricorico:
4
/5
rDev
+10.2%
look: 4 | smell: 4 | taste: 4 | feel: 4 | overall: 4
Hazy yellow with a foamy, three finger thick white head. Slow to recede, this beer looks really nice in the Duvel glass.
Citric and tart to the nose, apples and lemon zest. Appealing aroma.
Citric right on the front of the tongue with a quick move to apple tartness from there. The flavours meld together in the back half of the mouth. Lingering wheaty flavour with a hint of apple.
Light bodied with very lively carbonation. This could be a turn off in some styles, but it is how I like witbier to feel.
Really a good beer, this would make a great warm weather treat, its too bad they released it so late in the year.
622 characters
More User Reviews:
3.88
/5
rDev
+6.9%
look: 4 | smell: 3.5 | taste: 4 | feel: 4 | overall: 4
22oz 15th anniversary special...
This beer pours a very, very cloudy pale yellow colour, with a ton of thin foamy white head, which leaves pretty much nothing in the way of lace around the glass as it bleeds away. It smells of sweet white grain, and acidic, cider-like apple. The taste is sweet, yet acidic apple puree, moderately spicy wheat grain, and earthy yeast. The carbonation is slightly on the high side, the body medium-light, buoyed by the slight alcohol uplift. It finishes fairly dry, fruity, and clean, the crisp appleness (?) predominating.
A nice Witbier, exactly as specified; the normal citrus and spice replaced by a strong sour apple character. Between myself and my cider-loving girlfriend, this is a winner...
734 characters
3.58
/5
rDev
-1.4%
look: 3.5 | smell: 3 | taste: 4 | feel: 3.5 | overall: 3.5
A - very cloudy straw yellow, tall white head retained pretty well, not any lacing to speak of
S - grainy wheat malt, the faintest hint of sour apple, some light herbal hops, nothing catching my attention
T - grainy malt with sweet & sour apple flavour, a hint of light hop action, generally more flavour than aroma
M - decent carbonation with a bitter sour kick that is somehow both pleasant and not, finishing bready
D - a great idea with pretty good execution, it does tend to finish sour leaving me good after one bomber, but generally satisfied
549 characters

3.53
/5
rDev
-2.8%
look: 4 | smell: 3.5 | taste: 3.5 | feel: 3.5 | overall: 3.5
The 4th special release this year from Alley Kat's 15th anniversary series. Comes in a 650 ml brown bottle. Pours out a dense cloudy opaque straw hue, tight creamy white head a retention of longevity.
The aroma possesses light wheat, yeasty notes, and light green apple character.
Mild tartness in the flavour, green apple becomes apparent in the middle and carries to a more tart finish.
Medium-full body, brisk carbonation, otherwise quite smooth.
Somewhat akin to Unibroue's Pomme Ephemere although much cleaner in comparison. Quite quenching and refreshing, this would have been a great addition to patio weather, however it's just as good to help celebrate the final days of Indian summer as well.
706 characters
4.55
/5
rDev
+25.3%
look: 4.5 | smell: 4.5 | taste: 4.5 | feel: 4 | overall: 5
A - A sunny, golden straw colour. Big foamy head that hangs around for a while.
S - Apples. Almost a grainy-yeast in there, but strong granny smith apples in my face.
T - Sour apple right away, with some wheat and grains underneath. Very cider-like, but you don't forget it's beer.
M - Light and refreshing. Nice carbonation.
D - I personally really enjoy this. It's like what I imagined when I saw this, a wit without orange and coriander in favour of apple. The sour apple not only replaces the citrus it joins in with the natural citrus notes of the beer. I could drink this outside in the sun, I could also drink this inside next to a fire. Yum.
653 characters
3.58
/5
rDev
-1.4%
look: 3.5 | smell: 3 | taste: 4 | feel: 3.5 | overall: 3.5
A - Pours a hazy pale straw colour, finger of head with little retention, no real lacing and decent visible body carbonation.
S - Pretty mild on the nose with sour apple and lemon scents off the top followed by a grassy wheat scent on the finish.
T - Wheat is definitely more prominent on the flavour with a touch of apple cider coming through. Although a little mild, the wheat flavours are noticeable and reminiscent of Mill Streets Wit offering.
M - A little heavily carbonated for my liking, very light bodied ale similar to a cider drink. The finish, however, isn't overly dry which is nice.
D - Overall a decent offering, but not one of my favourites of the 15th Anniversary series. I would recommend the others over this one, but I'm still glad I tried it.
767 characters
3.06
/5
rDev
-15.7%
look: 4 | smell: 3 | taste: 3 | feel: 3 | overall: 3
Got a bad bottle. Unfortunately it was WAY past it's date. Wish I could have tried this one. When I exchange it I will try to get a good bottle of the same for review. Definitely disheartening someone should put this brew as retired because pretty sure it is. The bottle I bought today had a BB of Mar/26/11 and was the only one of the shelf (usually not a good sign). Oh well. Alley Kat please rebrew something similar!
420 characters

3.31
/5
rDev
-8.8%
look: 4 | smell: 3 | taste: 3.5 | feel: 3.5 | overall: 3
650ml bottle poured into pint glass oct29 2010
A super cloudy pale yellow with a massive amount of bubbles feeding a fingers width of head that has great retention but leaves no lace
S some yeasty wheat and faint apple
T much more apple going on in the mouth and a little honey but its the granny apple in charge here
M thin but the carbonation gives it a fair bit of life, quite light and somewhat refreshing
D one's no problem but I doubt I'd be drinking too many of these back to back, not that it's a bad brew but the sour apple may be too much after a while
this should have been released in the middle of summer if you ask me. Interesting brew and they may be on to something but I think the green apples a little too tart and it's missing just a little something
777 characters

3.06
/5
rDev
-15.7%
look: 4 | smell: 3 | taste: 3 | feel: 3 | overall: 3
Has a great wit look. Pale straw colour with the cloudiness one expects from a Wit. So so head and lacing
Faint wheat malts & dry apple.
Has the wheat malt crispness. Lot's of dry tart apple. Finish is dry and very tart.
Crisp from the wheat malt, apple, and carbonation
Great on a summer day. Much more like a lambic than a Wit though.
341 characters
3.8
/5
rDev
+4.7%
look: 4 | smell: 4 | taste: 3.5 | feel: 4 | overall: 4
Poured from a 650ml bottle into a glass mug. I let it warm slightly from fridge temperature. It poured a very cloudy, dirty pale apricot with a one finger bubbly white head. The head soon diminished to a persistent frothy layer with strong lacing.
Estery apple smells dominate. It smells almost like a cider. Slightly winey white grape notes. The taste is surprisingly mild, apple up front. I can't pick up much else. The traditional Wit spices have been omitted, so we are left with the Wit yeasts and the cidery apple notes.
Medium . Refreshing. Slightly tart feel that is pretty well rounded. The drinkability is very good. It wouldn't be hard to drink this all day. It's just a bit understated for a Wit. I might have kept the Wit spices and just switched the orange for the apple.
787 characters
15th Anniversary Apple Wit from Alley Kat Brewing Company
Beer rating:
3.63
out of
5
with
10
ratings