Chocolate Orange Porter
| Alley Kat Brewing Company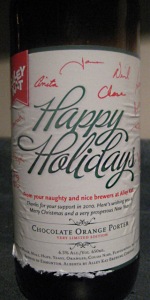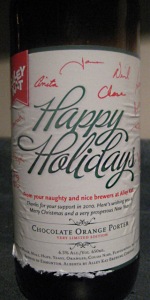 BEER INFO
Brewed by:
Alley Kat Brewing Company
Alberta
,
Canada
alleykatbeer.com
Style:
American Porter
Alcohol by volume (ABV):
6.30%
Availability:
Winter
Notes / Commercial Description:
From your naughty and nice brewers at Alley Kat. Thanks for your support in 2010. Here's wishing you a Merry Christmas and a very prosperous New Year!
Added by biboergosum on 12-17-2010
HISTOGRAM
Ratings: 12 | Reviews: 8
Reviews by wordemupg:

4.02
/5
rDev
+5.2%
look: 4 | smell: 4.5 | taste: 4 | feel: 3 | overall: 4
650ml bottle poured into tulip dec18 2010
A quite dark brown with some hints of red at the edges, big mocha head retains well but leaves no lace
S orange rind and chocolate with a creamsicle blast
T not far from the smell but with a little booze and some faint coffee
M a little thin and it turns to foam in your mouth
D I'd drink another bomber if I had it so that has to say something
this is a interesting brew and I can't think of anything else like it, I like the smell more then anything and wish I had more of it but what can you do
547 characters
More User Reviews:
3.68
/5
rDev
-3.7%
look: 4 | smell: 3.5 | taste: 3.5 | feel: 4 | overall: 4
650ml bottle, Alley Kat's seasonal gift to its partners in crime, circa 2010. From the label: "From your naughty and nice brewers at Alley Kat". Made with oranges, cocoa nibs, and flavourings.
This beer pours a clear, very dark cola hue, with two fingers of fizzy, foamy light mocha head, which settles in due time, rendering a stitch of spotty lace around the glass. It smells of grainy baker's chocolate, and mild musty orange pith. The taste is grainy, faintly roasted malt, semi-sweet chocolate, a soft, understated citrus fruitiness, and leafy, somewhat herbal hops. The carbonation is on the low side, the body medium weight, smooth, and a tad airily creamy. It finishes off-dry, the chocolate and hops aided by a bit of alcohol, accentuated as it warms.
A straight-up holiday porter, part Terry's Chocolate Orange, part mild warmer. Not too heavy, it goes down quite well, a nice antidote to the monstrous roads and dropping temperatures outside.
959 characters
3.58
/5
rDev
-6.3%
look: 4 | smell: 3.5 | taste: 3.5 | feel: 4 | overall: 3.5
BIG props to Jim @ Sherbrooke Liquor for throwing this in aux gratis with a epic haul
A - near black, full thumb of mocha head retained well, random lacing
S - tart fruitiness followed by mellow coffee and bakers chocolate
T - slightly tart and sour fruit, roasty malt with subdued bittersweet chocolate, with just a hint of the candied orange on the finish
M - medium carbonation kick, smoothness that thins out slightly, but coats the tongue like a coffee
O - i was hoping it would be more akin to a Terry's Chocolate Orange in terms of rich flavours, probably unrealistic, but the added flavours are more complimentary to the porter style which is a good thing, a tasty holiday treat even in mid April
704 characters

3.25
/5
rDev
-14.9%
Bottle poured into a pint glass. Pours dark brown with a beige head. The nose has malt and coffee. Taste is the same. I couldn't find the orange and the chocolate is very faint. I'm a big Alley Kat fan - but this was average. The St. Portersberg Porter is much much better.
273 characters
4.4
/5
rDev
+15.2%
look: 3.75 | smell: 3.75 | taste: 4.75 | feel: 4.75 | overall: 4.5
650ml bottle served in tulip glass
Appearance - Dark brown with two fingers of head (aggressive pour)
Smell - Dark chocolate, roasted malts, coffee and hints of orange
Taste - Dark chocolate and cocoa stood out the most with a stronger coffee taste as it warmed up. Very little orange but as with the coffee a little more apparent after it warmed up.
Mouthfeel - Very smooth and creamy, medium carbonation
Overall - Was hoping for a little more orange but overall a great chocolate porter. This is not one to drink right out of the fridge, tastes much better as it warms up. I'll definitely be enjoying a couple more during the winter holidays.
650 characters

4
/5
rDev
+4.7%
look: 4 | smell: 4 | taste: 4 | feel: 4 | overall: 4
Cheers to joemcgrath27 for acquiring this gem, and props to Sherbrooke Liquor in Edmonton for giving us the privilege of trying this one!
A - Pours a dark dark ruby red colour, solid finger of mocha coloured head with solid retention and some sporadic lacing.
S - Scent is a tad mild, but the dark cocoa malts come through along with some bitter citrus notes and ground espresso.
T - The dark cocoa and espresso flavours dominate with the orange flavours coming through subtly on the finish. Some leafy green hops linger on the palette alongside a chalky milk chocolate flavour.
M - Medium bodied ale that goes down with the slightest prickle and finishes with a touch of dryness. No complaints here.
O - Overall a very tasty porter offering some unique flavours and definitely worth a try if you can find a bottle. I was very pleased that I had an opportunity to try this one. A tasty, festive, offering from Alley Kat that would be great to see in their Big Bottle series.
979 characters

3.85
/5
rDev
+0.8%
look: 4 | smell: 4 | taste: 3.75 | feel: 4 | overall: 3.75
650ml bottle poured into a tulip on May 21, 2013
A- Dark Brown, finger of mocha head but went away fairly quicly
S- Mild smell, mostly chocolate and espresso show but you get a little of orange
T- The cocoa and espresso are the most dominant, the orange is very mild on the finish
M- Medium bodied, goes down very smooth and slightly dry
O- A very different porter, the hints of the orange makes it unique, worth trying
424 characters
3.78
/5
rDev
-1%
look: 3.75 | smell: 3.75 | taste: 3.75 | feel: 4 | overall: 3.75
650ml bottle.
Appearance - Pours a dark nut brown with two fingers of frothy mocha head.
Smell - Chocolate, roasted malts, cocoa, slight hint of orange.
Taste - Chocolate, roasted malts and cocoa are the predominant flavours. Not quite sure when the orange peel is supposed to show up, but it seems to be running a little late as I can only really find it in the aftertaste. Mild earthy hops complement the malts.
Mouthfeel - Medium bodied with moderate carbonation.
Overall - Cute touch by adding the "___'s" on the label to personalize the bottle as a gift. As a porter overall, it's got good roasted malt and chocolate flavour, but the orange is missing for me. I was hoping for more orange peel throughout, not just a hint in its last moments on the palate.
766 characters



Chocolate Orange Porter from Alley Kat Brewing Company
Beer rating:
3.82
out of
5
with
12
ratings