Sherbrooke Chinese New Beer
| Alley Kat Brewing Company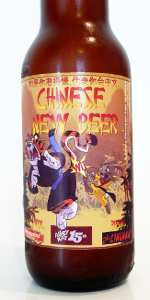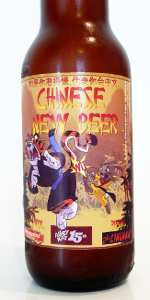 BEER INFO
Brewed by:
Alley Kat Brewing Company
Alberta
,
Canada
alleykatbeer.com
Style:
Witbier
Alcohol by volume (ABV):
5.00%
Availability:
Limited (brewed once)
Notes / Commercial Description:
No notes at this time.
Added by IronDjinn on 02-06-2011
This beer is retired; no longer brewed.
HISTOGRAM
Ratings: 6 | Reviews: 6
Reviews by ChrisCage:
2.36
/5
rDev
-36.4%
look: 2 | smell: 3.5 | taste: 2 | feel: 2 | overall: 2
A- Well this is interesting...this beer pours a slightly hazy yellow/light straw color....sorry but it reminds me of urine. The head is super white, thin and doesn't retain very well...settling into a fizzy film over the beer. There is plenty of carbonation rising quickly and in an aggressive fashion. The lacing is modest, as some foam stays, but unfortunately it is whispy looking and fizzles out over a minute or so. Not the best looking Wit I've seen....
S- This reminds me of a fruit beer...very strong aromas of citrus, and in particular, orange and tangerine! There is also some hints of spice...coriander....but it is muted for sure. There is some sore of sweetness that after a few whiffs, I've decided smells somewhat of clover honey...just somewhat floral. No real bitterness on the finish, but then I didn't really expect to smell that.
T- This isn't what I expected at all to be honest! I agree with another reviewer, that there is some pineapple in the flavor. Everything is sweet about this Wit, and the citrus and spice is very muted overall. I find the flavor cloying at first, yet watered down overall....sorry but this just tastes like a cheap beer to me.
M- This is thin bodied, and the carbonation is quenching in a good way. I just get a funny aftertaste that doesn't sit well on my palate unfortunately.
O- Sorry, but this is a bad take on a Wit in my opinion! I had really high hopes for this one....love the Family Restaurant show, and thought Alley Kat would do much better with this. Having a tough time finishing this one, and I would not want to drink this during my meal of good Chinese food! The only good about this is the aroma and thirst quenching nature, but I know cheap macros that will do the same thing.
1,747 characters
More User Reviews:
4.22
/5
rDev
+13.7%
look: 4 | smell: 4.5 | taste: 4 | feel: 4 | overall: 4.5
After the dinner rush at the Lingnan, and under the auspices of the red-wine drinking owner...
...this beer pours a cloudy pale golden yellow hue, with two fingers of billowy, fluffy white head, which leaves very little specked lace in its wake. It smells of sweet wheat grain, candied orange, and spicy coriander. The taste is creamy orange pith, soft wheat, and sweet, somewhat zingy coriander. The carbonation is on the low side, the body medium weight, nice and smooth. It finishes off-dry, quite fruity.
A super-easy drinking witbier, which isn't normal for offerings of this ilk, in my experience. All the input flavour points are ticked, softened, and then somehow enhanced. Suffice to say, this plays well with the spicy menu offerings. Gan bei!
755 characters
3.89
/5
rDev
+4.9%
look: 3 | smell: 4 | taste: 4 | feel: 3.5 | overall: 4
A - hazy pale straw golden, short head dissipated quickly
S - sweet and sour lemon and apricot fruit, grainy, lightly spiced
T - zesty citrus fruits, unsweetened lemon tea, grainy wheat undertones, with light coriander throughout
M - well carbonated, tangy but a watery finish
O - on the very fruity end of the witbier style, refreshing flavours and easy drinking, would be a thirst quencher on a hot day
404 characters

3.93
/5
rDev
+5.9%
look: 4 | smell: 3.5 | taste: 4 | feel: 4.5 | overall: 4
The new in-house beer for the Lingnan restaurant, replacing the Pi Jiu, and also carried in town by Sherbrooke. Pours out a cloudy light apricot colour, short creamy white head that slowly settles.
Mild aroma of soft wheat, coriander, and traces of orange.
The flavour is a bit more intense than the aroma, soft sweet wheat, rounded coriander, with an orange citrus finish. Clean aftertaste, very quenching.
Medium-bodied mouthfeel, smooth creamy texture with just the right amount of spritzy carbonation.
Great to have such a drinkable Wit available locally, a total session beer, and will be a regular purchase.
626 characters
3.97
/5
rDev
+7%
look: 3.5 | smell: 4 | taste: 4 | feel: 3 | overall: 4.5
A - Pours a hazy pale straw colour, thin layer of head with some retention and no real lacing.
S - Wheat grass and lemon citrus, some orange and tangerine. Surprisingly fruity on the nose.
T - Much like the scent, the wheat and citrus notes dominate. The fruity flavours also reveal some pineapple and apple alongside the orange and coriander.
M - Comes across a tad light on the carbonation, making it a bit watery for my liking.
O - Overall pleasantly surprised by this one. The fruity flavours are refreshingly tasty and add a bit of zip to what might have otherwise been a bland witbier. The perfect summer patio drink!
627 characters
3.88
/5
rDev
+4.6%
look: 4 | smell: 3.5 | taste: 4 | feel: 4 | overall: 4
Swirl poured into a pint glass. Three fingers of bubbly white head on a hazy yellow. The head soon diminishes to a thin layer. Patches of bubbly lacing.
Smells of yeasty lemony coriander. The coriander comes to the fore at first taste. A nice rounded flavour. Citrus brings up the rear. A nice simple wit.
Light body. Very refreshing. Subdued but well balanced. Very sessionable. I wouldn't hesitate to buy again.
415 characters
Sherbrooke Chinese New Beer from Alley Kat Brewing Company
Beer rating:
3.71
out of
5
with
6
ratings