Dismiss Notice
Dragon Series Green Dragon Double IPA
| Alley Kat Brewing Company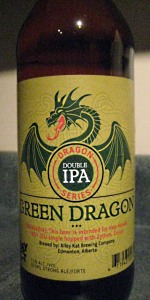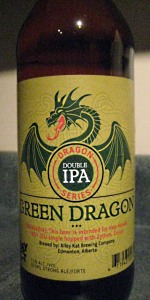 BEER INFO
Brewed by:
Alley Kat Brewing Company
Alberta
,
Canada
alleykatbeer.com
Style:
American Double / Imperial IPA
Alcohol by volume (ABV):
7.50%
Availability:
Limited (brewed once)
Notes / Commercial Description:
The Green Dragon is a brilliant gold with a malt up front flavour which is quickly followed by a mouth-numbing blast of citrus and piney hops for a long-lasting bitterness. At 100+ IBUs and single hopped with Zythos.
Added by biboergosum on 02-03-2012
This beer is retired; no longer brewed.
HISTOGRAM
Ratings: 9 | Reviews: 6
Reviews by IronDjinn:

3.38
/5
rDev
-9.9%
look: 3.5 | smell: 3 | taste: 3.5 | feel: 3.5 | overall: 3.5
From a 650 ml brown bottle, new label design for this ongoing single hop varietal DIPA series. Pours out a striking crystal clear mid-ranged golden hue, loose creamy white head that settles to cap that retains.
Bready malt on the nose, in fact a few layers of bready malt oddly enough, along with a dry musty character.
Soft bready malt starts things off in the flavour, it seems like it's going to be a major player here and then WHAM!--hops kick in and steal the show. In fact that first initial taste of malt is all that you are going to experience of it for the rest of the glass. Dry grassy, herbal, spicy hops build and build, owning the finish and still gaining momentum into the aftertaste. Each consequential sip simply magnifies this hop crescendo, and the spiciness builds more than the other hop characteristics.
Medium-bodied mouthfeel, slippery texture with some extra weight to it, with healthy carbonation for the style that adds some extra pinpricks on the finish.
Malt seems a bit light, not only for the style but compared to the past 2 offerings in this series (really, the balance in the Red Dragon was almost perfect). Perhaps it's the same malt bill interacting with this particular hop--a hop that even laid bare on its own in this DIPA I'm still mulling over and trying to pin a finger on it. Objectively it delivers the goods stated, however subjectively it's not a beer that fully comes together for me or has managed to seduce me.
1,463 characters
More User Reviews:
3.41
/5
rDev
-9.1%
look: 4 | smell: 3 | taste: 3.5 | feel: 3.5 | overall: 3.5
650ml bottle. Alley Kat has recently proclaimed an intention to continue releasing new instances of their single hop *Dragon DIPA, given the success of the Red and Blue versions late last year. First up, is the Green (why do I feel like I'm talking about Weezer album 'titles'...), um, Dragon, produced solely with the Zythos hop varietal, which appears to be a blend of the big 'C' hops of the Pacific northwest.
This beer pours a clear, bright medium golden hue, with two fingers of tight stocky, foamy off-white head, which leaves a decently consistent array of bonsai-forest lace around the glass as it evenly settles.
It smells of bready, crackery cereal malt, a slight oily nuttiness, mild pine needle, and a subtle metallic booze edge. Pretty innocuous for a Double IPA, I'd venture to say. The taste is somewhat more forthcoming with the hops - piney, herbal, and a bit citrusy, just enough to tip the balance with the staid, phlegmatic grainy malt - some earthy yeast and mild, flinty alcohol rounding things out.
The bubbles present as a bit sedate, but also just right, lending a gentle crispness to the proceedings, the body a teetering medium weight, a meddling hop and booze astringency blowing any chance at recommendable smoothness. It finishes a tad off-dry, the hops still strong, if that is indeed the right word - they're also more herbal and earthy, rather than zingy, bitter, and alluring. Hmmm.
Well, I'm not getting much of wow factor here on my DIPA radar. It definitely looks the part, but beyond that, this more readily resembles a tragically ambitious IPA, one where the hop weirdness (benefit of the doubt here), combined with the understated malt backbone, produce something of an unfortunately forgettable offering. Truth be told, however, this is not a bad beer by any stretch, just short of lofty expectations, and the exposure to an unfamiliar hop is always good, at least as an educational tool.
1,934 characters
3.41
/5
rDev
-9.1%
look: 4 | smell: 3 | taste: 3.5 | feel: 3.5 | overall: 3.5
A - clear golden with a tall white head that receded slowly leaving lots or random lacing blobs
S - dry grain malty aroma, earthy with only very mild pine and citrus, just not reminiscent of a DIPA on this front
T - starts with that same grainy malt flavour and creaminess much like a cream ale flavour, then some oily earthy hops emerge with some pine and stronger citrus rind on the finish, its definitely unique
M - light a medium carbonated, slightly creamy smooth, finishing light with a building bitterness
O - this is definitely unique and props as always to Alley Kat for their experimentation, but this is probably my least fave in the dragon DIPA series thus far, mostly because the flavour profile is a little off the mark in terms of hoppiness
755 characters

3.55
/5
rDev
-5.3%
look: 3.5 | smell: 3.5 | taste: 3.5 | feel: 4 | overall: 3.5
Reasonably fresh bottle.
A: Light copper, head is like icing but vanishes pretty quickly. I'd guess around 9srm.
S: At first the aroma is restrained, but warming it up reveals a nice fruity mineral quality, it actually reminded me of Fullers ESB at times with some melon leanings. Some alcohol.
T: To me this felt like a fairly restrained beer within the context of this style. The backbone tasted like light brown sugar or cookies with earthy, spicy and fruity character from the hops. Bitterness does linger around for a while.
M: Luxuriously medium bodied, I feel this is where the beer really shines.
O: To me this a nice drinkable IPA with an interesting fruity quality and a sweet, light backbone.
710 characters

3.7
/5
rDev
-1.3%
look: 3.5 | smell: 3.5 | taste: 4 | feel: 3.5 | overall: 3.5
Appearance - Pours a clear, golden topaz colour with a thin bubbly head. Light bubbles are present.
Smell - Lemon zest, citrus, biscuity aromas.
Taste - Waves of citrus, pine, and floral flavours. Quite mild in the hops department, leading to only a slight bitterness.
Mouthfeel - Medium bodied with light carbonation. Slightly thin.
Overall - A good DIPA from Alley Kat in the dragon series. I was taken by surprise by the light hops and mild bitterness. Perhaps this is because of the zythos hops. Besides that, still a very nice brew.
543 characters

3.53
/5
rDev
-5.9%
look: 4 | smell: 3.5 | taste: 3.5 | feel: 3.5 | overall: 3.5
650ml bomber poured into tulip 6/2/12
A clear golden yellow with a two finger off white foam that hangs around long enough to leave a bunch of unorganized lace
S not overly strong but I get a little guava and sweet malt, slightly vegatal with some caramel and faint booze
T leafy hops I didn't smell and not as much tropical fruit, biscuity malt and even more caramel, tastes decent and a fair bit stronger
M for 100 IBU its not all that bitter, medium bodied with a good level of carbonation, has a citric rind aftertaste that I don't mind but don't love either
O interesting stuff but I'm not amazed by this one, its OK but I've had better from this series
I've never heard of Zythos hops before and its different but not mind blowing. Although I didn't mind this beer I'm probably going to wait for the next release before buying another Alley Kat bomber.
869 characters

Dragon Series Green Dragon Double IPA from Alley Kat Brewing Company
Beer rating:
3.75
out of
5
with
9
ratings