The Bitter Truth ESB
| Alley Kat Brewing Company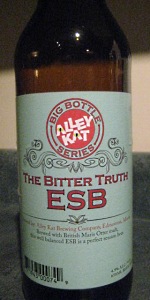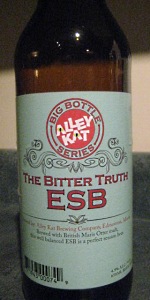 BEER INFO
Brewed by:
Alley Kat Brewing Company
Alberta
,
Canada
alleykatbeer.com
Style:
Extra Special / Strong Bitter (ESB)
Alcohol by volume (ABV):
4.90%
Availability:
Limited (brewed once)
Notes / Commercial Description:
No notes at this time.
Added by biboergosum on 03-09-2012
This beer is retired; no longer brewed.
HISTOGRAM
Ratings: 11 | Reviews: 7
Reviews by IronDjinn:

3.53
/5
rDev
-4.6%
look: 4 | smell: 3.5 | taste: 3.5 | feel: 3.5 | overall: 3.5
From a 650 ml brown bottle, yet another continuation of Alley Kat's Big Bottle series. Pours out a clear copper hue, tight foamy off-white head that retains to a thick cap.
Mild bready, caramel malt on the nose, some toasty notes, some mild sweet esters, even some light raisin, along with mild grassy, leafy hops.
Clean, dry toasty malt up front in the flavour, a small spike of rasiny ester in the middle, drying out once more with spicy, leafy, grassy hops on the finish.
Mouthfeel is light, silky slick texture, with a moderate amount of carbonation.
A decent attempt at an ESB, it's certainly clean and balanced, although perhaps a bit light on the hop end, at least for my tastes. A nice easy drinker.
711 characters
More User Reviews:
4.12
/5
rDev
+11.4%
look: 4 | smell: 4.5 | taste: 4 | feel: 4 | overall: 4
650ml bottle, the latest in Alley Kat's Big Bottle series. These seem to be coming out at an increasingly torrid pace - all right by me!
This beer pours a crystal clear medium bronze hue, with two fingers of tight foamy ecru head, which leaves some nice concentric garter lace (erg, cultural marriage tropes seeping in!) bands of lace around the glass as it evenly, and somewhat lazily, subsides.
It smells of doughy, somewhat biscuity malt, almond paste, a bit of orchard fruitiness, and sturdy earthy, leafy hops. The taste is more sweet pastry-like, lightly toasted grainy malt, augmented by some understated caramel toffee notes, and more than a bit of peppy floral hops.
The bubbles are restrained, filling a mostly unheralded supporting role quite well, the body medium-light in weight, and rather smooth, a very slight metallic edge tugging away for naught. It finishes with that same muffled biscuit character, and a decent spicy leafy bitterness.
Of late, I've come to be a little enamoured with the availability of Fuller's ESB on tap around town, and its flavourful 'sessionability'. Now, here we have a strong local competitor to that heady import - maybe a bit less flavourful in all the ways that matter for the style, but not by much, and the comparatively lower ABV balances the matter just right.
1,317 characters
3.58
/5
rDev
-3.2%
look: 4 | smell: 3.5 | taste: 3.5 | feel: 4 | overall: 3.5
A - crystal clear copper, thumb of off white head held its own nicely leaving some random lacing blobs
S - biscuity and nutty up front, leafy and mineral aromas are more mild
T - clean leafy hops with a crisp mineral like flavour, biscuity malt with some light toffee, tasty to be sure but just slightly lacing on the hop front for my taste
M - light, crisp, clean and with a pleasant hop dry finish
O - the label is bang on when it says this is a well balanced ESB is a perfect session beer, not outstanding in the style but tasty and very drinkable, the only slight knock for me is that i prefer to have the 'B' in ESB more pronounced via hop flavours, but they've gone for more balance here which is fine
707 characters

3.75
/5
rDev
+1.4%
look: 3.75 | smell: 3.75 | taste: 3.75 | feel: 3.75 | overall: 3.75
3.85
/5
rDev
+4.1%
look: 3.5 | smell: 3.5 | taste: 4 | feel: 4 | overall: 4
Appearance:
Pours a slightly cloudy but appealing colour somewhere between copper and caramel. Fluffy white head that never quite goes away.
Smell: Good nose of some earthy, herbal hops with a bit of caramel.
Taste: Nothing very complicated here, but that's just fine. Very bread-like taste to it all. Toasty hops which are mildly bitter over top of very subtle caramel malt.
Mouthfeel: Lightly carbonated with a medium body. With its pleasant but not-overpowering taste and easy mouthfeel I could drink these all night.
Overall: This is a beer I'd like to show off to friends who need a few baby steps to get into bigger, more flavourful beers. But I'd happily buy a case of these for an evening if available. Completely decent ESB.
739 characters
3.75
/5
rDev
+1.4%
look: 4 | smell: 4 | taste: 3.5 | feel: 3.5 | overall: 4
Another brew courtesy of my Alberta connection joemcgrath27.
A - Pours a nice copper colour, thumb of head with solid retention and chunky lacing.
S - A musty earthy hop, leafy greens, and a hint of caramel.
T - Earthy leafy greens dominate, herbal notes, caramel, apple juice and cider lingers alongside a metallic flavor.
M - A tad thin, goes down smooth and finishes dry.
O - A tasty treat, solid ESB flavors, but could use a bit more of the traditional earthy and musty hop flavors. By no means unenjoyable, but certainly a more mild ale for Alley Kat.
561 characters
3.36
/5
rDev
-9.2%
look: 4 | smell: 3 | taste: 3.5 | feel: 3 | overall: 3.5
Appearance - Pours a clear medium amber hue with a finger width of white frothy head.
Smell - Sweet caramel, light grains/breads, fruity characteristics.
Taste - Nice malts with the grainy/bready flavours. Bitterness is very mild. Very simplistic flavour.
Mouthfeel - Light bodied with light carbonation. Has a pleasant dry finish. Maybe a little thin.
Overall - A respectable effort towards this ESB by Alley Kat. It has some refreshing qualities, however it is a little too simple and falls short in some areas of a true ESB.
531 characters

3.91
/5
rDev
+5.7%
look: 4.5 | smell: 3.5 | taste: 4 | feel: 4 | overall: 4
650ml bomber poured into pint glass 20/3/12
A clear light copper with loads of tiny bubbles feeding a finger of foam that quickly falls to a thin film that leaves a distinct ring of lace with every sip, looks great
S herbal leafy hops with a little toffee and some biscuit, could be a little stronger though but decent
T some fruity notes with more hops then the nose would let you believe, that being said there's a heavy malt presence creating balance
M the pinprick bubbles work pretty well for it, a little bite doesn't hurt either, grainy aftertaste lingers faintly
O pretty easy too drink and good flavors in something I could drink for a while
I've been enjoying the bib bottle series and hope they keep pumping out the different styles
754 characters


3.62
/5
rDev
-2.2%
look: 3.75 | smell: 3.5 | taste: 3.75 | feel: 3.5 | overall: 3.5
The Bitter Truth ESB from Alley Kat Brewing Company
Beer rating:
3.7
out of
5
with
11
ratings