Dragon Series Black Dragon Double IPA
| Alley Kat Brewing Company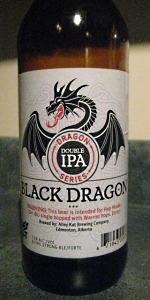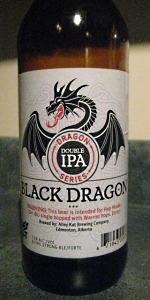 BEER INFO
Brewed by:
Alley Kat Brewing Company
Alberta
,
Canada
alleykatbeer.com
Style:
American Double / Imperial IPA
Alcohol by volume (ABV):
7.50%
Availability:
Limited (brewed once)
Notes / Commercial Description:
No notes at this time.
Added by biboergosum on 04-05-2012
This beer is retired; no longer brewed.
HISTOGRAM
Ratings: 14 | Reviews: 9
Reviews by IronDjinn:

3.51
/5
rDev
-12.5%
look: 4 | smell: 3 | taste: 3.5 | feel: 4.5 | overall: 3.5
I sampled the cask version of this already, curious how the bottle delivers. From a 650 ml brown bottle. Pours out a clear golden hue, tall foamy off-white head that retains.
Clean bready malt on the nose, very mild perfumey and spicy hops.
On the flip side the hops dominate the flavour. Intense spicy, herbal hops steal the show, with some sweet bready malt carrying up the rear. Milder leafy hops linger on in the aftertaste.
Mouthfeel is the star of the show here, medium-full in body, a full creamy smooth texture, with moderate carbonation.
An English and Continental hop character to these hops, on their own probably better utilized in other beer styles or combined with other hop varieties. They certainly contribute to an English styled DIPA in this case. Aside from what the hop singularity contributes this is a decent offering, however I`m not that won over by the whole due to the hop singularity. Red Dragon still remains the most solid of this series so far, in my opinion.
994 characters
More User Reviews:
4.2
/5
rDev
+4.7%
look: 4 | smell: 4 | taste: 4.5 | feel: 4 | overall: 4
650ml bottle. The current Dragon Series DIPA, single-hopped this time with the Warrior varietal. 'Black' seems to be order of the week for me, beer, and otherwise, so it continues with 'Black No. 1' on the stereo, courtesy of the late Peter Steele and friends...
This beer pours a clear, glassy medium golden amber hue, with two fingers of tight, creamy off-white head, which settles to a yeasty-looking flotsam, amid some splotchy, caked bands of lace around the glass.
It smells of sweet, bready malt, a bit nutty, sort of marzipan-like, with some moderate tangy citrus, pine, and leafy hop notes. The taste is bitter grapefruit rind, unsweetened lemon, and some herbal/leafy character that also seems to bring the tartness levels up. All this over a solid, if a bit middling, pastry-bread caramel malt, some oily nuttiness and subtle vanilla shoring things up a bit further. I get a soft reverberation of metallic alcohol if I aspirate just so, slightly more as things warm up.
The carbonation is a little frizzante, stealthy like that, the body a steady medium weight, the snappy hops draining some of the ardor of the otherwise innocent smoothness. It finishes with a persistent hoppy demeanor, tilted towards the herbal/leafy realm, but really still at the mercy of the pine bitterness. Oh, yeah, the malt maintains its earlier stance, no quarter given.
Well, I do prefer this to the Green Dragon - the malt backbone is more pronounced (but still kind of reserved for the style, IMHO), and the overall bitterness is more in your face, like any good DIPA should be. The Warrior hops seem to have a multifaceted range, which adds to the increased appeal of this iterative Dragon.
1,687 characters
4.03
/5
rDev
+0.5%
look: 4.5 | smell: 4 | taste: 4 | feel: 4 | overall: 4
To celebrate my 700th official review, I'm continuing the International IPA Day celebrations a day later with something from one of my favorite brewers: Alley Kat
A - lightly hazy dark golden, tower of head lasted forever and left lots of consistent lacing as it finally dissipated
S - big spicy and earthy aromas, grainy and musty, late mild hint of citrus zest and booze
T - pepper and grapefruit hops up front, backed by toasted grain maltiness, earthy notes late in the finish, and booziness is there
M - light and starts a little juicy, quickly erased by a serious bitterness with a peppery feel lingering
O - yet another unique and tasty DIPA in this outstanding series. I bought, I drank, I got the T-shirt ... seriously, its sweet!
739 characters



4
/5
rDev
-0.2%
look: 4 | smell: 4 | taste: 4 | feel: 4 | overall: 4
One of the ever changing draft offerings at Beer Revolution (my new favorite in Calgary).
This pint is a clear, golden orange color, with an off white head. Foam settles to a patchy, floating cap, thin lace stripes left around the glass. Lots of bright hop aromas, but still alot of sweet, bready malt. Citrus, pine tree, dominate.
The taste starts with the citrus, grapefruit hop bitterness, and ends with more leafy amd herbal hops. Caramel malt gives a good base, keeping the bitterness balanced.
Medium body, good level of carbonation keep it from being to fizzy. Easy to drink as my glass was empty before I knew it.
A flavorful IIPA, that wasn't just an overpowering blast of bitterness.
695 characters
4
/5
rDev
-0.2%
look: 4 | smell: 4 | taste: 4 | feel: 4 | overall: 4
The last of my Double Dragon series, generously shipped to me by joemcgrath27.
A - Pours a slightly hazy light copper colour, thumb of pillowy head with solid retention and nice sheeting lacing.
S - Scent is dominated by sour citrus and peppery spice, and a sugary caramel undertone.
T - The flavour is unique offering up a sweet honey lemon flavour, some grassy notes, heavy bitterness that lingers on the palette alongside some bready caramel and cracked pepper. Some musty hop notes are also coming through, reminiscent of an ESB.
M - Medium, smooth and a touch of dryness.
O - Another quality offering in the Double Dragon series and well worth seeking out. The bitterness that lingers on this one is strong and the hop profile is quite flavourful. Super stoked to have had the opportunity to try this one.
816 characters

4.02
/5
rDev
+0.2%
look: 4 | smell: 3.75 | taste: 4.25 | feel: 3.75 | overall: 4
650ml bottle poured into a tulip
A- lightly hazy dark golden, one finger of white head that lasted a while, and a lot of lacing
S- Citrusy hops, spicy and earth notes
T- Grapefruit hops, not a lot of malts, not overbearing with hops or bitterness, but enough to know its a IIPA, little lemon rind
M- Fairly heavy, creamy smooth texture, moderate carbonation
O- Very flavorful IIPA that wasn't over the top bitter
417 characters
3.75
/5
rDev
-6.5%
look: 3.5 | smell: 3.5 | taste: 4 | feel: 4 | overall: 3.5
Appearance - Pours a golden orange amber with 1/2 finger width of foamy head that recedes quickly.
Smell - Piney hops, citrus, passionfruit, grains.
Taste - Moderate hops flavour (enough to let you know it's there) with complementary bitterness. Touch of grapefruit citrus tang and breadiness.
Mouthfeel - Medium bodied with moderate carbonation. Smooth texture. Very pleasing.
Overall - One of the better DIPAs in the Dragon Series by Alley Kat. Compared to the last entry (the Green Dragon), there is a stronger hops presence in aroma and flavour. Excellent mouthfeel.
575 characters

4
/5
rDev
-0.2%
look: 4 | smell: 4 | taste: 4 | feel: 4 | overall: 4
650ml poured into tulip 10/4/12
A bright golden liquid with some tiny bubbles feeding a two finger head that retains fairly well leaving a thick ring of lace followed by random patches
S sweet floral tea bag, lots of herbal notes with some bready aspects pizza dough perhaps,
T mimics the smell quite well, a little lemon rind I couldn't smell, tastes pretty decent with a little pine but not much, something to be said for zero booze detected
M heavy for the color with just enough bubbles to give it some life, ever so slightly sticky on the lips
O I liked this one but I'm not blown away by the hop they used, no fault though solid stuff
I only feel the booze, no smell or taste is always impressive in 7.5%, not my favorite from the series but still pretty good, worth looking for a bottle
801 characters

4.32
/5
rDev
+7.7%
look: 4 | smell: 4.5 | taste: 4.5 | feel: 4 | overall: 4
I was lucky enough to have a pint of this on-tap. I also tried the bottled version. I like the bottle for the logo and as a keepsake, but the on-tap beer was slightly better than the bottled one.
Appearance is lovely. Amber with almost an a tan-ish head, nice and tight and foamy.
Smells of hops. That's a good thing.
Tastes of hops. It remains bitter. No malty aftertaste. My remark at the time was that this beer was "deeply bitter". Also a good thing.
Mouthfeel = just right.
I liked this one better than the Green Dragon. A nice offering.
544 characters
Dragon Series Black Dragon Double IPA from Alley Kat Brewing Company
Beer rating:
4.01
out of
5
with
14
ratings