Saison D'Etre Farmhouse Ale
| Alley Kat Brewing Company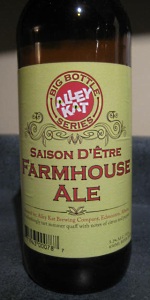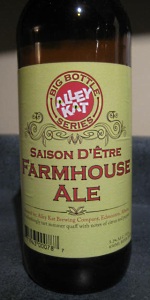 BEER INFO
Brewed by:
Alley Kat Brewing Company
Alberta
,
Canada
alleykatbeer.com
Style:
Saison / Farmhouse Ale
Alcohol by volume (ABV):
5.20%
Availability:
Limited (brewed once)
Notes / Commercial Description:
No notes at this time.
Added by IronDjinn on 05-16-2012
This beer is retired; no longer brewed.
HISTOGRAM
Ratings: 14 | Reviews: 8
Reviews by IronDjinn:

3.58
/5
rDev
+5.6%
look: 4 | smell: 3.5 | taste: 3.5 | feel: 4 | overall: 3.5
From a 650 ml brown bottle. Pours out a clear deep golden hue, capped by a tall tight frothy off-white head.
Sweet buttered bread malt on the nose, some dryness and very mild phenols, mild grassy hops.
Big malt on the flavour, rich and bready at first, while things get crisper in the middle, then a bit tart and sour towards the finish, although bready sweetness picks up again with light leafy hops. Yeasty acidity carries into the aftertaste, adding to the quenching factor, with some lemon rind appearing after a while.
Light-bodied mouthfeel, with a smooth creamy texture punctuated by pin-prickly carbonation.
This is a tough style to peg down and relies so much on personal interpretation, as well as personal taste. A decent offering here, straight forward with nothing too fancy happening in the periphery. I'll be grabbing more this summer for sure, a great hot weather quencher in the absence of any Kolsch or fresh Pilsener around these parts.
967 characters
More User Reviews:
3.73
/5
rDev
+10%
look: 4 | smell: 3.5 | taste: 4 | feel: 3.5 | overall: 3.5
650ml bottle. Good to be back in Edmonton, I suppose, for the latest in the Kats' Big Bottle series: 'Season of Being' - how existential.
This beer pours a crystal-clear, pale golden amber hue, with two fingers of tightly foamy, and almost creamy eggshell white head, which leaves a few spattered swaths of lace around the glass as it evenly recedes.
It smells of bready, almost pastry-esque malt, a very slight edgy booziness, and soft earthy and ethereally fruity hops - quite enticing, but not really in the farmhouse. The taste is soft grainy, bready, toothsome malt, with a moderate dose of astringent yeast, subtle tangy citrus rind, palate-tickling black and green pepper, and more languid fruity and leafy hops.
The bubbles are pretty innocuous in their atypically wan frothiness, the body a teetering medium weight, and mostly smooth, save for a teensy metallic stripe. It finishes sweet and malty, of the aforementioned type, with the citrus, pepper and yeast wilting in the shadow of a growing alcohol warmth.
Not a bad Saison, though kind of meek with the spicing, but full and comforting on the malt backbone side, rendering a pretty tasty tipple, with filtered memories of the French countryside.
1,215 characters
3.62
/5
rDev
+6.8%
look: 3.5 | smell: 4 | taste: 3.5 | feel: 3.5 | overall: 3.5
A - slightly hazy bright golden, thumb of white head retained well
S - buttery fresh bread, yeast phenols, mild leafiness and citrus
T - medium phenolic yeast flavour, then buttered bread maltiness, followed by a crisp leafy and citrus hoppiness, raw grain finish
M - light and well carbonated, a little thin through the middle, finishes with a peppery dry feel and a touch of tartness
O - a nice take on a saison with the strong buttery flavour giving it its identity, easy drinking and refreshing, another great addition to the big bottle series
547 characters

2.64
/5
rDev
-22.1%
look: 4 | smell: 2.5 | taste: 2.5 | feel: 3 | overall: 2.5
A: Crystal clear copper in color, little to no head and lowish carbonation. Pretty, but not very saison-like.
S: Mostly malt, some orangey-fruitiness and a bit of spicy yeast character.
T: Very quaffable, but doesn't feature much 'saison' phenolic character. Too much malt flavor and not enough yeast.
M: Goes down very smooth.
Quite disappointed by this beer, not sure why they would even label this a Saison, but it's drinkable.
435 characters
3.63
/5
rDev
+7.1%
look: 4 | smell: 3.5 | taste: 3.5 | feel: 3.5 | overall: 4
Props to joemcgrath27 for the hook-up on this treat...
A - Pours a slightly hazy golden colour, finger of soapy head, solid retention and nice sheeting lacing.
S - A unique scent on the nose, peppery spiced citrus notes, hints of cream, lemon rind and a burnt sugar and buttered caramel finish.
T - The flavour is nicely balanced with a sweet honey flavour dominating alongside a sweet citrus flavour, hints of maple and buttery yeast esthers.
M - Medium bodied, smooth and a touch of dryness on the finish.
O - A tasty saison that is uniquely memorable, offering up some different flavours than are traditionally attributed to the style. The buttery flavours are unique and tasty. Super glad I had the opportunity to take it for a spin. Definitely like Alley Kat's attempts to broaden the portfolio and try out new styles.
828 characters
3.5
/5
rDev
+3.2%
look: 3.5 | smell: 3.5 | taste: 3.5 | feel: 3.5 | overall: 3.5
Appearance - Pours a honey amber hue with a finger width of white head.
Smell - Clove/spices, citrus, honey, light yeast, generally sweet aromas.
Taste - Light clove and spice, along with bready/biscuity flavours and a hint of orange and pepper. Nicely balanced, especially since such potent flavours are in use. Leaves a nice bitterness on the roof of your mouth with a touch of sweetness.
Mouthfeel - Medium bodied with light carbonation. A tad sticky.
Overall - A well balanced saison by Alley Kat. There's a nice lightness in flavour (nice to see the clove and yeast flavours do not overwhelm the senses). Well executed for a first time, but a little fine tuning required to make this even better.
705 characters

3.3
/5
rDev
-2.7%
look: 3.5 | smell: 3.5 | taste: 3 | feel: 3.5 | overall: 3.5
650ml bottle poured into tulip 23/5/12
A golden copper with lots of random sized bubbles feeding a tight thumbs width of foam that falls quickly and leaves just a few random patches of lace
S sour orange marmalade, earthy hops and some faint spice, some candied fruit but I can't quite place it, maybe some caramel apple sneaking in therre
T slightly more spice but still lacking, bready and slightly sweet, what I smells still there but I'm not blown away by this one
M medium bodied with average carbonation, mildly spicy aftertaste but you need too look for it
O I know it's a loose style but its not really what I think of in a great Saison, not a bad beer pretty basic but lacking yeasty spice I love
When your pumping out new brews like Alley Kat's been doing lately there's bound to be a few underwhelming products. I'm still waiting for the next one and there's winners waiting for me in the future I just know it
930 characters


3
/5
rDev
-11.5%
look: 4 | smell: 4 | taste: 2.5 | feel: 3 | overall: 2.5
Bottle acquired from the MLCC, River & osbourne for about $8. Poured into a Duvel tulip to celebrate convocation 2012. ~4C at first pour, warmed substantially over time.
A: Deeper than a straw yellow, with a hint of orange in the otherwise clear body. A white head shows up and drops leaving very little lacing, though the cap comes back upon sips, showing a high level of carbonation.
S: Peppery, some belgian esters, barnyard and possibly a brett note in there. As it warms a butteriness comes about.
T: An odd saison... A viscous body with a buttery / light butyric in the finish. Little pepper or other esters. Not enjoyable sadly. I was really looking forward to my first Alley Kat beer.
M: Thick. Well carbonated. Hints of sweetness.
O: Just isn't a saison to me. Not one bit... If they had sold this as a golden ale, I think I would have reviewed in better.
865 characters

Saison D'Etre Farmhouse Ale from Alley Kat Brewing Company
Beer rating:
3.39
out of
5
with
14
ratings