Dragon Series Yellow Dragon Double IPA
| Alley Kat Brewing Company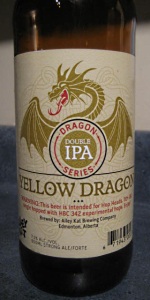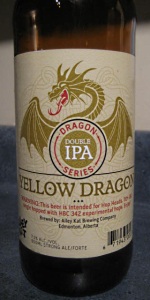 BEER INFO
Brewed by:
Alley Kat Brewing Company
Alberta
,
Canada
alleykatbeer.com
Style:
American Double / Imperial IPA
Alcohol by volume (ABV):
7.50%
Availability:
Limited (brewed once)
Notes / Commercial Description:
No notes at this time.
Added by biboergosum on 06-08-2012
This beer is retired; no longer brewed.
HISTOGRAM
Ratings: 12 | Reviews: 8
Reviews by IronDjinn:

3.58
/5
rDev
-2.5%
look: 4 | smell: 3.5 | taste: 3.5 | feel: 4 | overall: 3.5
From a 650 ml brown bottle. Pours out a clear deep gold hue, tight creamy ivory head that settles to a thin cap.
Toasty, bready malt with hints of chocolate on the nose, accompanied by spicy, leafy hops.
Hops are on the forefront in the flavour, spicy and a leafy herbal character, they carry a bit of warmth as well. Slight toasty, bready malt peeks through around the middle, however the hops still dominate and finish strong as well with more of a citrusy character of grapefruit rind and pith.
Medium-full mouthfeel, smooth full texture with a slight touch of grainyness, and moderate carbonation.
They beer itself is well-crafted, no issues there, however on a subjective level these new HBC 342 hops could use some company to help accentuate and regulate them at the same time, pretty in your face like the Columbus hops left to themselves. Still, kudos to Alley Kat for giving us a chance to see what these new experimental hops are all about, I'd never heard of them until this point. Eat yer heart out Mikkeller....
1,028 characters
More User Reviews:
4.05
/5
rDev
+10.4%
look: 4 | smell: 4 | taste: 4 | feel: 3.5 | overall: 4.5
650ml bottle. The next in the ongoing single-hop Double IPA series, this time showcasing, um, the 'HBC 342' experimental hop. Sounds more like a CDC virus code or something.
This beer pours a clear, medium golden amber hue, with two fingers of loosely foamy eggshell-white head, which leaves some spooky drooping webbed lace around the glass as it seeps away, and makes for some sexy legs after the fact.
It smells of bready, biscuity malt, some aged citrus rind, and a mildly grassy, and mostly floral hoppiness. The taste is quite indistinctly bitter right up front - it halfheartedly assaults the sides of my tongue, before giving way to a slightly gussied up version of the aroma. Bready, breakfast cereal malt (the Alley Kat house style), citrus, but neutered of any sweetness or fruitiness, and almost perfumed, but mostly just straight ahead country road adjacent floral esters, these lab hops really strutting their stuff.
The bubbles are prim and proper, i.e. sedate, the body a trim middleweight, and more or less smooth - those hops are the kind that like to crash the party, if yaknowhutimean. It finishes off-dry, the malt still having a say in things, but it's the hops, in their weird, but verily workable way, that drive things forward.
Wow - a truly bitter Dragon Series incarnation, and from a heretofore unheard of (to me), and unexpected source. Imperial floral hops, in a nutshell - interesting, awkward, and at the same time, pretty enjoyable. New things can be fun, eh?
1,496 characters
3.41
/5
rDev
-7.1%
look: 4 | smell: 3 | taste: 3.5 | feel: 3.5 | overall: 3.5
A - mostly clear golden, thumb of head dissipated to a thin cover with thick lacing left
S - mild citrus and perfume notes, but mostly a grain aroma
T - bitter citrus and herbal hops to start, then sharp grainy malt, finishing with a unique bitter flavour
M - light and somewhat thin, unique and strong bitterness
O - the flavour brought out by this HBC 342 hop is unique for sure, could due with some hop balance but that was not the point in this case, so props to alley kat for continuing to push the boundaries of style
523 characters

3.21
/5
rDev
-12.5%
look: 4 | smell: 3 | taste: 3 | feel: 3.5 | overall: 3.5
A: Great clarity and properly pale. Appetizing beer.
S: Biscuity malt, herbal/woody hops. Doesn't do much for me here, fairly restrained aroma.
M: Interesting hop. The flavors are somewhere between pine cone woody and cool/minty herbal. Something about it feels very 'dull' to me.
M: Mouthfeel is refreshing and light on its toes. A juicy finish with creeping bitterness.
Not bad, I admire Alley Kat for continuing this series and trying experimental hops, but its becoming more clear why some aroma/flavor hops are vastly more popular in the IPA world.
557 characters

3.53
/5
rDev
-3.8%
look: 4 | smell: 3.5 | taste: 3.5 | feel: 3.5 | overall: 3.5
Another treat courtesy of my western BA connection joemcgrath27.
A - Pours a pale golden colour, thumb of head with solid retention and nice sheeting lacing.
S - Scent is surprisingly mild, lots of musty caramel and grassy hops, a touch of citrus rind on the finish.
T - Again, the metallic musty caramel flavours dominte, followed by a strong bitter citrus flavour, lots of oily resins and a lingering bitter tartness unlike I've ever tasted before.
M - Medium bodied, smooth and surprisingly dry.
O - This one is different, and although it provides for a unique experience, it's probably my least favourite of the series to date. The ABV is nicely hidden, and the musty caramel and grassy hop notes are reminiscent of a strong english ale, but the bitterness on the finish was a bit much for me. Worth a try nonetheless.
827 characters

3.61
/5
rDev
-1.6%
look: 4 | smell: 3 | taste: 4 | feel: 3.5 | overall: 3.5
Appearance - Pours a clear gold with a finger width of foamy white head.
Smell - Subtle hops, woodsy/earthy aroma, citrus, malts, hint of tropical fruits.
Taste - Moderately hoppy with a little presence from the bready malts. Woodsy character to the hops. Bit of pleasant bitterness.
Mouthfeel - Medium bodied with light carbonation.
Overall - An interesting twist to Alley Kat's Dragon series. The experimental hops added an intriguing woodsy characteristic, which complemented the malts and left a lovely bitter aftertaste.
531 characters

3.68
/5
rDev
+0.3%
look: 4.5 | smell: 4 | taste: 3.5 | feel: 3.5 | overall: 3.5
650ml bomber poured into tulip 18/6/12
A clear golden liquid with a dense two fingers worth of foam that has great retention and leaves several distinct rings of lace, looks pretty sweet
S floral hops, faint pine, bready, and a little citrus and lots of melon and caramel, smells different but good
T lots of wet wood I didn't smell and a slight herbal aspect with some cooked veggies thing going for it, I preferred the nose for sure as it lacked the heavy woody aspect
M medium full with soft carbonation, no heat and that woody aftertaste is faint but lingers
O I liked the smell but not what I normally look for in a DIPA, nothing too be ashamed of not the best from the Dragon series
I could see this making a nice aroma hop but on its own its lacking just a little something. I didn't love the woody aspect but I had little trouble downing the bomber in no time.
876 characters

4.25
/5
rDev
+15.8%
look: 4 | smell: 4 | taste: 4.5 | feel: 4.5 | overall: 4
This could be my favorite of all of the Dragons that I've had.
Beautiful copper color, lots of tight white head.
Hop aroma with a citrus-y scent to it.
Deep down bitterness but well balanced by malt and alcohol.
Carbonation was perfect. But I don't give 5/5 for mouthfeel, so a half point off it is.
Lover-ly brew, this one. Too bad it's been retired.
353 characters
Dragon Series Yellow Dragon Double IPA from Alley Kat Brewing Company
Beer rating:
3.67
out of
5
with
12
ratings