Work Of Tart Raspberry Ale
| Alley Kat Brewing Company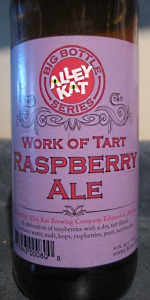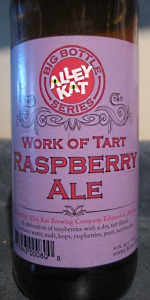 BEER INFO
Brewed by:
Alley Kat Brewing Company
Alberta
,
Canada
alleykatbeer.com
Style:
Fruit / Vegetable Beer
Alcohol by volume (ABV):
4.10%
Availability:
Limited (brewed once)
Notes / Commercial Description:
No notes at this time.
Added by leaddog on 07-19-2012
This beer is retired; no longer brewed.
HISTOGRAM
Ratings: 6 | Reviews: 5
Reviews by IronDjinn:

3.03
/5
rDev
+8.6%
look: 3.5 | smell: 3 | taste: 3 | feel: 3 | overall: 3
From a 650 ml brown bottle. Pours out a transparent rosee hue, quick splash of fizzy head that dissipates quickly and clings to the edges of the glass.
Fresh sweet, and equally tart raspberries meet the nose at first, with some faint yet sharp yeast making its presence known in the background.
Sharp tartness up front in the flavour spurred by the raspberry content, a mild sticky fruit sweetness pops up in the middle to balance things out a bit, although everything seems to drop out by the finish, giving it a soda water character on the palate and taste buds. Clean finish and aftertaste due to this. Nothing offensive here mind you, it just seems to conk out too soon.
Light brisk carbonation in the mouthfeel, light bodied, with a watery yet somewhat sticky texture to it.
Hard to tell when this stuff peaked after it was released, granted that this is a review of an older bottle, I had sampled several of these over time. If anything it may be deteriorating a bit although the best before on the bottle says JAN of 2013. In the end what we have here is an easy drinking fruit beer with a slight bit of kick, and it does succeed in quenching.
1,154 characters
More User Reviews:
3.37
/5
rDev
+20.8%
look: 3 | smell: 3.5 | taste: 3.5 | feel: 3.5 | overall: 3
650ml bottle, the latest in AK's Big Bottle series. Made with an addition of lactobacilus, apparently. Now why does that sound so familiar?
This beer pours a clear, orange-tinted salmon hue, with one skinny finger of morphing fizzy pale pink head, which fritters away to nothing in a few seconds flat, leaving little in the way of lace.
It smells of bready, somewhat sour malt, raspberry ice cream, and edgy leafy and earthy hops. The taste is mildly tart, fruity raspberries, a wavering sweet medicinal twinge, a hard to nail down stale milk essence, and more perky earthy and leafy hops.
The bubbles are kind of tight, and a tad sharp, the body an adequate medium weight, with just a wee bit of that fruity pithiness to mar the otherwise straitlaced smoothness. It finishes a tad off-dry, the sourdough malt and doddering raspberry showing some fading sweetness, amidst a growing, and softly enveloping funky lactic acid character.
Riiight...this is the same bacterial culture that they used to make Sherbrooke's Big Kahuna, and the souring effect is very similar - more milky than funky. Here, it's kind of like it got stuck on the long road to becoming a big league fruit lambic. An interesting endeavour, but I guess I either want an acetic fruit beer, or a sweet, balanced, and clean fruit beer, and not something stuck in the middle, as this seems to be.
1,365 characters
2.49
/5
rDev
-10.8%
look: 2.5 | smell: 3.5 | taste: 2 | feel: 3 | overall: 2
A - poured a clear pink that fizzed like a soft drink, short head quickly fizzled away ... just like a soft drink
S - definite sweet & tart raspberry aroma, along with grainy and musty aromas
T - starts like the nose with a very sweet tart raspbery flavour, but then definitely moves to a chlorine, chemical thing, some grainy malts do arrive but this is quickly overpowered by the wrong flavour, unfortunate
M - light and tart
O - too bad, to me this is definitely a bad run, the chlorine or chemical taste is undeniable, the good parts are there but something is wrong, I had read about this issue on the forums and hoped it was just a one off bottle or an opinion but not so lucky
683 characters

2.15
/5
rDev
-22.9%
look: 3.5 | smell: 1 | taste: 2.5 | feel: 3 | overall: 2
A: Pale orange-pink, great clarity, 5 second long off-white head.
S: Yikes... Vinyl, band-aid, chlorine, raspberries. There is certainly something wrong with this beer and its amazing to me that more people aren't pointing it out.
T: The taste is less offensive than the nose. Subtly tart raspberries come first but then the chemically weirdness shows up. Its surprising to me that Alley Kat even bottled this beer. The tartness is too mild for a beer of this name.
M: Dryish, drinkable.
The wretched aroma and obvious quality control problem make this beer an utter failure. Alley Kat is probably the best brewery in the province, but with their last 5 seasonals all tanking they have some ground to make up. Avoid.
721 characters
3.46
/5
rDev
+24%
look: 3.5 | smell: 2.5 | taste: 4 | feel: 3.5 | overall: 3.5
Appearance - Pours a deep blush/grapefruit colour with a 1/4 finger width of head that fades quickly. Bubbles galore.
Smell - Raspberries, grains, citrus (orange/lemon), cough drop.
Taste - Tart raspberries take the lead from start to finish, with a few accents from toasted grains and citrus fruits. Tartness is nicely balanced with sweetness (but not too sugary).
Mouthfeel - Light bodied with moderate carbonation.
Overall - A unique twist to the raspberry ale by Alley Kat. Tart raspberries are the star and not overshadowed by wheat (as raspberry ales tend to be crafted). Unfortunately, the smell was a step back with a cough-drop aroma, but thankfully does not take away from the taste.
697 characters

Work Of Tart Raspberry Ale from Alley Kat Brewing Company
Beer rating:
2.79
out of
5
with
6
ratings