Dragon Series Indigo Dragon Double IPA
| Alley Kat Brewing Company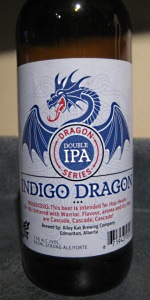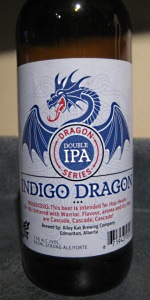 BEER INFO
Brewed by:
Alley Kat Brewing Company
Alberta
,
Canada
alleykatbeer.com
Style:
American Double / Imperial IPA
Alcohol by volume (ABV):
7.50%
Availability:
Limited (brewed once)
Notes / Commercial Description:
No notes at this time.
Added by biboergosum on 08-05-2012
This beer is retired; no longer brewed.
HISTOGRAM
Ratings: 11 | Reviews: 8
Reviews by Sbekolay:
More User Reviews:
3.58
/5
rDev
-8%
look: 4 | smell: 3.5 | taste: 3.5 | feel: 4 | overall: 3.5
650ml bottle. The next (or 6th, if you're counting) in Alley Kat's Dragon Series Double IPAs, wherein they try a single hop for each 'coloured' release, only here there are two hops employed - Warrior for bittering, and Cascade for flavour, aroma, and dry hopping. That's what they say. I say I should just drink this thing already!
This beer pours a clear medium golden amber hue, with one chubby finger of dense foamy dirty white head, which leaves some spectral hanging lace around the glass as it duly recedes. Looks s'alright to me.
It smells of bready, biscuity malt, with some middling caramel notes, a soft, evolving citrus rind fruitiness, some subtle doughy yeast, and further leafy, earthy hops. The taste is moderately bitter grapefruit and orange peel essence, more bready, crackery malt, with a dash of caramel, some lingering baker's yeast, additional spicy, leafy hop astringency, and a fairly tame booze warming.
The bubbles are somewhat sassy, with a slight prickliness, the body a holding medium weight, and generally smooth. It finishes off-dry, the bready malt sticking to its guns, with the hops emitting an agreeably steady hum.
A nicely aromatic DIPA, to be sure, but the expected big citrus fruitiness seems muted by the sole (sort of) use of the Cascade, Cascade, Cascade (did I say Cascade?) varietal here. The bitterness is well rendered, so kudos to the Warrior side of things, and the alcohol stays pretty hidden, another bonus. Good, but it just doesn't move me like the earlier Red Dragon did. Palate fatigue? Perhaps. Anyways, isn't indigo just a subtler shade of um, blue? That would explain a lot, at least for me.
1,653 characters
4
/5
rDev
+2.8%
look: 4 | smell: 4 | taste: 4 | feel: 4 | overall: 4
A - clear bubbly golden, thumb of creamy head dissipated slowly leaving significant lacing
S - citrus and fruit juice, grainy, bubble gum, and light herb
T - citrus is milder than the nose, light pine, grainy malt, and a touch of pepper
M - light and well carbonated, this bitterness is a big factor as advertised, the alcohol is well hidden
O - another fine offering in this fantastic series, its not a mind blower but a very solid DIPA with a strong focus on bitterness
471 characters

3.95
/5
rDev
+1.5%
look: 4 | smell: 4 | taste: 4 | feel: 3.5 | overall: 4
From a 650 ml brown bottle. Wow I've had a lot of these since they were first released, yet hadn't had the discipline to sit down and review it yet. My impression of it at this point already? Sherbrooke's Bad Hare Day with rocket fuel, those extra Warrior hops sure give it some serious kick!
Pours out a bright clear copper hue, with a short foamy loose-bubbled head that retains to a thin cap.
Sweet bready malt on the nose, mild toasty character with some equally mild caramel notes, along with some mild yet sharp leafy herbal hops.
Smooth bready malt up front in the flavour, while some Cascade hops build soon after with some piney grapefruit rind, while towards the finish things kick up several notches of intensity with straight herbal bitterness from the Warrior hops, which easily dominate the normally formidable Cascade hops at this point. Bittering hops linger throughout the aftertaste while still maintaining intensity. Hop bomb indeed, but not overly out of control.
A medium body for the mouthfeel, smooth, slippery, even a bit oily on the texture, with moderate carbonation.
While the malt manages to hold its own for a while this is certainly lopsided in the flavour dep't, as to be expected for the style and the hop bill. That's not an issue though, that's what I'm here for. Probably the most intense beer Alley Kat has put out to date, hop-wise that is. And I keep coming back for more until it's no longer available....
1,450 characters
4
/5
rDev
+2.8%
look: 4 | smell: 4 | taste: 4 | feel: 4 | overall: 4
Mad props to joemcgrath27 for passing along this installment of the Double Dragon series.
A - Pours a nice, slightly hazy, pale golden colour with a copper hue, finger of head with decent retention and some nice sheeting lacing.
S - Resiny and earthy pine and cedar hops, hints of sour lemon rind and a touch of grassy notes.
T - A sour grapefruit bitterness comes through off the top, followed by sweet iced tea notes and metallic resins, and on the finish the bitter earthy hop notes linger alongside a hint of caramel and leafy greens.
M - Medium bodied, smooth and wet.
O - The bitterness on this one was surprising, and the tart flavour that lingered incredibly unique. The ABV is well hidden and the hop flavours definitely dominate. A must try and a pleasant addition to the series.
794 characters

3.88
/5
rDev
-0.3%
look: 4 | smell: 4 | taste: 3.75 | feel: 3.75 | overall: 4
650ml bottle poured into a tulip
A- Clear copper cold, two fingers of white head, really good retention, with lots of lacing around the glass
S- Tropical citrus, earthy pines, little grassy notes
T- Grapefruit bitterness, citrus hops, good malt background, good kick with a bitter finish
M- Full bodied, smooth and creamy, moderate carbonation
O- Very good DIPA, great amount of hops and very bitter, great little sweetness and malt background
448 characters
3.85
/5
rDev
-1%
look: 3.5 | smell: 3.5 | taste: 4 | feel: 4 | overall: 4
Appearance - Pours a clear copper/amber with a finger width of bubbly head.
Smell - Grapefruit, citrusy hops, tropical fruits, caramalts. Sweet smelling.
Taste - Nice punch of flavour from the leafy, citrusy hops, along with the citrus and tropical fruit flavours. Caramel notes provide support and balance. Finishes with a pleasant bitterness.
Mouthfeel - Medium bodied with moderate carbonation. A little sticky.
Overall - This is one of the better DIPAs in the Dragon series by Alley Kat. I enjoyed the amount of hops in the flavour. The aroma was a little sweet for me, but the taste definitely made up for this. I enjoyed it as much as the Blue Dragon.
661 characters

4.08
/5
rDev
+4.9%
look: 4.5 | smell: 4 | taste: 4 | feel: 4.5 | overall: 4
650ml bomber poured into tulip 15/9/12
A clear pale copper with just a few bubbles but a nice cascading off white two fingers of foam, slowly falls too moldy looking island and leaves 5 distinct rings of lace, looking sexy
S butterscotch, caramels and doughy thrills gum, a little citrus and herbal notes, English style double and its smells solid
T slight earthy notes with faint wet wood and a weedy thing going for it, still lots of doughy caramel and butterscotch, slightly herbal and faint citrus rind
M has some body too it and more carbonation then I would guess by how few visible bubble there were. just a mild bite for 70+IBU's and booze, what booze? a little slick and leafy hops linger for ages, great feel
O I was grooving on this one and yet again I'm way above the average. I drank a bomber with no issues and could drink another no problem
I'm thinking people associate Cascade with big ass fuck off alpha monster hops and that's just not the case. If your looking for a massive West Coast piney, grapefruit hop bomb keep walking, If you want a hoped up but still balanced English style DIPA pour a glass of this.
1,138 characters

4.23
/5
rDev
+8.7%
look: 4.25 | smell: 4.25 | taste: 4.25 | feel: 4 | overall: 4.25
Poured from 650 ml bottle into a glass at slightly higher than cellar temp.
A-pours a clear copper gold. With two fingers of white head. Really good retention on this guy. Lacing is also strong with big blocks of it sticking to the glass.
S-tropical citrus and light sweet cereal. Intriguing.
T-the aromas hold true with a good dose of citrusy hops. The malt backbone also holds up well here. Not surprisingly it finishes with a nice bitter kick.
M-a pretty full mouthfeel. Round and a touch creamy. Astringent finish from the hops.
O-a great beer. Very nicely balanced and clean. My fave dragon so far!
608 characters

Dragon Series Indigo Dragon Double IPA from Alley Kat Brewing Company
Beer rating:
3.89
out of
5
with
11
ratings