Darn Tartan Scotch Ale
| Alley Kat Brewing Company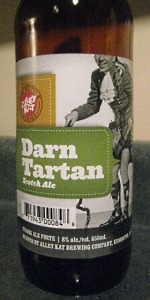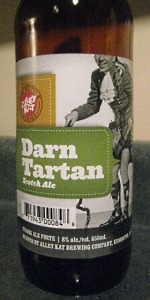 BEER INFO
Brewed by:
Alley Kat Brewing Company
Alberta
,
Canada
alleykatbeer.com
Style:
Scotch Ale / Wee Heavy
Alcohol by volume (ABV):
8.00%
Availability:
Winter
Notes / Commercial Description:
None provided.
HISTOGRAM
Ratings: 9 | Reviews: 6
Reviews by ChrisCage:
4.4
/5
rDev
+12.5%
look: 4 | smell: 4.5 | taste: 4.5 | feel: 4.25 | overall: 4.25
A- Pours a chocolate brown color and is semi opaque. The head is off white and carbonation is tight in appearance....retains quite well too! Lacing is quite robust as well....overall this has a heavy appearance and looks great!
S- Crisp biscuit and smooth robust malt dominates the nostrils! Heavy caramel/toffee....and cooked brown sugar sweetness! I even detect some mild dried fruits such as fig, raisin and prune. It smells as it should in my opinion....sweet and malty!
T- Oooooh this is nice! There is initial flavors of brown sugar, molasses, toffee, and theres some maple-ing happening! Dried fig, dates, caramel malt heaviness and hints of smoked peat/malt. Also getting some nuttiness and milk chocolate notes.....this is great!
M/O- Smooth carbonation, medium-heavy body, very well hidden alcohol and just a simply pleasurable Scotch Ale to enjoy.....the drinkability factor is very high here and I'd love to enjoy more of these in a sitting.....very suitable on a cold winter evening! I highly recommend this one!
1,037 characters
More User Reviews:
3.71
/5
rDev
-5.1%
look: 4.5 | smell: 3.5 | taste: 3.5 | feel: 4 | overall: 4
650ml bottle. This is apparently a revised recipe, including the ABV and peated malt, not to mention the Fish Brewing lawsuit, from the Kiltlifter offering of yore. Of course, memories of my long past tartan-wearing escapades in Aberdeenshire also seem to readily come flooding back.
This beer pours a perfectly clear, dark ruddy amber hue, with three fingers of puffy, ebulliently foamy tan head, which leaves some RNA strand lace around the glass upon its slow, sultry demise.
It smells of meaty, smoked malt, a bit of salty iodine, some soft fishy notes, a further dark breadiness, and somewhat bitter leafy hops. The taste is weirdly sweet peated malt, the sugary caramel at odds with the Gaelic seashore, um, 'acquired taste', an expected, whether it actually exists or not, musty treacle character, more tame bready, wet cracker, and tame weedy, earthy hops. As for any purported warming, call up Nessie, maybe she (he, it?) knows where the big ABV went on this one, aaaach!
The bubbles, they be soft, and damned near cuddly, the body an adequate medium weight, with a slightly cushioned aspect, and quite approachable in its smoothness. It finishes pretty off-dry, the malt having shed a fair portion of those smoky, vegetal cling-ons, keeping us well adorned in tempered caramel/toffee malt, understated leafy, earthy hops, and ethereal, sublimated, and ok, I'll say it, Scottish booze.
A rather decent tipple, but it somehow falls a bit too flat in those big, and increasingly antiquated McEwen's-spawned expectations - pungent caramelized malt and barely contained booze, mostly, but it does proffer a thankfully restrained Islay experience to muddle things further. Though kind of directionally confused, it's never difficult to accept another quaff, so have a go if you're given the chance.
1,806 characters
3.75
/5
rDev
-4.1%
look: 4 | smell: 4 | taste: 3.5 | feel: 3.5 | overall: 4
A - a rich dark black cherry colour, a slightly two toned tan head sat at a full thumb, retained at a consistent cover with consistent lacing all around
S - rich caramel and dark fruits, funky earthy peat is subdued but builds, mild leafy hops
T - decent presence of smoky sour peat, musty, caramel maltiness is nearly overwhelmed, light chocolate, raisin, and faint leaf hops, definitely not a rich and sweet as the nose suggests
M - medium to light body, just a tad thin, smoky dryness and a touch of ABV heat warms the innards
T - its a fine brew worth a try, a little disappointed in that the nose made a couple promises that the flavour could not keep, but still it has the requisite elements for the style and holds its own
729 characters

4.03
/5
rDev
+3.1%
look: 4.25 | smell: 3.75 | taste: 4 | feel: 4.25 | overall: 4.25
From a 650 ml brown bottle. Pours out a translucent garnet/nut brown hue with a short creamy beige head that retains to a thin cap.
Aroma of dark dried fruit, alcohol and some caramel notes. The alcohol provides some dryness as well.
A dry earthy woodiness appears up front in the flavour, some smokiness builds ground shortly after, and dominates the flavour from there on, finishing with a clean dry smokiness. After a while some caramel shows up, but its sweetness is tamed by the smoke.
Medium-bodied on the fuller end, smooth silky texture, with moderate carbonation.
It takes a while for this one to fully open up. While it's the least sweet Scotch ale I've ever sampled, caramel notes eventually show up beyond the initial smokey dryness, however even the caramel character lacks sweetness. An interesting take on the style that skims the outer boundaries of the typical fare, and pulls it off.
906 characters
3.99
/5
rDev
+2%
look: 3.75 | smell: 4 | taste: 4 | feel: 3.5 | overall: 4.25
Props to joemcgrath27 for the hook up on yet another Alley Kat Big Bottle series brew...
A - Pours a nice dark ruby red, finger of head with some retention and no real lacing.
S - Nice solid peat notes, rich caramel, burnt tobacco, toffee and rye bread.
T - The peat notes come through nicely off the top and linger on the finish. Nice burnt sugar, rich caramel and toffee malts, hints of leafy greens and a touch of burnt toast.
M - A tad thin, but goes down smooth nd finishes with a touch of dryness.
O - A Darn Tasty scotch ale, and yet another winner in their Big Bottle series. Super stoked to take this one for a spin. At 8% this one is dangerously drinkable, and according to Joe, this one has aged a tad, which I think might have mellowed the booziness even more (for the better).
794 characters


4.05
/5
rDev
+3.6%
look: 3.75 | smell: 4.25 | taste: 4 | feel: 4 | overall: 4
650ml bomber poured into tulip 27/2/13
A clear dark reddish brown with a two finger mocha foam that's darker then expected and hangs around long enough to leave a single ring of lace
S smokey peat malt, caramels and earthy notes work well together with some fruit and more caramel and woody earthy hops
T very slight nutty aspect I didn't smell, almost a faint Nutella thing going on, more peat then the nose and the fruits dried. Although I'm enjoying the taste the nose seemed to have a little more harmony with everything coming together
M not quite creamy and leaning towards full, long nutty toffee aftertaste and the booze is very well hidden
O what I look for in the style, I like the malt they used with this one and thought it was a solid example of the style
In my head a Scotch ale needs some smokey peaty notes and this one has that without overwhelming other aspects. I think Alley Kat's been attempting and succeeding in a wide range of styles and I hope they keep it up
995 characters

Darn Tartan Scotch Ale from Alley Kat Brewing Company
Beer rating:
3.91
out of
5
with
9
ratings