Dismiss Notice
Extreme Beer Fest:Los Angeles
Join us December 9th in Los Angeles for the ultimate throwdown of craft beer creativity!
Learn more...
Dismiss Notice
Dragon Series Plaid Dragon Double IPA
| Alley Kat Brewing Company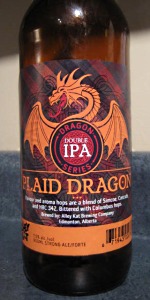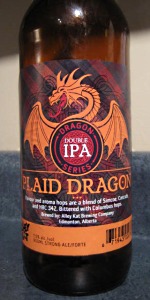 BEER INFO
Brewed by:
Alley Kat Brewing Company
Alberta
,
Canada
alleykatbeer.com
Style:
American Double / Imperial IPA
Alcohol by volume (ABV):
7.50%
Availability:
Limited (brewed once)
Notes / Commercial Description:
No notes at this time.
Added by Bryn on 01-17-2013
This beer is retired; no longer brewed.
HISTOGRAM
Ratings: 15 | Reviews: 11
3.71
/5
rDev
-1.1%
look: 4 | smell: 3.5 | taste: 3.75 | feel: 3.75 | overall: 3.75
650ml bottle. This is apparently a combination of (some of) the hops employed thus far in the singular (colour and hop) Dragon DIPA series, which of course creates a nice Burns Night adjacent themed offering.
This beer pours a clear, medium golden yellow hue, with two fingers of foamy, burbling bubbly white head, which leaves some layered, broken web lace around the glass as it evenly subsides.
It smells of dry, crackery, bready malt, a somewhat prominent musty melon fruitiness, pithy citrus rind, and a kind of metallic stoniness. The taste is even more fruity - the melon notes - honeydew, cantaloupe, under-ripe kiwi - abetted by a dry, acerbic citrus character, some pale, bready cereal malt, and a bit of leafy, perfumed booziness.
The carbonation is a tad zingy, but settles to an appropriately dull hum after a short spell, the body a sturdy medium weight, and fairly smooth, but for a slight tug from those flinty metallic notes. It finishes on the dry side, the fruit, malt, and hops all colluding to arrive at the same conclusion.
Like the majority of the preceding Dragon series, the overall effect is more of a strong IPA, than a DIPA, as the malt profile doesn't seem up to the task, and the hops, while definitely bitter, don't exactly overdo it. This one is dominated by the interesting stone and melon fruit essences, purportedly imbued by the experimental HBC 342 varietal/clone. For once, the 'colour scheme' makes a sort of sense, since there are 4 different hops at play here, though they don't seem to have much more rounding effect than most of the single varieties of months past. Anyways, a hoppy, more than adequately boozy IPA, and for that I'll tip my tam.
1,692 characters

3.71
/5
rDev
-1.1%
look: 4.25 | smell: 3.75 | taste: 3.5 | feel: 4 | overall: 3.75
650ml bomber poured into tulip 28/1/13
A clear pale golden liquid with lots of tiny bubbles throughout, a tight thumbs width of foam hangs on long enough to leave 3 distinct rings of lace followed by some random patches
S melon and juicy fruit gum are strong, smells good but not what I think of in a DIPA, soft caramel with floral notes and perfume, some fruit cup and just a hint of booze
T some lime rind on top of what I smell, maybe just a little soap of all things but somehow it works, decent beer but missing a little something I look for in DIPA's
M leaning towards full, the pin prick bubbles work well, a sweet floral fruity notes on the finish and just a little slick on the gums
O I don't mind this beer but I struggle to think DIPA when I'm drinking it, the booze is fairly well hidden and it has an interesting hop profile
I doubt I'd buy another bottle but I have no regrets buying this one, just a strange version of the style with melon taking center stage
984 characters
4.05
/5
rDev
+8%
look: 4 | smell: 4 | taste: 4 | feel: 4 | overall: 4.25
Props to joemcgrath27 for yet another stellar shipment. Super stoked to take this brew for a spin.
A - Pours a slightly hazy golden orange, finger of head with decent retention and some nice sheeting lacing.
S - Nose is dominated by grainy hops, hints of earthy cedar, touch of lemon and some citrus rind and caramel on the finish.
T - Much like the nose, the grainy hop notes, citrus and earthy cedar hops come through alongside a grassy hop finish, surprising bitterness and a buttered bread and toasted cracker finish.
M - Medium bodied, smooth and a touch of dryness.
O - A fantastic hop collaboration that brings forth a solid bitterness alongside a nice balance between citrus and earthy hop flavours. Loads of flavour and well worth picking up. Super glad I had the opportunity to try this brew, an easily sessioned DIPA indeed.
840 characters

3.87
/5
rDev
+3.2%
look: 4.25 | smell: 4 | taste: 3.75 | feel: 4 | overall: 3.75
A - a clear dark golden, two fingers of creamy white head, retained very nicely and left plenty of random lacing
S - a mix of citrus, fresh grass, pepper, and cracked grains
T - an interesting mellon and gentle citrus fruitiness to it, followed by prominent crisp grassy and peppery hops with a metallic hint, grainy malt is nearly overwhelmed by the bitterness
M - light and well carbonated, significant bitterness, well hidden alcohol, finishes slightly dry and grainy
O - definitely an interesting mix of hop flavours here, seems like its somewhere between a true DIPA and an IPA if that possible, but all in all a tasty easy drinker if you're a fan of the style
665 characters

3.72
/5
rDev
-0.8%
look: 4 | smell: 3.75 | taste: 3.75 | feel: 3.75 | overall: 3.5
From a 650 ml brown bottle. Pours out a bright clear copper hue with a tall loose-bubbled frothy white head that displays sturdy retention. Thick rivulets of lacing in its wake.
Thick bready malt aroma, while the hops seem more complacent: grassy, spicy, citrusy and herbal all in mild amounts.
Milder bready malt up front in the flavour, while the hops ramp up shortly after with straight out neutral bitterness, finishing with spicy, herbal hops, along with notes of citrus rind that appear already into the aftertaste.
Medium-bodied mouthfeel on the lighter end of that designation, oily, slick and somewhat velvety at times within the texture, while the carbonation is brisk although a bit rounded around the edges.
Not quite a hop bomb as much as it is straight up bitter. I anticipated more layering or complexity within the flavour given the selection of hops used in combination (all of which deliver well on their own), however this reminds me more of the Blue Dragon IPA with Columbus hops than anything else, which also presented more bitterness than hop flavour in the end. I still enjoyed this (I've drank my fair share before deciding to hunker down and revue), however there doesn't seem to be much payback for the triple-hopped blend within the hop bill.
1,275 characters

4.09
/5
rDev
+9.1%
look: 4 | smell: 3.75 | taste: 4.25 | feel: 4.5 | overall: 4
another great offering in the dragon series. i had high hopes for this one as it seems to be the penultimate release in the series. it pours very cleanly with an average amount of head. smell definitely has the hops coming through as well as citrus and other notes. is very palatable and smooth; doesnt have as much bite as you would think based on the smell that comes through. overall not a bad IIPA but wasnt the best in the series. is great seeing alberta breweries doing releases like the dragon series.. alley kat with the big bottle series and wildrose and big rock doing limited batch releases as well
609 characters
3.51
/5
rDev
-6.4%
look: 3.25 | smell: 3.5 | taste: 3.5 | feel: 3.75 | overall: 3.5
Appearance - Pours a copper/amber colour with a finger width of bubbly white head.
Smell - Caramalts, mango, leafy hops, citrus.
Taste - Leafy hops followed by sweet caramalts and tropical mango/citrus. Bitterness is at a moderate level.
Mouthfeel - Medium bodied with moderate carbonation.
Overall - Compared to the other bottles in the Dragon series, this one is a little disappointing. Hops are a bit subdued and I was expecting more in the aromas/flavours.
466 characters


3.82
/5
rDev
+1.9%
look: 4.5 | smell: 3.75 | taste: 3.75 | feel: 4 | overall: 3.75
Bomber into a tulip.
A - Pours a relatively clean orange, with a bubbly off-white head. Good head retention and excellent lacing.
S - Sort of mild for a DIPA. Oranges, citric rind, grapefruit, mild caramel malt and some lighter barley popping through. Slight booze, and some alpha acids, giving it that slightly oily hop character.
T - A short introduction of semi-sweet caramel malt, light fruity hops and some grassy herbal notes, which quickly turns to a long lasting finish of metallic bitterness. Overall a little mild for a DIPA. A little watery even.
M - Mouthfeel is good overall, maybe a but warm/oily, but that seems to come with the style.
D - Overall, a bit of an underwhelming DIPA. Doesn't offer up much in either flavor or bitterness. This is my first brew out of AK's Dragon Series, and I don't think I'll be trying many more, unfortunately. Just too many other good brews out there.
905 characters
4.14
/5
rDev
+10.4%
look: 4 | smell: 4.25 | taste: 4.25 | feel: 3.75 | overall: 4
650 ml bottle brought back from Calgary
A golden honey colour with slightest cloudiness. An inch of pure white head and makes heavy lacing.
My first reaction was ... it smells like beer ... that old school beer tavern aroma. The citrus profile is high. Bitter grapefruit with a base of sweet maltiness.
The taste starts with the sweet malt then it the hops hit. It feels like hops are growing in my mouth. To my palette there are 3 distinct hop tastes. Herby. Grassy. And piney.
The mouthfeel is on the light side of medium.
An enjoyable double IPA. Lots of hops to enjoy with a dash of malt. Not an over-the-top double IPA but it is solid.
645 characters

3.28
/5
rDev
-12.5%
look: 3.5 | smell: 3 | taste: 3.5 | feel: 3 | overall: 3.25
Poured from a 650 mL bottle into a Heinekin glass.
A-pours a very clear amber colour. Despite what looks like a lot of carbonation in the glass there is minimal head. What head there is does seem to stay structured on top of the glass and may even be augmented by the carbonation.
S-There isn't a ton of aroma in this beer. I get a sweet blast followed by a bit of bitter hops, but it seems to fade quickly. After the first whiff or two I couldn't seem to find even a trace of aroma.
T-Was preparing myself for something more bitter given its DIPA recipe, but this is a mellow beer. At the front I get a strong sweetness that could either be described as bubble gum or a very sweet melon fruit. Sweetness seems more derived from the hops than from the malts. The mouthful finishes with a moderate amount of bitterness, but certainly nothing remarkable.
M-very carbonated and slightly on the thin side. No astringency with a touch of warming.
O-an interesting, but perhaps slightly underwhelming beer. Bitterness and malts both could have been turned up here. That melon flavour could be something wonderful with a little more experimentation.
1,147 characters

2.65
/5
rDev
-29.3%
look: 4.25 | smell: 3.5 | taste: 2 | feel: 2.5 | overall: 2.5
The New Dragon-- it has Simcoe, Cascade, and HBC 342 hops. I got it today in a 650mL Bottle and poured it into a pint glass.
Some context for this review: I am a hop lover and can easily drink several pints of a heavily hopped IPA before calling it a night.
A - Somewhere between gold and copper and totally transparent with no signs of cloudiness. Nice Thick pale yellow head with a sateen shine to it. Lots of bubbles - tiny at the bottom of the glass but bigger as they go up.
S - Citrus (I get grapefruit) and a sweet melon-y smell (This is likely from the HBC342 hops).
T - I'm not getting a lot of flavour from the hops, just bitter. It's disappointing because it smelled so good. It just tastes like there is a sweet malt note in the front (Maybe there is melon in there, but I'm not sure melon is such a vague flavour) that is quickly overshadowed by the bitterness of the beer. I don't get much of an aftertaste through the bitterness of the beer other than a slightly sweaty taste.
M - Despite all the bubbles it is not very refreshing. I find the right amount of carbonation in a DIPA can really balance the bitterness and the astringency that comes from the heavy hopped beers, but this one just leaves me wanting to drink a glass of cold water.
O - Not the best Dragon. The bitterness of this beer isn't so imbalanced the first few sips, but after a while it built to be a sweaty thirsty taste/feel in my mouth that wasn't so pleasant. I don't think I'd get this one again, but I will keep buying the dragon series until they run out of colours.
1,577 characters
Dragon Series Plaid Dragon Double IPA from Alley Kat Brewing Company
Beer rating:
3.75
out of
5
with
15
ratings