St. Portersburg
| Alley Kat Brewing Company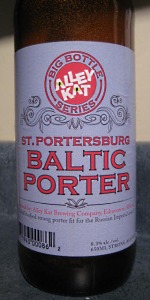 BEER INFO
Brewed by:
Alley Kat Brewing Company
Alberta
,
Canada
alleykatbeer.com
Style:
Baltic Porter
Alcohol by volume (ABV):
8.30%
Availability:
Limited (brewed once)
Notes / Commercial Description:
No notes at this time.
Added by biboergosum on 02-03-2013
This beer is retired; no longer brewed.
Reviews: 13 | Ratings: 18
4
/5
rDev
-2%
Bottle: Poured a dark black color porter with a nice light brown foamy head with good retention and some lacing. Aroma of chocolate malt notes with light residual sugar notes. Taste is also dominated by very pleasant black chocolate notes with limited bitterness notes. Body has a nice creamy texture which is quite full for the style with good carbonation and no apparent alcohol. This beer is a very enjoyable example of the style.
433 characters

4
/5
rDev
-2%
Bottle poured into a pint glass. Pours dark brown with a brown head with some lacing. This is a great beer. Very smooth. Nose is malt, coffee, and raisin. taste follows.
169 characters
3.94
/5
rDev
-3.4%
look: 4 | smell: 3.75 | taste: 4 | feel: 4 | overall: 4
Had the self-proclaimed "big bottle" after this example of a rare style hung out in the beer fridge for a few weeks. I have mixed feelings about really flowery turns of phrase but this was a breathtaking beer in the glass, pitch black almost all the way though except for a tinge of a ruby red halo at the very bottom. Wow. Ample rich tan foam completed the package. Everything I've read suggests that this is how a robust porter should look. Smells of milk chocolate, roasted barley, and dark fruits (raisins, dates, figs ... There are both sweet and rich notes present). Palate is weighted towards the dark fruit, plums with a decent dose of coffee and chocolate along with a rum-like sweetness. Floral aromatics lend a cigar-like effect and a little vanilla to boot. Alcohol is well-concealed, I feel ambushed as I type this because the silky smooth creamy body made this beer disappear faster than it probably should have on a Monday night. Less body than most stouts I've had and a crisp finish that reveals the faintest hint of pine and some charcoal, but notable for the relative lack of bitterness. A brew skewed towards the sweet plum malt and roasted flavors but with enough balance to keep things pleasing the whole way through. Track this one down if you are a dark beer fanatic ... Do so even if you aren't.
1,320 characters
3.74
/5
rDev
-8.3%
look: 3.75 | smell: 3.5 | taste: 3.75 | feel: 4.25 | overall: 3.75
Bottle from Mattsander in CANBIF. Thanks! There is an unreadable attempt at a freshness date on the neck of the bottle.
Poured in to tulip.
A - Poured dark brown, settled black with one finger of light brown head.
S - Very sweet with roast, milk chocolate, brown sugar and a hint of coffee.
T - Sweet milk chocolate, roast, dark caramel, hints of dark fruit and coffee. Dangerously smooth and drinkable for 8.3% ABV. A touch sweet, but otherwise a solid example of the style.
M - Medium body with a good chew. Light carbonation.
534 characters

4.21
/5
rDev
+3.2%
look: 4 | smell: 4.25 | taste: 4.25 | feel: 4 | overall: 4.25
One of the new Big Bottles from Alley Kat.
Poured into my sleeman mug, as it is the only glass I've got that holds the whole damn bottle. I've got proper dark beer glasses, but they're tiny little things.
It pours a pitch black colour with a super thick head that resembles a good cup of hot chocolate. The odour is quite complex - the prevailing smell is certainly coffee, but there is also a very pungent aroma that smells almost like lemon or some other kind of citrus. It's hard to pronounce what it is, but it's a lot more interesting than the usual coffee smell in a regular porter.
The taste is very smooth and refreshing, but with a load of rich flavour to boot. There is not a whole lot of carbonation at all, although I think that would interfere with the complex flavours in the beer. There's coffee flavour, sure, but, well... it sort of reminds me of those sour cream glazed timbits from Timmys. Maybe I'm alone on this one, but it's a damn good tasting porter.
The mouthfeel is simple, a little thick, but not overly thick. I'll admit I'm not a big porter drinker, but this is well done on all accounts. It is simple tasting, but with some exciting subtle notes. It's thick, but not insanely thick. It's bitter, but not "face cringe" bitter.
Good work, Alley Kat.
1,282 characters
4.4
/5
rDev
+7.8%
look: 4.5 | smell: 4.5 | taste: 4.25 | feel: 4.5 | overall: 4.5
A 650 ml bottle brought home from trip to Calgary.
The colour of midnight oil with 2 inches of frothy head the drop to a slick but good lacking.
The enticing aroma of sweet dark chocolate and burnt roasted nuts.
Tastes like a big bit of bitter dark chocolate. A note of vanilla. Resolves to the flavour of chocolate cake with some sweetness. The hop bitterness and sourness integrated well with the taste of malt.
A chewy, slightly oily feel with a touch of tingle on the front of the tongue.
Overall a first class example of a Baltic Porter.
547 characters
4.12
/5
rDev
+1%
look: 3.5 | smell: 4 | taste: 4.25 | feel: 4 | overall: 4.25
A - pitch black, one finger of dark brown head fizzled to a thin cover, not much in the way of lacing
S - rich chocolate, candied fruits and butter toffee, roasty aroma in the background, definitely an enticing mix
T - dark chocolate with roasted nuts, dark fruits with caramelized sugars, touch of earthy and leafy hops, well balanced with big rich flavours
M - medium body with a creamy start that turns to a dry cocoa feel with just mild touch of alcohol dryness, deceptively drinkable
O - a great take on the style and a sneaky high ABV make this a must try, big flavour from another alley kat big bottle
608 characters
3.98
/5
rDev
-2.5%
look: 4 | smell: 4 | taste: 4 | feel: 3.75 | overall: 4
Thanks wordemupg!!
Appearance. Pours a dark brown, black in the glass with a finger of thick, creamy tan head.
Smell. Sweet dark chocolate, a little briny, some molasses and maybe a touch of licorice.
Taste. Chocolate, a little black licorice, a little woody, prune plums, some burnt sugar and well roasted malts.
Mouthfeel. Medium body, a little sticky. Medium-low carbonation.
Overall. A very solid baltic porter. Enjoying it.
434 characters
4.05
/5
rDev
-0.7%
look: 3.5 | smell: 4 | taste: 4.25 | feel: 3.75 | overall: 4
Appearance- Pours a dark cola brown with a very thin line of head.
Smell- Roasted malts, dark fruits, caramel, licorice.
Taste - Bold roasted malts, dark fruits provide a raisin-like flavour. Bit of syrupy sweetness, but not overdone or overpowering.
Mouthfeel - Medium-to-full bodied with light carbonation. Sticky feel.
Overall - Nicely executed Baltic porter from Alley Kat. Could use better head retention, but otherwise, the essentials of the style have been well met.
478 characters
4.53
/5
rDev
+11%
look: 4.5 | smell: 4 | taste: 4.75 | feel: 4.5 | overall: 4.75
I had a pint of this on-tap at the Hop-In Brew last night.
Super dark, with a good head on it right after the pour but that quickly disappears.
The taste was far above my expectation. It had a really nice sweetness as well as notes that I can't quite put my finger on. Vanilla? Licorice?
Whatever; it was spectacular.
If it hadn't have been clocking in at 8.3% I would have had two more pints of it, in quick order. The highlight of the night-- it even made the Darn Tartan/ Scotch ale seem bland, by comparison, and that was one I was raving about two weeks ago.
563 characters

4.07
/5
rDev
-0.2%
look: 4.25 | smell: 4 | taste: 4 | feel: 4 | overall: 4.25
From a 650 ml brown bottle. Pours out a nearly opaque black hue with garnet cola-like highlights when held to direct light. Thick creamy beige head that settles to a thin cap.
Rounded notes of chocolate, coffee and some caramel emanate from the aroma, with some dark dried fruit in the background.
Sweet fig and date blended with coffee notes up front in the flavour, with an addition of caramel malt in the middle where things also start to get creamy sweet. Raisin sweetness and milk chocolate manifest on the finish, while the sweetness tapers off in the aftertaste with caramel and chocolate remaining, and further on things drying out with a cocoa presence.
Full-bodied mouthfeel, texture is smooth at times, thick and sticky at others, with moderate carbonation.
On the milder end of the style, yet very enjoyable and chock full of flavour, and a very decent interpretation of the style. In fact it succeeded in making me forget about hop bombs for the moment and hearken back to my malt-forward beer loving days and their own fine merits. This should be put into regular rotation as a seasonal in the future.
1,121 characters

4.01
/5
rDev
-1.7%
look: 3.75 | smell: 4 | taste: 4 | feel: 4.25 | overall: 4
650ml bomber poured into tulip 7/2/13
A shes dark but not quite black, deep cola edge with a thumbs width of mocha foam that quickly falls to a thick film and leaves some random lace
S chocolate, coffee, licorice, lots of dark fruit and caramel, there's some earthy hops and roasted marshmallow with some roasted nuts
T maybe just a little smoke to add to the nose, prune and raisins are more noticeable, the chocolate's darker in the mouth and very faint booze I couldn't smell
M silky and smooth, leaning towards full, just a little booze hitting the chest but not much felt going down, nice fruity licorice chocolate aftertaste
O pretty much what I expect from the style, sourish fruity notes, dark roasted goodness, and well concealed booze giving it a little kick
another winner from the Big Bottle series, Alley Kat's done well with their Baltic Porter and I hope they try some more new styles with the same success
931 characters
3.93
/5
rDev
-3.7%
look: 4.25 | smell: 3.75 | taste: 4 | feel: 3.75 | overall: 4
650ml bottle, the latest in the Big Bottle series - things, they be getting ever more punny up in the Alley Kat house, it would seem.
This beer pour a clear, very dark chestnut brown hue, with bright reddish highlights, and two fingers of tightly foamy, sort of bubbly tan head, which leaves a solid, if uneven wall of pock-marked concrete wall lace around the glass as it evenly and gently subsides.
It smells of lightly roasted caramel/toffee malt, stewed prunes, conversely fresh fruity black plums, a dark, bready graininess, a hint of black liquorice, and herbal, somewhat floral hops. The taste is sweet, somewhat toasted bready caramel malt, mildly edgy black plum and sloe, soft oily bar nuts, a few sparse notes of anise, some quite faint herbal, leafy hops, and a slow, stirring boozy warmth.
The bubbles are present, but quite understated for the most part, the body on the lee side of medium weight, and fairly smooth, a slight metallic alcohol twinge doing only minor damage in that regard. It finishes moderately off-dry, the lingering black fruit, singed caramel, and alcohol continuing to carry the brunt of the load.
A straight-up sweet caramel and fruit malt bomb, subtly fueled by the well integrated big ABV, and underappreciated, I'm sure, workaday hops. Easy, and smoothly drinkable, this so-called "big" bottle disappears like a ship in the night.
1,374 characters
St. Portersburg from Alley Kat Brewing Company
4.08
out of
5
based on
18
ratings.