Dismiss Notice
Collabrewation Porter
| Alley Kat Brewing Company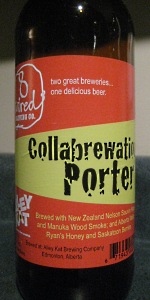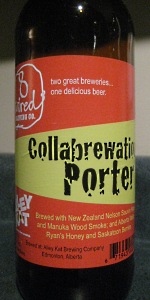 BEER INFO
Brewed by:
Alley Kat Brewing Company
Alberta
,
Canada
alleykatbeer.com
Style:
American Porter
Alcohol by volume (ABV):
5.60%
Availability:
Limited (brewed once)
Notes / Commercial Description:
No notes at this time.
Added by biboergosum on 07-07-2013
This beer is retired; no longer brewed.
HISTOGRAM
Ratings: 14 | Reviews: 7
Reviews by wordemupg:

4.02
/5
rDev
+0.2%
look: 3.75 | smell: 4.25 | taste: 4 | feel: 3.75 | overall: 4
650ml bottle poured into tulip 11/7/13
A brownish cola with a maroon glow when held to the light, enough clarity to nearly see the other side of the glass under the two finger mocha, the foam sits around for quite a while leaving a single thick ring followed by a few random patches
S interesting nose, blueberry and blackberries jump out at me possibly because I can't recall trying Saskatoon berries in recent memory, just a little citrus I can't place, burnt leaves and some faint spruce with a little smoky charred wood and chocolate, I'm not sure if I'm getting the honey or not with everything going on I'm left confused
T more earthy notes and chocolate, the hops blend in with the berries in a strange way, I like it but I'm finding it hard to pinpoint flavors as everything blends together for a strange combo of berries, smoke and charred wood, chocolate and some hops trying to shine through
M light for the color and feels soft from the bubbles, strange aftertaste of reminds me of a chocolate bar with nuts and berries
O its original and that's getting harder and harder to say these days, very weird mix of smells and flavors but it works and leaves you thinking
I've been loving 8 Wired since it arrived in Alberta and living in here you gotta know Alley Kat will always have a place in my heart. A rather unexpected collaboration and other then the lame label I have little to complain about, worth a shot for sure.
1,442 characters
More User Reviews:

3.92
/5
rDev
-2.2%
look: 4 | smell: 3.75 | taste: 4 | feel: 3.75 | overall: 4
650ml bottle. Brewed in collaboration with 8 Wired Brewing of New Zealand - Soren was here last month overseeing his input into the affair, which includes Nelson Sauvin hops, and Manuka wood smoke. Local contributions (aside from actually brewing the damned beer) are the malt, southern Alberta honey, and Saskatoon berries.
This beer pours a clear, very dark reddish chestnut brown hue, with two fingers of puffy, tightly foamy ecru head, which leaves a few broad swaths of pockmarked cloud lace around the glass as it steadily bleeds away.
It smells of nutty caramel malt, mild meaty smoke, singed black berries, and leafy, earthy hops. The taste is gritty, grainy pale and caramel malts, well integrated, non-acrid smoke notes, an indistinct, almost woody fruitiness (not exactly like eating fresh Saskatoons, is this), some further meaty umami essence, a faint pithy nuttiness, and still prominent forest leafy hops.
The bubbles are a bit peppy up front, but readily fade to a dull hum, the body on the lee side of medium weight, and mostly smooth, that mawkish pithy essence taking a bit of a toll. It finishes off-dry, the under-loved caramel malt asserting keeping its place, while the suggestion of verdant smoke and blackened berries rounds things out.
A not-too-common meeting of brewing minds from such a fair distance apart, so at least their individual contributions come through in the finished product. The general muddledness may weigh a bit heavy on its overall drinkability, but I don't think that will be an issue with this limited run production.
1,570 characters
4
/5
rDev
-0.2%
look: 4 | smell: 4 | taste: 4 | feel: 4 | overall: 4
A - black with just a little light getting through near the glass stem, tall fluffy tan head retained very nicely with plenty of blotchy lacing
S - big nutty and dry cocoa aromas with a touch of smoke and faint earthiness
T - cola and coffee up front with nuttiness more subtle, earthy hops with hints of leather and mild pine on the finish
M - medium to light body with medium carbonation, just a hint of bitterness through the middle, finishes slightly chalky and dry
O - this definitely meets the checklist of characteristics for a quality porter, generally understated in a great way, a great beer to pair with a hearty meal
628 characters

4.05
/5
rDev
+1%
look: 3.5 | smell: 4 | taste: 4.25 | feel: 3.75 | overall: 4
Meant to buy one of these at Sherbrooke, and ended up with two. Doh! Thought murphy's law would kick in and it would be terrible... but no! Fantastic beer, and I should have expected nothing less of these two great breweries.
A: Have to confess I'm slumming it with this one and drinking it in a plastic cup. Aaaaah the joys of travel. Still, it looks pretty good, and porter like.
S: The smokiness of this is sooo good. Overpowers most of the aroma, but I get a little of the hoppiness/roasty malts.
T: wow, that Maunka wood is awesome. Smokiness well balanced with the malts. Just a joy to drink.
M: Good body, with the smoke adding a real chewy/meatyness to the mouthfeel.
O: I think I was fortunate to get one too many of these. Looking forward to sharing the next bottle with some friends!
799 characters
4.28
/5
rDev
+6.7%
look: 4.5 | smell: 4.5 | taste: 4.25 | feel: 3.75 | overall: 4.25
Thanks Wordemupg!
Appearance. Pours a deep dark chestnut brown with over a finger light khaki head that leaves some nice fine lace.
Smell. Sweet caramel and smokey almonds. Holy hell, that's a great combo. Some fresh espresso coming through in small amounts as well. Awesome smelling stuff here.
Taste, Smokey darker malts and caramel, some tang from the saskatoons, medium sweetness with a touch of cocoa and coffee. Nice, but not quite as nice as the smell.
Mouthfeel. Below medium body, medium+ carbonation. Could use a bit more in the body but maybe that`s just me...
Overall. Great tasting stuff. If it wasn't for the lighter body this would be one amazing porter. It's pretty damn tasty as it stands. The light smoke with the subtle saskatoons, brilliant. Thanks wordemupg, this one just hits the right notes for me.
829 characters

3.68
/5
rDev
-8.2%
look: 3.75 | smell: 3.75 | taste: 3.5 | feel: 4 | overall: 3.75
Appearance - Pours a dark reddish brown with a finger width of frothy beige head.
Smell - Roasted malts, blackberry/blueberry, Saskatoon berry, hint of smoke, honey.
Taste - A lot of smoky, roasted malts, hint of the berry mix, but mostly wood smoke.
Mouthfeel - Medium bodied with moderate carbonation.
Overall - A good concept by Alley Kat and 8 Wired, however I'm not 100% sold on the execution. The wood smoke flavour seems to overpower the other unique flavours in this porter.
487 characters


3.67
/5
rDev
-8.5%
look: 3.75 | smell: 3.5 | taste: 3.75 | feel: 4 | overall: 3.5
Appearance: Very dark reddish brown, with a light brown 1 finger head. Leaves heavy lacing.
Smell: Earthy smell with distinct notes of sweetness, smoke, & saskatoon berries, a staple of central Alberta.
Taste: Smoke, earthiness, and saskatoon berries carry over to taste, finishing with an aftertaste that's both sweet and bitter.
Mouthfeel: Very pleasant medium bodied mouthfeel, with light carbonation and a slightly creamy feel.
An interesting experiment in flavours that is, in my opinion, a success. Definitely worth a try for anyone interested in this limited run.
577 characters

Collabrewation Porter from Alley Kat Brewing Company
Beer rating:
4.01
out of
5
with
14
ratings