Great Falls Select
| Harvest Moon Brewery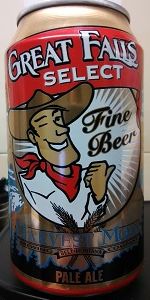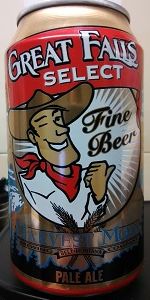 BEER INFO
Brewed by:
Harvest Moon Brewery
Montana
,
United States
harvestmoonbrew.com
Style:
American Pale Ale (APA)
Alcohol by volume (ABV):
not listed
Availability:
Rotating
Notes / Commercial Description:
No notes at this time.
Added by JohnGalt1 on 07-15-2009
HISTOGRAM
Ratings: 15 | Reviews: 5
2.04
/5
rDev
-42.7%
look: 3.5 | smell: 2 | taste: 1.75 | feel: 2.5 | overall: 2
3.41
/5
rDev
-4.2%
look: 3.25 | smell: 3.5 | taste: 3.5 | feel: 3.25 | overall: 3.25

4.08
/5
rDev
+14.6%
look: 4 | smell: 3.5 | taste: 4.25 | feel: 4.5 | overall: 4.25
Heavy metal hops
Heavy metal malts
Heavy metal grains
Ooooooooo
Ooooooooo
Heavy metal iron fists
Heavy metal drinkability
Heavy metal drinkability crushes poseurs
Under six pack tyranny
Heavy metal iron fists
212 characters

3.81
/5
rDev
+7%
look: 4.25 | smell: 3.75 | taste: 3.75 | feel: 4 | overall: 3.75


3.53
/5
rDev
-0.8%
look: 3.5 | smell: 3.5 | taste: 3.5 | feel: 3.75 | overall: 3.5
this must be the quick and dirty from harvest moon, their six pack of chuggers. its actually pretty good though, especially as generic type lagers go. its got a little more bronze color to it than most, and produces a pretty nice inch of head on the pour. it smells and tastes like very fresh grain, not extracty at all, which is a lot more than can be said for so many. the hops are lacking a little more me, I like a little more balance on the finish of my brews, but that's just me. its a very approachable craft beer, and one that drinks awfully easy without filling you up, but still has enough flavor to be satisfying. perhaps a touch overcarbonated, this really blasts off the on the palate, making it a little hard to hold in the mouth, but its refreshment value is maximum. not as good as their big ipa or the porter they make, but a serviceable easy drinker here from harvest moon.
891 characters




3.83
/5
rDev
+7.6%
look: 4 | smell: 3.5 | taste: 4 | feel: 3.5 | overall: 4
Harvest Moon started canning not too long ago, and Great Falls Select is currently one of two beers that I see in cans. I dig it.
Appearance: Pours a slightly hazy yellow straw color, with about 3/4" of pure white head. Retention is quite nice, and lacing is decent. Carbonation is moderate.
Smell: Light, bready malts and an interesting yeastiness become apparent first, followed by a surprising amount of citrus. Hops are pretty light. I always think of this as a pale ale when drinking it, but I think Toby was correct as entering this as a blonde ale, mostly due to relatively low hop profile (not to mention color).
Taste: A nice amount of breadiness and yeast starts this off. The yeast really is interesting. After having all of Harvest Moon's beers, I can tell they use a house or common yeast of some kind. It is by far the most prevalent in GF Select. Following is an excellent kick of citrus, mainly bitter orange rind. Hop profile is again, pretty low.
Mouthfeel/Overall: Mouthfeel is a hair over light, with a moderate amount of fine carbonation. Pretty good for the style. Overall, this is a stand out blonde ale in my opinion. 12-packs of this are not cheap, but I can't help myself sometimes. Extremely sessionable and good for hot weather. Interesting that a brewery's best beer is a blonde ale with American beer culture the way it is.
1,358 characters
4.46
/5
rDev
+25.3%
look: 5 | smell: 4 | taste: 4.5 | feel: 4 | overall: 5
I stopped at the Belt Creek "Brewpub" in Belt, and got myself a sweet growler for dirt cheap and filled it with this, seeing as I hadn't tried it before so here goes!
A- Pours with a nice dense white foamy head that is probably about two full inches thick....and it retains very well, settling down to a thick layer over the brew. It is a cloudy golden color with yellowish hues in the background...there is some moderate carbonation rising to the top. The lacing is very dense and sticky....looks to be a very nice brew!
S- Smells sweet and malty, and is reasonably rich. There is a fruity quality in the aroma that reminds me like a really light fruitcake with just a hint of orange zest in it. There is a bread-like aroma mixed in there as well. Moderate hop bitterness on the finish gives this a balanced aroma profile.
T- This is nice stuff! The malt sweetness really shines here and is quite dominant, followed closely by the citrus notes that were in the aroma. There is a warm yeasty flavor that reminds me of bread as well. The finish is slightly spiced and bitter at the same time, giving a thirst quenching end to the taste.
M- This is light on the palate, and has a pleasant light fizzy spark in my mouth. Its' slightly tart profile really comes through, making my palate request more beer! It does a good job in the refreshing department.
D- As with all other Harvest Moon product, this one doesn't disappoint! It's well balanced, light, yet richly flavored and I really appreciate the fact that this one isn't available in a bottle, so it is more exclusive and I feel special getting to sample this beer! A true micro in every sense! Plus Belt is closer than the top half of my own province so it feels like I'm supporting a local brewer! Anyways, for this style of beer, it is a very good example to follow!
1,827 characters
4.02
/5
rDev
+12.9%
look: 3.5 | smell: 4 | taste: 4 | feel: 3.5 | overall: 4.5
Brenda and I stopped in at the taproom to get a growler fill on our Big Montana Beer Adventure... I had plenty of bottles of the Porter and the Wit... So I figured I had better try something that I knew I would probably not get a growler full.
I am reviewing this as an American Blonde Ale because I was told that HM is not lagering yet (on RB it is a pilsner, that is wrong) ... So.. I figured I would go with the closest warm-blooded cousin.
Poured into a standard shaker pint... screwed around and bullshitted with some guys in the area on a fishing trip.
Perfectly clear golden brew.. the brew was poured to the tip of the glass, so I'm not gonna talk about head... but there was a descent spotty lace as I quickly finished the pint.
Aroma is slightly sweet grainy maltiness.. no real hops to speak of...
Flavor is the same with a sorta husky grain element that actually adds well to the overall brew... a tiny bit of grassy hoppiness comes in mid palate but melts away as quickly as it appears... Lite in body and medium/high carbonation.. very drinkable and I could see this being a near perfect triple digit beer here in Boise... Finish is very clean with a just minor grainy sweetness.
Nice and I honestly would have probably guessed this an American All Malt Lager had I not talked with the man behind the bar for so long... very drinkable and surprisingly clean given the ale yeast.
Good stuff for sure... Every time I've visited the taproom in the past, Stan was there... He was there this time, but I was told he was busy getting shit done... anyway... If you get the chance, stop by the taproom... it is an easy 1/2 mile off the highway... Stan is a great guy and seems to really love his job and have a real appreciation for quality brews.
1,761 characters
Great Falls Select from Harvest Moon Brewery
Beer rating:
3.56
out of
5
with
15
ratings