Lee's Discount Liquor - Flamingo/Pecos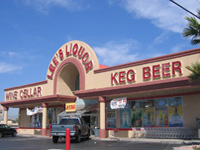 PLACE INFO
Type:
Store
3480 E Flamingo Rd
Las Vegas
,
Nevada
, 89121-5002
United States
(702) 458-5700 |
map
leesliquorlv.com
Notes:
No notes at this time.
Added by UncleJimbo
Reviews: 12 | Ratings: 19
2.73
/5
rDev
-20.4%
vibe: 3 | quality: 3 | service: 2 | selection: 3
As with all Lee's Liquor this one is hit or miss. I have been able to get some good finds here. If shopping here make sure to check dates as there is a lot of out of code beer here. I wont buy anything that isn't dated from Lee's Liquor. As far as the staff you can forget about any sort of help from them. I have asked alot of questions about what is on sale and they never know and usually refuse to check for you. The prices are usually good and I will usually stop in if I'm passing it but won't ever make a special trip to Lee's Liquor. There is much better options then Lee's Liquor for beer in Las Vegas.
611 characters
3.5
/5
rDev
+2%
Stopped by on way to Aces & Ales 11.24.10.
Located on busy Flamingo, part of the LV chain, this Lee's location is a bit light on refrigerated microbrews. Relatively good selection of Full Sail, Deschutes, etc., a bit surprised to find three FW beers but no Union Jack. Decent selection of Belgian. Be sure to check out the most western aisle where you'll find significantly more selection than made it into the cooler. Service was OK, there's apparently a 'beer' person in the store who checked on our request, but no one wandering the aisles looking to help. This is a liquor and wine store, not a beer store per se. I'm going to try and check out one of the more higher rated locations. Not that impressed.
709 characters
2.86
/5
rDev
-16.6%
vibe: 3 | quality: 3 | service: 2 | selection: 3.5
Place has really went downhill. The dudes eye you like you might steal from them, but they don't/won't help with locating stuff or getting advice. Just a curt "I dunno" when I asked about something. Granted, the place is full of hood rat types trying to come up on loot, but damn.
No methodology to grouping the beer. Lots of stuff with no prices. Lots of stuff not available, can't understand their distributor and what he brings them. Can find the occasional rare Colorado beer, but other than that, nothing special here.
Big wine selection, some good deals. Beer, only the crappy stuff goes on sale. No limited release stuff for the most part. Meh.
654 characters
2.7
/5
rDev
-21.3%
I was in Vegas and my gf (god bless her) lost her ID so we went to search out some good beer to drink in the hotel room. Lee's was about the only place anyone recommended so we set out on an almost $30 cab ride to get there.
The selection was ok, had some belgians and other decent beers on the coast but being from the Midwest I was hoping to cash in on some great West Coast finds. I was licking my lips thinking of some Russian River of Lost Abbey jewels. Sadly, I was disappointed with neither. The guy working there had never even heard of Russian River or Lost Abbey. I did pick up a Black Butte and some Stone IPA but in general very disappointed in there West Coast selection.
686 characters

3.4
/5
rDev
-0.9%
I tried this place while in Vegas on business. I've seen the other reviews and thought the selection and arrangement of the beer was better than other reviewers indicated. I do think they could improve things by organizing the beers in SOME manner. As it was, there was no rhyme or reason and I did a search pattern up and down each shelf to be sure I didn't miss anything good.
If you were patient with your search, you were rewarded with a good selection of American micros (mostly West Coast) and some German, Belgian and UK brands. Prices were not cheap, but were reasonable given the cost of living in Vegas.
The staff on the floor was not engaging at all with the customers, although I did not ask for help, so I don't know what their response would have been. The staff at the checkout was friendly and seemed to like to chat about each customers' selection in a knowledgable way. It would be nice if some of that interest/passion was passed to those out on the floor going about their business.
Overall I was not disappointed. I was able to fill my suitcase with enough Belgians and West Coast brews to keep me happy for a while back home.
1,150 characters

3.75
/5
rDev
+9.3%
Having stayed at the Mirage and paid $11+ for a Chimay red 375ml I decided I needed to venture to find this place. I was sick of the crappy selection at almost all the casinos and ventured out on a Saturday morning. I was looking to grab some great brews and worry about keeping them cold later.
My only wish is I found it sooner. I pulled up and waited until it opened at 9 am with locals waiting to get their mitts on some wine. Fine by me. I headed to the massive cold box which encased the entire back wall. From what I had seen in Vegas, I thought I found Vegas Heaven.
There are so many different brands it was tough determining what to indulge in. I finally decided on a Dogfish Head 120, Dogfish Head 90 minute 4-pack, a 22 of Mirror Mirror and a Redhook Belgian Tripel. Whoa! Talk about a selection. If you go, be sure to walk to the left of the store as some great Belgies are stored on the side of the store. Urthel was there and it was a tough decision to let him go.
The service was basically non-exisistent. I mentioned to the cashier dude what a great selection they had and he proceeded to ignore that and ask if I got the Dogfish Head 120 out of a 6-pack. Huh? C'mon kid! That was enough to shut me up and get me back to the Mirage to enjoy my bounty.
Very reasonable on the prices. The DFH 120 was $7.99 and the rest were as I've seen in the Bay Area. My value is that I found an awesome place that knows beers and if you search it out, you won't be disappointed. If you have a fridge wherever you stay, find Lee's (they're everywhere) and stock up. It was nice going back to the hotel room and getting quality instead of crap!
1,651 characters
3.45
/5
rDev
+0.6%
After a 5.35 mile walk I made it to this liquor store from the strip (damn hotel service made a bit of a judgment error and said 10 blocks) The quality is fine, just what you'd expect from any liquor store.
The selection was very good, I may be bias since I'm from MN and almost the entire selection was unavailable to me back home. I was very happy to pick up Abyss as well as another from Dechutes. Some AV and Bear Republic as well. They also had a lot of Stone that I can't get in WI so that was a nice surprise.
For any Vegas visitors I'd recommend this store over the W. Flamingo store.
596 characters
3.1
/5
rDev
-9.6%
This location produced my "worst. liquor store. experience. ever."
I was swinging by on my lunch break to buy Anchor Bock Beer. I looked all over the store, found many Anchor offerings in the refrigerated section, but no Bock (This happened while the beer was "in season", so that wasn't my problem). So I finally dragged a stock clerk away from something, and asked him if they carried or if he'd ever seen Anchor Bock in the store. "No such thing...must be a foreign beer" was his reply. I asked if he might recommend a good bock that was in stock, his answer was "I dunno, I don't drink". Perhaps the gent should rethink the old career choice eh? Right about then, in my exasperation, I looked up and saw an Anchor Bock promotional poster on the wall directly over the poor befuddled man's head.
But more to the point, the selection is very unpredictable, and they don't seem to keep up on stocking seasonal beers like Anchor. I've notice this even with main-stream beers like Sam Adams seasonal brews. I actually visit this store several times a month, so I think I can say that these problems are fairly consistent.
1,123 characters
3.45
/5
rDev
+0.6%
This is the third or so of these that I have visited, and it is by far the most convenient to the strip. A few miles east of the Bally's/Bellagio/etc. casinos, it's easy to get into and out of.
A large warehouse-like store, mostly wine, with a decent selection of beers in coolers in the back and a large set of shelves along the far left wall with even more beers. A very good selection, although the Belgians were pretty well picked over- lots of holes. Lots and lots of choices, including some English brews I had never heard of, but no rarities that made me say "wow, I've been looking for that forever!".
As with other Lee's stores, the service was, well, non-existent. No one ever asks if they can help.
My biggest concern was quality. I saw an awful lot of dust on the bottles on the shelf. How old is this stuff?
Well priced, a good location to get a wide selection of beer. But get it from the coolers if you can.
934 characters
3.7
/5
rDev
+7.9%
I had heard good things about this place here on BA, and our bartender at SeaBlue recommended it after I ordered a Maudite. I chose this particular Lee's because it was closest to our hotel on the strip.
I was slightly disappointed, but maybe that's because my expectations were too high. I didn't really find anything out of the ordinary - that is, anything I can't easily obtain here in LA - except one Hitachino Nest weizen (hooray!), a bunch of different New Belgium brews (all I've ever seen is Fat Tire), and some Ommegang products. On the whole, the selection was really quite good and the prices were some of the best I've ever seen - a surprise for Las Vegas, a.k.a. Ripoff Central, USA. (Five dollars for a three-mile monorail ride? Gahhh!) They had some Belgians for half the price that I usually see here in LA, and the domestics were on the lower end of things as well (a Morimoto Imperial Pils was $12 instead of $16).
Storage was okay... for the most part, fridge space was reserved for macros and some of the more popular domestic micros (Stone, New Belgium, North Coast, etc.). Some of the beers on the shelves were pretty dusty/dirty, so just make sure to look for a best-before or production date stamp before you buy. Service was nonexistent.
In retrospect, I wish I had spent more time (and money) there. Great prices, good selection... I definitely recommend it, and I'd like to visit the other Lee's stores to see how they compare.
1,463 characters
4.65
/5
rDev
+35.6%
First, I should note that I live in Hawaii which has an extremely limited supply of decent beer. Given that paradigm, Lee's was like heaven.
The store was very easy to find and conveniently located for visitors staying on the strip. Upon entering the store, I went to the left wall of the store and found all I could hope for. A huge Belgian selection [Rochefort 6, Chimay, Abbaye des Rocs, Karmeliet, D'Achouffe, Dupont, Val-Dieu, and plenty more]. When I tuned around in the same aisle, there was a nice selection of other beers [Ayinger, Gose, Young's, Weihenstephan, etc.]. Most of the beer can be bought in singles. At this point, my shopping cart was overflowing and I didn't dare look at other areas of the store.
In my half hour in that aisle, I was approached by several staff and asked if I needed any help. They also offered boxes for packing up the beer. The checkout person was very friendly and offered a running commentary on beer. He patiently rang up my beer, which took a little longer since most of the seletions were not "in the computer."
Next time in Vegas I will definitely visit this store again [and hopefully find time to look at the American micros and other areas of the store]. I hope the people of Vegas appreciate this amazing store.
1,276 characters
3.8
/5
rDev
+10.8%
Located a couple miles east of the Strip on a main drag, this Lee's was easy to find (and convenient to my hotel). A good-sized (medium?) store, there's an equally good-sized beer section located along the far wall, away from the light of the front windows, equally split between imports and domestic micros. The import section is highlighted by an impressive selection of Belgians of all sizes (up to 3 litres), several of which I had yet to see on the east coast. Domestics is naturally dominated by a good selection of left coast product, but not as representative as I would expect (limited selection of Stone, no Bear Republic, etc.). Lots of McTarnahan's, New Belgium, even Alaska, so still plenty to choose from.
Cooler was well stocked, except for the pitifully small selection of singles. A friendly clerk asked if I needed any help, and when I asked about being able to mix six packs, she wasn't sure. So she went and brought the manager over (her idea). He turned out to be just as friendly and helpful, assuring me that it is OK to mix. In fact, according to him, they encourage it, tho you couldn't tell by looking at the shelves (no singles). So I was happy to be able to sample many different brews I can't get back home.
Prices seemed reasonable. Friendly people, but not hovering. Overall good shopping experience.
1,337 characters
Lee's Discount Liquor - Flamingo/Pecos in Las Vegas, NV
3.43
out of
5
based on
19
ratings.