Lee's Discount Liquor - Las Vegas Blvd/Pebble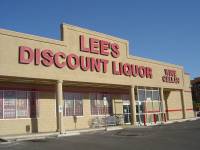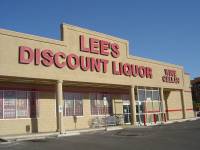 Store
9110 Las Vegas Blvd S
Las Vegas
,
Nevada
, 89123-3307
United States
(702) 269-2400 |
map
leesliquorlv.com
Notes:
Recent ratings and reviews.
| Log in to view more ratings + sorting options.

Reviewed by CasanovaCummins from Nevada
2.75
/5
rDev
-17.7%
Rinky dink store trying to capitalize with Whole Foods and other places located just down the far end of the strip.

This place has some chrome turnstiles to stop the quick grab n dash you might expect from patrons in nearby apartments. The store is fairly small and has some weird bluish/garish overhead lighting. It is not very well laid out and doesn't look like it's been mopped since it opened.

The selection is fairly mainstream and has the usual cast of bulk offerings. An occasional craft selection is available, but forget about seasonals or anything unusual. The selection here is a quarter of the Whole Foods just down the street.

Customer service is minimal. Mostly there to ring you out and no more. And they all seem a little jumpy here for some reason.

Not the best Lee's by far. And one of the worst in town.
Sep 10, 2014

Reviewed by FosterJM from California
3.28
/5
rDev
-1.8%
vibe: 3 | quality: 3 | service: 3.5 | selection: 3.5
Visiting vegas for the 4th time to shop.

Atm- industrial like warehouse with lots of open space. A large selection of spirits. Lots of neon and concrete.

Quality- it was pretty decent with a full cooler section. I did find a decent amount of local bombers. At the same their imports and say So. Cal beers were hit or miss with freshness or dating.

Service- Wasnt really noticed but clerk was nice enough in line but did mention to guy behind me who commented about selection, there is this beer website that slams us. 9 reviews on here commenting about freshness isnt slamming.

Selection- Was looking for locals and found a few bombers. Was happy with that but noticed a few empty spots in cooler. Had a few west coast and east coast brews with the standard imports

Food- N/a
Jul 04, 2011
Reviewed by IPALOVR from Nevada
2.73
/5
rDev
-18.3%
vibe: 3 | quality: 3 | service: 2 | selection: 3
As with all Lee's Liquor this one is hit or miss. I have been able to get some good finds here. If shopping here make sure to check dates as there is a lot of out of code beer here. I wont buy anything that isn't dated from Lee's Liquor. As far as the staff you can forget about any sort of help from them. I have asked alot of questions about what is on sale and they never know and usually refuse to check for you. The prices are usually good and I will usually stop in if I'm passing it but won't ever make a special trip to Lee's Liquor. There is much better options then Lee's Liquor for beer in Las Vegas.
Jun 13, 2011

Reviewed by nrbw23 from Ohio
3.15
/5
rDev
-5.7%
Quite a bit of liquor and wine through out this store.

A good amount of beer to be found here. Nothing that I'd say was rare or hard to find. Was able to find a good amount of brew that doesn't make it to Ohio. Only saw a handful of the bomber bottles. Most of the beer is found on the back wall in coolers. When I was there they had cases of beer around the doors mainly Sierra Neveda and New Beligum.

Service was no where to be found other that waiting for me at the check out line.

Price was everything seemed to be fairly cheap. Next time I'm back in Vegas going to hit one of these up and stock up the hotel room.
Jan 13, 2011

Reviewed by Radome from Florida
3.7
/5
rDev
+10.8%
Quality and selection are OK, but not as good as the Lee's location on Flamingo. This store has craft beer section of one display aisle, about 30' long and 5' high. Almost all of the beers on the shelves are also available in the beer cooler. It is about an even mix of European beers and US micros. Germany, Belgium and the UK are all represented, including Spaten, Westmalle, and Samuel Smith, among others. I was staying just a few blocks from this location, but I still drove up to the Flamingo location to take advantage of their better selection, since I had been to that one on a previous trip.

Prices are a bit high to me, but seem good for Las Vegas.
May 11, 2010

Reviewed by Gobzilla from California
3.75
/5
rDev
+12.3%
Been here twice cause my budy lives down the street from this joint and have to stay that it really has a good selection of beers for being in the middle of the freakin desert. Good service but not to knowledgable on the brews. This is definitely a good spot to stop by when on the way to the strip right before you check into your hotel. I can even remember them having a beer tasting and they also were tasting this liquor called absynth that is suppose to make you hallucinate but is banned fron CA. I will have to roll up again when I'm in the area.
May 06, 2010

Reviewed by Avryle from Vermont
3.55
/5
rDev
+6.3%
Score! Happened to stay right across from this location while passing through Vegas. Stopped in to see what treasures were available to sample and haul back to the east coast. Not a bad selection of domestic craft brews along with some imports, but the domestics were more dominant with a good stock in bombers. Picked up a butt load of 2005 Alaskan Smoked Porters to tote along through Utah (I need not explain myself) along with Deschutes. Many west coast goodies on hand- Stone, Anderson Valley, Rouge, Deschutes and other lesser knowns. Prices were really good as well, and the best part- they open at 9am. Felt a bit degenerate going in at that time, but ya gotta to do what ya gotta do.
May 02, 2008
Reviewed by sirk0rebreg from Nevada
2.7
/5
rDev
-19.2%
I have stopped in here a couple times in the last few weeks. Out of the 3 Lee's locations I have been to (Sunset Rd. and the one on Eastern Ave.) this one is by far the smallest and has the least selection. Their glassware selection is dismal to say the least. I can't say that I will be going back to this one anytime soon, I will go back to the larger stores with a greater selection.

Their employees don't really seem like they want to be there. I had never once been offered help while wandering the aisles. I will try some other locations or stick to the ones I have been to before.
Jul 31, 2007
Reviewed by atigerlife from Hawaii
4
/5
rDev
+19.8%
Medium sized place that is very crowded [not people, stuff]. A little hard to move around.

Beer shelves are on the left side of the store. 4 shelves about a half aisles worth of singles. Small Belgian selection. There is also 28 fridges that are mostly stocked with beer. Of course, most of it is in packs.

I didn't really need any service, and none was offered. But, the checkout guy seemed friendly and helpful. Decent enough.

Of the three Lee's I've been to, this one is the least impressive. Still, I was able to find a few things to take home. Worth a stop if you are in the neighborhood.
Oct 12, 2006
Reviewed by Dukeofearl from California
3.9
/5
rDev
+16.8%
I think this is one of the newest in the Lee's chain, it is located "on the Strip", but only in that it's on Las Vegas Blvd, well south (read several miles) of the end of the main casinos, commercial districts, the airport, etc. Having said that, it's a decent stop off on the way home if you are driving the infamous I-15 back to the LA area. Much more convenient than the other locations if you are heading that way.

I've only been to the Lee's in northern Las Vegas (Lake Mead Blvd), and so this is a comparison of the 2 in some ways. This is a stand-alone building in an area being developed with homes, light industrial, commercial properties. It has a small parking lot.

The insides are cramped, but not because it's small. It FULL. Full of cases of wine, of more cases of wine, of some liquor, of cigars, and then the beer. Don't back up or turn quickly in this place.

Surprisingly, most of the beer here is found inside the spacious coolers that line the back wall (maybe because it's really hot in the summer?). And it's actually a pretty big selection from all over the world (they even had 3 L bottles of Oak Aged Arrogant Bastard long after it's gone from the SoCal shelves). Some beer is found on shelves off to the left as you walk in. I knock my score down a bit because the Belgian selection (my favorite) was relatively small. But I can't complain too much, because they had a very interesting selection- I ended up with a mixed case of beer that I've never heard of from Russia, Latvia, Poland, Ukraine, and Greece. Don't know if it's any good, but I'll find out! I didn't count the number of beers in here, but I think it's more than it looks.

No service at all while I was there- no one asked to help me in 20 minutes inside. They get a 2.5 because the checkout guy did a real good job in making sure my box of beer was closed and solid for me to carry out into the rain.

Overall, a good spot. I liked the store up north better (a much bigger Belgian selection and the people were really helpful), but the location of this one has a lot going for it.
Feb 22, 2005
Lee's Discount Liquor - Las Vegas Blvd/Pebble in Las Vegas, NV
Place rating:
3.34
out of
5
with
11
ratings