Bailey's Sports Grille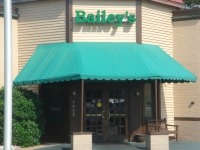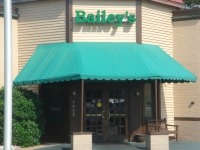 Bar, Eatery
7502 W Broad St
Richmond
,
Virginia
, 23294-3608
United States
(804) 755-6800 |
map
foxandhound.com
Notes:
Reviews by VeganUndead:

VeganUndead from Virginia
3.05
/5
rDev
-4.1%
vibe: 2.75 | quality: 2.75 | service: 3.5 | selection: 3 | food: 3.25
Apr 12, 2015
More User Reviews:
hophugger from Virginia
3.21
/5
rDev
+0.9%
vibe: 3.5 | quality: 3.25 | service: 3 | selection: 3.25 | food: 3.25
Mar 26, 2016
stonewall2 from Virginia
4.11
/5
rDev
+29.2%
vibe: 3.5 | quality: 4.25 | service: 4.25 | selection: 4 | food: 4.25
Food is consistently good. Beer selection is big enough, though not awesome, but is not limited to local stuff (most of which I do not like anyway). it is easy to out beer-geek the wait staff, but there are few places where this is not true anyway. Service is better than most. Sports bar, not a beer geek bar, but whoever buys the beer knows what he / she is doing.
Jan 03, 2015
kola from Virginia
3.13
/5
rDev
-1.6%
vibe: 3 | quality: 3 | service: 3.5 | selection: 3 | food: 3
I support this place because it is the only place I have found on the West End that allows cigar smoking indoors. This is fairly important to folk like me, especially in the winter, as I happen to enjoy a fine cigar as much - and almost as often - as a fine beer.
Bailey's has a fairly pedestrian collection of beers (Guinness, Harp, Sam Adams, Woodchuck, Newcastle, etc), but it is a broad enough selection that most anyone can find something to enjoy with their stogie.
They upgraded their menu a while back, and the food has improved enough that I am willing to eat there again.
Feb 26, 2012
CpnYates from Virginia
2.53
/5
rDev
-20.4%
vibe: 3 | quality: 2 | service: 2.5 | selection: 3 | food: 2.5
This is not a beer bar. This is a place for kids with fake ID's to try and sneak into on Friday and Saturaday nights, and for older divorced men to enjoy the sometimes cute waitstaff.. Be straight about that, set your expectations accordingly, and you may have a good time. When I first turned 21, this place was THE spot to be in Richmond without going downtown. However on a recent trip back on a friday and a subsequent Tues, the crowd in this place has thinned out...Alot. High prices (4.00 Macros and up), a trend back to the nearby BW3's, maybe even higher gas prices, seem to have strayed people from this Bailey's..however, on a Friday night you can have a decent beer... Legend Brewing or similar, have enough cigar and cig smoke inhaled to make you die a year early, and have the opportunity to play some pool or throw a few darts.
Sports Bar...Not Beer bar.
Oct 19, 2006
pentathlete from Virginia
3.15
/5
rDev
-0.9%
vibe: 3.5 | quality: 4 | service: 3 | selection: 2 | food: 3.5
I would have never considered this place for a beerfly review. I occassionally drag folks here for a business lunch, but unless you like music videos or big screen sports, this is not a BA type of place. Lots of wood dominates the view. Pretty and so-so pretty women parade around serving drinks (a Hooters is about 2 blocks down the road). Maybe 4 or 6 pool tables around the place with a few dart boards. The quality rating has to do with size, TV capability, and crowd on a typical night. Service is nothing special. Beer selection is dominated by American macros. Food is typical bar fare with a pretzel bread sandwich and the variations on barbecue standing out.
Sep 03, 2005
altctrlsdelete from North Carolina
2.75
/5
rDev
-13.5%
vibe: 2 | quality: 3 | service: 2 | selection: 3 | food: 4
Smoke just hangs in the air here. An okay place to have a pint or two and shoot a little pool, but if you're looking for the best place to go enjoy a few beers, this isn't it. Not a bad selection of decent beer, but nothing spectacular and I haven't had any luck at all outside of bottles there. About the best you can expect (in my experience) is a Harpoon IPA or a Sam Smith of some sort. Their beer menu is also almost always out of date, so don't get too excited if you see something you really want, because they're probably out of it. Service is usually pretty slow too, but they've got some pretty good food.
Mar 31, 2004

GCBrewingCo from North Carolina
3.48
/5
rDev
+9.4%
vibe: 2.5 | quality: 4 | service: 3 | selection: 3.5 | food: 4
The place is aptly named the Smokehouse! As I entered I asked for the non-smoking section and was told the whole place is smoking and was shown to a section where I was told no one was smoking. Of course the guy next to me had a cigar so I went back to the hostess (AKA eye candy) station and was told very nicely that I could just sit anywhere I cared to. That is when I realized the hostess was just eye candy when you can nix their decision of seating.
The tap list is 27 beers in length and is not printed. After circling the bar like a hawk I quickly decided that all their selections were safe and pretty boring. Not a standout in the bunch. I figured at some point I needed to review a Stella Artois and a Pilsner Urquell, so what better time than the present.
The food was pretty good and came out timely, but the order was slightly incorrect. The standard waitstaff strategy is as people are seated the next waitress up takes the table. It is probably one of the reasons I ran out of beer first, and then water. I liked my waitress, she was very nice, but she was stretched by having to be all over the restaurant waiting tables. Both beers I ordered came with no head and lacing where it once had been but had fallen while it waited for me at the bar.
The quality of the beer was fine, but service was only average, and less than exciting tap choices coupled with smoke and tons of noise make this a place I might not come back to again unless I cannot find something better.
Note: I was not the person who added this to the BeerFly, but I went there because it was on the list.
Jan 22, 2004
Bailey's Sports Grille in Richmond, VA
Place rating:
3.18
out of
5
with
8
ratings