Dismiss Notice
Grand Canyon Rattlesnake Beer
| Oak Creek Brewing Co.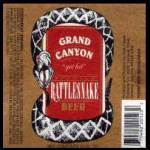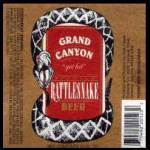 BEER INFO
Brewed by:
Oak Creek Brewing Co.
Arizona
,
United States
oakcreekbrew.com
Style:
American Pale Ale (APA)
Alcohol by volume (ABV):
5.00%
Availability:
Year-round
Notes / Commercial Description:
No notes at this time.
Added by Gusler on 11-26-2001
HISTOGRAM
Ratings: 10 | Reviews: 7
Reviews by tavernjef:

3.53
/5
rDev
+24.3%
look: 4 | smell: 3.5 | taste: 3.5 | feel: 3.5 | overall: 3.5
Color is a chilled haze of dark yellow, nearly amber with a thin but firm off-white head, fades fast to a skim present at first but goes away about midglass, lace in drippy strings. Smell is faint of roasty malts and musty, lightly grassy and floral. Taste is more of the same with a simple yet pleasant balance of roasty/toasty malts, lightly crisp and a airy soft easy dry biscuity breadish finish with a whisp of barely nociteable hop charge of light floral placement. Feel is a medium - close to getting light body, but smooth and lightly creamy and crisp, not bad at all. Pretty straight forward and easy, nothing stands out but there's not much wrong with it either; other then it being a standard of top quality, not fully flavored or bodied, just a bit over being plain and almost being good.
I do like the label and the name though.
Thanks to Gusler for the bottle.
878 characters
More User Reviews:

3.47
/5
rDev
+22.2%
look: 3 | smell: 3.5 | taste: 3.5 | feel: 3.5 | overall: 3.5
Nice beer. Cloudy. Nice flavor, almost citrus like with a wheaty taste. Certainly not an overpowering beer, but stands up to food.
133 characters
3
/5
rDev
+5.6%
look: 3 | smell: 3 | taste: 3 | feel: 3 | overall: 3
The pour the typical lager golden yellow, the head average in size, bright white in color, the lace decent enough to cover the glass. Nose is all malt, crisp and clean, start cloyingly sweet with lots of malt, top skimpy in feel, the finish strongly acidic, the hops apropos for the style. Aftertaste quite dry, a drinkable beer but pretty shallow, and just barely rates and average.
383 characters
2.93
/5
rDev
+3.2%
look: 3 | smell: 3 | taste: 3 | feel: 2.75 | overall: 2.75

2
/5
rDev
-29.6%
look: 2 | smell: 2 | taste: 2 | feel: 2 | overall: 2
Pours a light orange color that is fairly clear - not much head and not much lacing or carbonation. Dominate smell is overwhelmingly honey. First taste is light, sweet, with honey dominating - almost like a mead. This beer needs to be avoided..not worth your time or money.
273 characters

3.48
/5
rDev
+22.5%
look: 4 | smell: 3.5 | taste: 3.5 | feel: 4 | overall: 3
Pours with a brilliantly clear, full amber color that is topped by a frothy, slightly creamy, pale tan colored head. The aroma is scented with lightly spicy hop notes, sweet caramel malt notes and a touch of toasted grain character. The taste is sweet and fruity up front, with notes of apple, and berry being prominent. A touch of caramelized grain rounds out the flavor with just a wisp of hop character. Seems to be a touch spicy, a touch herbal and only a light bitterness in the finish. This has a bit of a creamy body to it that certainly keeps it from being light and watery. This is no where near the drain pour that I was expecting, it is certainly not a big or expressive beer, but the combination of lightly sweet malt, fruity notes and light hop character make for an easing drinking and quaffable brew and even the body of this brew has a bit of extra character to it.
881 characters

2.63
/5
rDev
-7.4%
look: 3.5 | smell: 3 | taste: 2 | feel: 3 | overall: 3
Appearance: Pours a lovely amber, minimal carbonation. Thin, whispy head doesn't have much staying power. No discernable lacing effects. A bit of odd haze and particles suspended in the brew.
Smell: Sharp hops dominate, behind which there is a fair amount of sweet malt. Not entirely unlike a Fat Tire.
Taste: Sweet, and behind that little else. My first thought was that this is was beer-flavored Kool-Aid would taste like. Made sure my palate was clear and tried again. Same effect. When it's not tasteless, it's just...off
Mouthfeel: Clean and wispy. No discernable aftertaste.
Drinkability: The oddness in the taste detracts somewhat from this being able to serve as a summer quaffer. Drinkable enough as a novelty, but not worthy of your regular rotation.
764 characters
3
/5
rDev
+5.6%
look: 3 | smell: 3 | taste: 3 | feel: 3 | overall: 3
Appearance: Pours a clear, orangey body with a tiny, off-white head.
Smell: Honeyish malt presence with light notes of fruit and yeast.
Taste: Honeyed maltiness with a very light amount of sweetness. Hint of spent grian. Touch of fruit, yeast. No real hop flavor or bitterness. Sweetish finish.
Mouthfeel: Medium-thin body. Medium carboantion.
Drinkability: Not so good, I'm afraid.
386 characters

2.35
/5
rDev
-17.3%
look: 3 | smell: 3 | taste: 2 | feel: 2.5 | overall: 2
A - The cap pops off to reveal a slow gusher... never a good sign. The beer explodes into a huge head of white foam as it hits the glass. Literally five fingers of head on top of one finger of hazy, golden liquid. On the plus side, it exhibits good retention and lacing.
S - Bready malt with some biscuit notes and a bit of musty hop character.
T - Dry, grainy malt up front with some herbal hops. The malt becomes chalky and husky in the middle with a touch of grainy sweetness. Finishes with light bitterness and some more herbal hop flavor.
M - Medium body, very high carbonation, and a bone dry finish.
D - Very dry and ridiculously carbonated, I though this might have been infected but it has no discernible off flavors or aromas. It is, however, bland and uninteresting and comes across more as a light lager than a pale ale. Not quite a drain pour, but damn close; I wouldn't drink this again.
905 characters
Grand Canyon Rattlesnake Beer from Oak Creek Brewing Co.
Beer rating:
2.84
out of
5
with
10
ratings