Henry Weinhard's Organic Amber Premium Ale
| Blitz-Weinhard Brewing Co.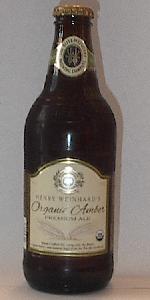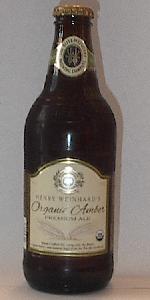 BEER INFO
Brewed by:
Blitz-Weinhard Brewing Co.
Oregon
,
United States
henryweinhards.com
Style:
American Amber / Red Ale
Alcohol by volume (ABV):
5.25%
Availability:
Year-round
Notes / Commercial Description:
No notes at this time.
Added by 1whiskey on 02-14-2007
This beer is retired; no longer brewed.
HISTOGRAM
Ratings: 5 | Reviews: 5
Reviews by 1whiskey:
4.08
/5
rDev
+14.9%
look: 4 | smell: 3.5 | taste: 4 | feel: 4 | overall: 5
12 oz twisty bottle purchased at my local Haggan, poured into a standard pint glass. True to it's name, this is a clear amber color with a frothy white head. Minimal lacing.
Smell is mildly sweet with grass and floral notes. Pleasant enough. Subdued, but pleasant.
A strong "toasty" flavor is evident on first sip, and a more pronounced hop presence than is normally assosciated with "Hank's" beers. This is actually pretty good. Bisciuty malts, toasted grains, a hint of melon rind and a quick finish make this well balanced, highly drinkable and more enjoyable than most Weinhard beers. It's similar to Fat Tire in a way, but I think prefer this over the NBB flagship.
Light to medium body with active carbonation. Slick mouthfeel with a quick flash of hop bitternerss in the finish.
I'm not normally a fan of HW beers, but this is pretty darn tasty. It's a sure fire winner for a session beer, likely to appeal to craft beer fans as well as their non-craft drinking friends. High crossover potential with this one. Recommended.
Note: I entered this as year-yound, but neither the press release nor the website has indicated it's availability as of 02/13/07.
1,175 characters
More User Reviews:
3.42
/5
rDev
-3.7%
look: 3 | smell: 3.5 | taste: 3 | feel: 4 | overall: 4
Pours a golden-amber color topped by a small, wispy white head that fades almost immediately to a thin ring. Not a lot of carbonation - the body appears to be pretty still. Pleasant aroma of sweet, nutty malt with a whiff of adjunct lurking in the background. Palate is again full of sweet malt, blending with some sweet, fruity hops. Notes of ripe apple and light caramel come through on the finish. Not exactly cloyingly sweet, but a bit more sweetness than I care for. Smooth body is very nice; this beer goes down easy. A decent offering from our local large-scale brewer.
576 characters
3.68
/5
rDev
+3.7%
look: 4 | smell: 3.5 | taste: 3.5 | feel: 3 | overall: 4.5
After purchasing a 6 pack I came home to "test" out the drink. It is indeed a clear amber colour w/ a white head that fades fairly quickly into a light ring. It has a pleasant aroma, malty yet subdued. The actual taste is a sweet malty flavour w/ little bit of bitterness toward the end. The taste lingers for some time and is a very enjoyable drink. I am not a fan of HW beers, that being said I found this drink to be quiet enjoyable and worth the price I paid(only 7.49 for a 6pack) It should be noted that the drink goes down very smoothly.
544 characters

3.43
/5
rDev
-3.4%
look: 3.5 | smell: 3 | taste: 3.5 | feel: 3 | overall: 4
Nice packageing, and at $6.99 a six, way more exspensive than regular "Henry's". Plain copper coloured ale with a good sized frothy,thick light tan head. Pleasant very malty aroma, slightly spicy . Flavour is mainlly malty in a light caramel sort of way, with a pleasing light hop bitterness in the end, slightly grainy. Simple. Mouthfeel is OK, its lowly but lively carbonated and goes down smooth, some nice after taste. Over all a very simple beer and nothing really to rave over. But quite drinkable. Probably not worth the extra $1.50 for a Henry weinhard product. NOTES: as it went on it began to take on some English bitter characteristics,
648 characters
3.12
/5
rDev
-12.1%
look: 3 | smell: 3.5 | taste: 3 | feel: 3 | overall: 3
I bought a six-pack of Henry's Organic Amber at a grocery store. Poured in to a pint glass.
Pours a deep red/amber color and is clear. A modest off-white head forms, and dissipates quickly. The head is neither resilient or sticky, leaving virtually no lacing on the glass.
The smell is sweet and floral. It smells a bit like a lager beer.
The taste is fairly typical for an amber, with a grainy bread, malt flavor up front, and a little metallic bitterness on the finish. There is an odd sharpness to the taste.
Mouthfeel is crisp with a well carbonated zip.
A drinkable brew if you can get past the price. At $7 a six-pack it's quite a bit more expensive than other Blitz-Weinhard brews, and in my opinion not worth it. This beer is comparable to some less expensive ambers, and not as good as some others for the same price, so I doubt I'll buy this again. The organic qualities do nothing for me.
904 characters
Henry Weinhard's Organic Amber Premium Ale from Blitz-Weinhard Brewing Co.
Beer rating:
3.55
out of
5
with
5
ratings