Henry Weinhard's Summer Ale
| Blitz-Weinhard Brewing Co.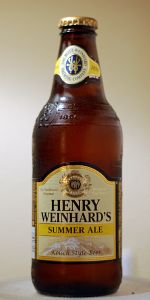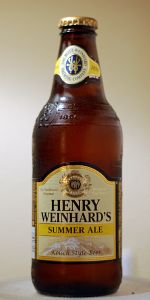 BEER INFO
Brewed by:
Blitz-Weinhard Brewing Co.
Oregon
,
United States
henryweinhards.com
Style:
German Kölsch
Alcohol by volume (ABV):
4.95%
Availability:
Summer
Notes / Commercial Description:
ABV: 4.95%
IBU: 22
Malts: Two-Row Malt and Wheat Malt
Hops: Hallertau Tradition, Willamette and Galena
Appearance: Light, crystal clear, golden color
Calories: 155 (12 oz.)
Carbs: 17 (12 oz.)
Added by Reidrover on 04-12-2009
HISTOGRAM
Ratings: 13 | Reviews: 5
Reviews by djeucalyptus:
3.4
/5
rDev
+4.6%
look: 3.5 | smell: 3.5 | taste: 3 | feel: 3.5 | overall: 4
pours a golden hue with tinges of orange... darker in color than most kölschs... a fluffy bright white meringuey one-plus-finger head slowly deflates, leaving behind some nice lacing.
aroma is bready, yeasty, and lemony with a hint of pepper. some spicy herbal hops. hints of cabbage. the yeasty and doughy notes are nice... lemon and hop verges on funky.
taste is pleasantly subtle. light cracker malt followed by some clean herbal hop notes. fruity and citrus esters lend some tartness. A slightly sharp lemony bitterness in the finish. the citric tartness begins to overshadow the malt a bit.
mouthfeel is to style. moderate body, crisp, clean, astringent, a bit vinous, and fierce carbonation to keep everything alive. refreshing and quenching.
This would be a great summer BBQ beer... definitely drinkable, excellent with food and refreshing. For the price, a nice (and relatively unique) light summer beer that definitely has a foreseeable place in my fridge.
971 characters
More User Reviews:


3.57
/5
rDev
+9.8%
look: 3 | smell: 3.5 | taste: 3.5 | feel: 3.5 | overall: 4
New Summer seasonal ( different from the old Summer WHEAT ale). In appearance, pale golden with nice sized pure white head. Aroma very doughy, bread, some hop presence. Nice tasty bready malts , some under tones of hop. Nice after taste. Nice body on this . Overall a nice interpretation for Henry's. Good drinking in the Oregon summer to come
343 characters


2.61
/5
rDev
-19.7%
look: 3 | smell: 2 | taste: 3 | feel: 2.5 | overall: 2.5
pours a very pale yellow with a small snow white head, and good lacing.
smell is of grain, a touch of citrus, and sweet malt in the back.
taste is crisp, tart, grain, some hops, a little sweetness, and lots of lemon, end is tart.
overall lots of lemon for a kolsch.
268 characters

3.63
/5
rDev
+11.7%
look: 4 | smell: 3.5 | taste: 3.5 | feel: 3.5 | overall: 4
12oz bottle from a 6-pk purchased at a nearby grocery store for $5.99.
Poured a pale gold color with a decent sized, sudsy bone-white head. After a few minutes it had dropped to a foam skiff and left a surprisingly large amount of lace on the sides of a Boundary Bay pintglass.
Hops! Not a lot - this is a Kolsh, not an IPA - but they're there, and in a Weinhard's interpretation of the style to boot. Floral, with a touch of citrus, plus a modest amount of dry biscuity malt scent. This smells surprisingly close to the style for a mass-market attempt.
Much like the scent, the taste of this beer is better than what I was expecting. It starts out with a mild citrus hop zap to the palate and is swiftly followed up by a malty flavor that matches it and keeps this in the light and refreshing category. Very mild dryness at the swallow.
Light-bodied, like every other Kölsch I've been able to try. Slightly puckery, dry mouthfeel.
Very drinkable, and not bad at all for what I paid for it. I think I just found this summer's lawnmower beer. This is not a flavor bomb, but it's something that will come in handy on a hot, summer's day. Now, if it would stop raining and blowing so much, maybe I'll son be able to find out for sure.
1,239 characters
3.23
/5
rDev
-0.6%
look: 3.5 | smell: 3 | taste: 3 | feel: 4 | overall: 3.5
I bought a six-pack of Henry's Summer Ale at a truck stop. Poured in to a pint glass.
Pours a pale yellow/gold color and is clear. Fizzy white dissipates quickly, but the last remnants of foam are quite resilient. Many bubbles can be seen rising in the beer.
Smell is faint, perhaps a little grain aroma and a light perfume scent.
Taste is sort of lager-like. A dry bitterness dominates the flavor, with a litte cereal flavor and a hint of earthy grass taste.
Mouthfeel is light and clean.
Drinkable if you like the style. If they didn't tell me it was a Kölsch I'd swear it was a lager. I may well have this again, but it's not one of my favorites of the Henry's line.
675 characters
3.09
/5
rDev
-4.9%
look: 2.5 | smell: 2.75 | taste: 3.25 | feel: 3.25 | overall: 3.25
Henry Weinhard's Summer Ale from Blitz-Weinhard Brewing Co.
Beer rating:
3.25
out of
5
with
13
ratings