Henry Weinhard's Amber Light
| Blitz-Weinhard Brewing Co.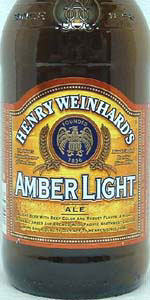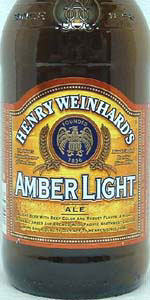 BEER INFO
Brewed by:
Blitz-Weinhard Brewing Co.
Oregon
,
United States
henryweinhards.com
Style:
American Amber / Red Ale
Alcohol by volume (ABV):
not listed
Availability:
Year-round
Notes / Commercial Description:
No notes at this time.
Added by Reidrover on 05-19-2003
This beer is retired; no longer brewed.
HISTOGRAM
Ratings: 6 | Reviews: 5
Reviews by freed:

3.25
/5
rDev
+9.8%
look: 3.5 | smell: 3.5 | taste: 3.5 | feel: 3 | overall: 2.5
My wife picked up some of this to boil bratwurst in. She's still convinced that its possible to brew a good light beer. There have been some contenders as of late, and this one seems to be my favorite so far.
This beer is probably the darkest light beer ever, at a somewhat thin amber. It has a decent amount of foam which thins quickly. The smell is malty and beery, but not much is available in the hop aroma department.
It tastes pretty good. Not as much body as their amber, which itself has a somewhat thinner body than most. It draws clean like a light beer, and still leaves you with a somewhat full but not sure if you finished a beer feeling. The brats turned out well though.
692 characters
More User Reviews:
2.98
/5
rDev
+0.7%
look: 3 | smell: 2.5 | taste: 3 | feel: 3 | overall: 3.5
Appearance – This actually doesn't look half bad. The body is a nice reddish-orange with carbonation visible and a decent, orange head.
Smell – The light aroma is soft grain with a bit of orange-type hoppy scent.
Taste – Not bad. There's no skunk and no nasty grain, so I guess that's half the battle for an American light beer. The orange sweetness comes out more on the tongue. The soft grain is there as well, and the beer is a little on the dry side.
Mouthfeel – Some light carbonation and a refreshing dryness helps along this light-bodied ale.
Drinkability – I swore I wasn't going to rate light beers, but a friend talked this one up so I thought I'd give it a shot. I have to admit, it wasn't as bad as I thought it was going to be. And, the best part, is that it wasn't as bad as Blue Boar.
823 characters
2.86
/5
rDev
-3.4%
look: 3.5 | smell: 2.5 | taste: 2.5 | feel: 3.5 | overall: 3.5
An attractive clear amber with decent head; a somewhat cheap aroma of mega-lagers. The flavor is pretty mild; not much of the deep-colored malts make their way though, and there aren't any hops to speak of. A lingering malt finish keeps this from being a total washout. Not particularly exciting, although as with many Henry's beers, there isn't anything wrong with it. If you absolutely must drink light beer, or if you are buying for someone who must, this will do just fine, but what a rotten close-minded way to go through life.
I just checked the SABMiller website, and it states that Henry Weinhard's Amber Light is a lager and undergoes a lager fermentation process. This despite it clearly saying "ale" on the bottle. The website also says that it is "brewed with Pacific Northwest Cascade hops for a deep colour".... which doesn't make sense to me. Also why the British spelling? I understand SABMiller is an international brand but they don't sell Henry's outside of the States do they?
999 characters

3.33
/5
rDev
+12.5%
look: 3.5 | smell: 3 | taste: 3.5 | feel: 3 | overall: 3.5
Ok new beer from WEinhard's looks like they replaced the regular Amber with a Light version..Im upset , Iiked the regular Amber
Ok this is a ligtbeer with 135 cal per serving.
The appearance of the beer as it pours into my glass is quite attractive..its a dark but crystal clear amber colour with a nice sized solid off white head that lingers long.
The smell is pretty clean and fresh but not strong at all..some hops a little malt.
Tatse is actually quite good for a lighter beer..nice and sweet slightly roasted chocolate malts a small hop bite to finish.
Not too bad a feel on the tongue..quite smooth.
I have to say this is quite a drinkable beer..and not to shabby for a Light beer..I would say this is the best light i have tasted even better than Sam Adams Light
776 characters
2.6
/5
rDev
-12.2%
look: 2 | smell: 2 | taste: 3 | feel: 2 | overall: 3
The apperance of this beer is the usual amber reddish orange, the head was a slight cream color that did not last long. The smell was like smelling air, not much but did have hints of malts and hops. The taste is light and hints of sweetness. Mouthfeel is dull and light, hops bounce off your tongue at first but a bland dull feeling in the end. Drinkable only because it is so light for an amber. Still not sure why they created an Amber Light, rather just have there original amber.
484 characters
Henry Weinhard's Amber Light from Blitz-Weinhard Brewing Co.
Beer rating:
2.96
out of
5
with
6
ratings