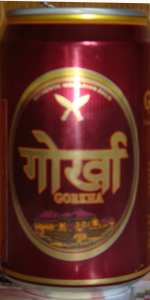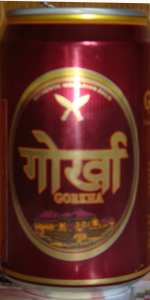 BEER INFO
Brewed by:
Gorkha Brewery
Nepal
gorkhabrewery.com
Style:
American Adjunct Lager
Alcohol by volume (ABV):
5.50%
Availability:
Year-round
Notes / Commercial Description:
No notes at this time.
Added by Bierschenker on 05-05-2008
HISTOGRAM
Ratings: 14 | Reviews: 5
Reviews by jazzyjeff13:

2.03
/5
rDev
-24%
look: 3 | smell: 2.5 | taste: 1.5 | feel: 2.5 | overall: 2
A 330ml green glass bottle with a BB of March 2013. Picked up last year in Bruges (of all places); I noticed one in the window of a small night-shop. Features a foil neck label, and the rear label mentions that this brew is named after the famous Nepalese soldiers.
Poured into a straight pint glass. A clear pale-gold colour with good carbonation. Forms a decent head of brilliant white foam that lasts for a minute or two before subsiding. Aroma of light malt with hints of wet grain, overcooked veg, mild stewed leaves and a twang of unripe apples in the background. Slighty harsh and not particularly appetising.
Tastes of light malt with an unpleasantly acrid character and a dry bitter finish. Notes of overcooked veg, corn, harsh stewed leaves, hints of tart apples and an oily, solvent-like background flavour. It's pretty disgusting. A mild bitterness upon swallowing. Mouthfeel is smooth, light and dry, with a thin, watery body. Highly astringent - strips the palate. Aftertaste of harsh bitter leaves and solvent - gross.
Not very nice at all. Doesn't smell great but the flavour is truly vile. Acrid and horrible, with tons of off-notes spoiling everything. I simply cannot recommend this beer - avoid.
1,218 characters
More User Reviews:
1.94
/5
rDev
-27.3%
look: 2 | smell: 3 | taste: 1.5 | feel: 3 | overall: 1
I Bought this can at a nepali night shop.
When poured only a small white head develops. It rapidly vanished.
The colour is golden pale.
The scent is overall metallic with some hop and malt traces.
It tastes metallic as well. The aftertaste gives a slight hint of hop and grains. It's quite foul.
Mouthfeel is quite thick.
I emptied it… not because it was good, but because you don't waste beer.
422 characters
3.32
/5
rDev
+24.3%
look: 4 | smell: 3.25 | taste: 3.25 | feel: 3.5 | overall: 3.25
No idea why this beer is listed as retired. It's widely available all over Nepal. So a long day of hiking and ready for a cold beer. Poured from a brown 22 oz. bottle. Has a rich golden color with a 1/2 inch head. Smell is mild, a bit of malts. Taste is crisp, grains, what's that? No, it can't be. Yes, I believe there is a touch of hops being detected. Feels medium bodied in the mouth and overall is the best beer I have had in this country to date.
452 characters

2.97
/5
rDev
+11.2%
look: 2.75 | smell: 2.5 | taste: 3.25 | feel: 3 | overall: 3
2.72
/5
rDev
+1.9%
look: 2.75 | smell: 2.5 | taste: 2.75 | feel: 3 | overall: 2.75

3.01
/5
rDev
+12.7%
look: 3.25 | smell: 2.75 | taste: 3 | feel: 3 | overall: 3.25
My local, in-person trader, tone77, brought this back for me following his latest excursion. I am always fascinated by what shows up in one of his boxes.
From the bottle: "Authentic Himalayan Brew"; "Premium Quality Nepali Beer"; "Traditionally brewed with the finest hops, pure water and barley malt"; "Gorkha Premium Quality Nepali Beer embodies the bold spirit of of the heroic Nepali soldiers form Gorkha - the mid-western hilly region from where Nepal was unified as a nation more than two hundred years ago."; "This original Nepali special brew made with the finest hops, pure water and barley malt is a tribute by Gorkha Brewery (P) Ltd. to the enduring legend of these valiant soldiers."; "A Product of Nepal".
With 650-ml. of it, there will be plenty of time for me to contemplate this one! My initial pour created two puffy fingers of dense, bone-white head with excellent retention. It looked like marshmallow Fluf sitting atop the liquid beneath it. Color was a pale, lemon-yellow (SRM = > 2, < 4) with NE-quality clarity. Nose smelled strongly of my arch-nemesis, corn, but it is to be expected in this style. I only wish that this had come in a CAN, instead. Forging ahead smartly, I took my first draught of many. Mouthfeel was medium and the taste was not as harsh as I had girded myself for. It was slightly grassy with a sharp metallic tang on the tongue. Even so, it did not evince the corn that I seemed to perceive on the nose. Finish was semi-dry and actually rather unobtrusive in total. I would not want a steady dose of it, but if as tone77 said in his review, it is the best game in town, it would fill the bill. Once more, chalk it up to my damning with faint praise.
1,702 characters

3.1
/5
rDev
+16.1%
look: 3 | smell: 3 | taste: 3.25 | feel: 3 | overall: 3

3.03
/5
rDev
+13.5%
look: 3.5 | smell: 3 | taste: 3 | feel: 3 | overall: 3
Beer bottle (65 cl.), tasted in 2009 (Kathmandu, Gorkha, Pokhara).
Appearance : golden color, with white foamy head (not persistent).
Smell : grassy and grainy aromas.
Taste and mouthfeel : fruity and herbal flavours, with a mild finishing bitterness.
Drinkability : an average beer in the style Lager.
303 characters
2.71
/5
rDev
+1.5%
look: 3.25 | smell: 2.75 | taste: 2.75 | feel: 2.5 | overall: 2.5

Gorkha from Gorkha Brewery
Beer rating:
2.67
out of
5
with
14
ratings