Gutmann Weizenbock
| Brauerei Fritz Gutmann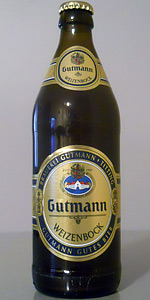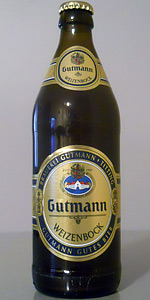 BEER INFO
Brewed by:
Brauerei Fritz Gutmann
Germany
Style:
Weizenbock
Alcohol by volume (ABV):
7.20%
Availability:
Winter
Notes / Commercial Description:
No notes at this time.
Added by EwaldEichstaett on 07-27-2010
HISTOGRAM
Ratings: 10 | Reviews: 6
None found.
More User Reviews:
4.55
/5
rDev
+11.8%
look: 4 | smell: 4.5 | taste: 4.5 | feel: 4.75 | overall: 4.75

4
/5
rDev
-1.7%
look: 4 | smell: 4 | taste: 4 | feel: 4 | overall: 4
3.95
/5
rDev
-2.9%
look: 3.5 | smell: 4 | taste: 4 | feel: 3.75 | overall: 4
5000ml bottle: my 5th and final bottle during my 1st visit to Weiss-Blau in Charlottenburg Berlin on 17th Jan 2014: I was to re-visit some 5 days later to drink more brews.
Not had many Weizenbock beers so style isn't an issue here, although both an Aventinus and a Vitus have crossed my path more than once.
Pours a deep golden orange colour, not as hazy/cloudy as I expected, full head of deep foam.
Sweet malts, yeast and spices vie with each other in both the nose and the taste, this is complex, interesting and different. Vanilla and banana flavours are also in the mix; this is like a malty sweet normal Weizen with knobs on.
I liked it and will be seeking out more beers in the style to try
702 characters

4.18
/5
rDev
+2.7%
look: 4.5 | smell: 4 | taste: 4 | feel: 4.5 | overall: 4.5
500ml bottle
A- Light orange/dark golden. A bit of Haziness but still quite bright. Huge white head as obvious. Dense, shows good retention and lacing
S- Sweet and estery, not at all big on the malty side as one would expect from a weizenbock. A touch of wheat and yeast are clearly detectable but the major role is played by fruity notes (citrus, particullary lemon, vanilla) and esters (clove). All very much on the sweet side
T- As the smell suggested despite the 7.2%ABV this beer is not so malty, just like their hefeweizen was. a bit of a bready feel is there, but with quite a good amount of sweetness and fruity notes (lemon, green apple, banana, vanilla as the smell suggested). On the edge of cloyingly sweet but never over the top. A good dose of spiciness (clove, pepper). Finish and aftertaste are a bit drier than the taste and bring a nice refreshing feel
M- Medium body (maybe a bit on the light side for the style), medium carbonation. Nicely smooth on the palate, maybe a bit more on the juicy side on the tongue. Highly refreshing
O- Not your standard weizenbock, lighter in colour and maltiness, much on the fruity and spicy side than usual. And a damn good beer at this. It has great drinkabilty, balance and decent complexity. Very interesting
1,270 characters

4.29
/5
rDev
+5.4%
look: 3.5 | smell: 4.5 | taste: 4.5 | feel: 4 | overall: 4
Huge, persistent, fluffy white head. Golden, orange, opaque. An extremely cloudy wheat beer even with the majority of the yeast left in the bottle.
Typical hefeweizen yeastiness in the nose, heavy on the banana, but amplified and with a little more sweetness.
A nice rich, fully bodied wheat beer that really delivers flavor-wise. Banana, wheat, a little clove, some sugar, with a little more citrus fruit than your typical weizenbock. A little spicy bite on the backend.
Creamy and smooth; the alcohol doesn't stick its head out too far.
Much more Vitus than Aventinus in just about every way, but a little sweeter, fruitier, and less tart.
648 characters
4.11
/5
rDev
+1%
look: 5 | smell: 4 | taste: 4 | feel: 4.5 | overall: 4
Pour into tulip gives birth to hazed, orangeish golden body topped by thick white head with incredible retention that weaves solid laces on the sides as I swirl the glass.
Aroma is malted-wheat sweetness, spicy clove-like phenols, bananaish esters, bubble gum and apple-like fruitiness. Alcohol gets noticeable only as the beer warms.
Wheat malt-base exhibits pronounced fruity and spicy character with intermingling apple flavor and spicy clovey phenols.
Mouthfeel remains creamy despite substantial carbonation trapped within viscous medium-full body.
In short, a rather pale Weizen Bock that lacks strong malty-sweet character of its darker relatives, with fruity-phenolic character.
Nomen est omen und dieses Bier ist wirklich gut, man. (500 ml, BB date 04-20-2012.)
775 characters
4.24
/5
rDev
+4.2%
look: 3 | smell: 4 | taste: 4.5 | feel: 4 | overall: 4.5
Poured from a 500ml bottle into a straight pint glass.
Pours an orange/off brown colour, with an immense head, the biggest i've ever encountered.
Smells alcoholic, and weizen-y, with some yeast too.
Taste is actually quite good, due to it being quite old - a few months out of date - the harshness of the alcohol has lessened, leaving just an alcohol warmth, adding to a malty and weizen flavour. Very easy to drink, the alcohol is deceptively hidden.
Overall a very nice weizenbock, better in my opinion that even the Vitus and the Aventius, though I will get some of them to age and then make a fair comparison.
619 characters
4.33
/5
rDev
+6.4%
look: 5 | smell: 4.5 | taste: 4.5 | feel: 3.5 | overall: 4
Review from notes:
I've had this beer many times, even fresh at the brewery (and for FREE!!!), but the review is of the bottled sort.
A: Pours a orange/brown/tan colour with a massive head. The Weizenbock always has amazing head retention. The side of the glass you don't drink from will be white when you are done.
S: Smells big and malty, but in a Hefeweizen sort of way. Some fruit tones-- not only banana either. Pear and apricot perhaps? It actually smells a bit sweeter than one would expect.
T: This is a favourite beer of mine by far. It tastes so thick and creamy. Tastes like pound cake with its big malts and sweetness. Fruit tones as well of course :) There is a little hoppyness in the mix at the end as well. Great, well balanced beer, the alcohol makes a bit of an appearance, but no matter... When the winter rolls around, buy yourself a few cases; because you will be wishing for some come February.
M: Thick and creamy, a bit too much so actually. If it weren't for the carbonation I don't think the beer would go down at all. The alcohol also makes a bit of an appearance. Obviously, Weizenbocks are meant to be thick, but I think it is a bit much in this case.
M: Actually, its very drinkable. A few of them catch up with you though. Drinking 2 is like drinking 3 regular Weißbiers; but its cold outside and your with friends so who cares.
1,367 characters
2.76
/5
rDev
-32.2%
look: 3.5 | smell: 2.5 | taste: 2.75 | feel: 3 | overall: 2.75
Gutmann Weizenbock from Brauerei Fritz Gutmann
Beer rating:
4.07
out of
5
with
10
ratings