Fat Scotsman
| Adirondack Pub & Brewery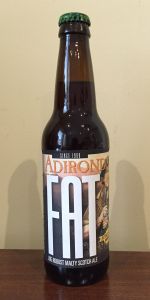 BEER INFO
Brewed by:
Adirondack Pub & Brewery
New York
,
United States
adkpub.com
Style:
Scotch Ale / Wee Heavy
Alcohol by volume (ABV):
10.30%
Availability:
Rotating
Notes / Commercial Description:
A big malty Scotch ale featuring a robust flavor, balanced with a smooth mouthfeel. Generous amounts of caramel malts and kettle caramelization contribute to the rich malty flavor which is balanced with just the right amount of Liberty and Fuggle hops.
30 IBUs
Added by Stimack on 07-18-2005
Reviews: 9 | Ratings: 37
3.68
/5
rDev
-4.4%
look: 4 | smell: 3.5 | taste: 3.75 | feel: 4 | overall: 3.5
On tap served in a mini nonic glass, 10 oz. serving
A-Dark amber, copper, quite nice. It seemed to glow. Very little off-white head with a golden hue.
S- Very malty, but very mellow. It just smelled like a 6-7% strength brown ale.
T- The taste was also not that of a beer in the 10% class. However, while drinking from the tiny glass, I could feel myself warming up and there was some harshness from the alcohol. This was more evident as it warmed. Still the alcohol was masked well from the earthy maltiness. This did seem more like a strong brown ale than a Wee Heavy to me.
M- Smooth, thick, chewy, moderate carbonation. The mouthfeel did give it away that this was a stronger beer.
O- Overall, I was a tad disappointed as I always wanted to try this and it seemed like this was one of there more popular beers as its been around since I can remember going to the brewery: at least six or seven years. Yet, it seemed whenever I went, it was either not on tap, or it was out. It was one of the better beers I have had from there, although I'm not sure I would order it again.
1,084 characters
3.78
/5
rDev
-1.8%
look: 3.75 | smell: 3.75 | taste: 3.75 | feel: 4 | overall: 3.75
Special thanks to Thickfreakness for this bottle.
A - Pours a dark ruby brown color with a light head and soapy thick lacing.
S - Light smokiness, roasted caramel and brown sugar.
T - Lots of alcohol and alcohol effervescence, malted caramel, carmelized brown sugar, and a little bit of molasses.
M - Medium body and soft carbonation. Leaves a light coating of roasted caramel and booze with a light citrus touch
O - Decent, but needs more depth and less booziness. Would rather see the ABV dialed back and more flavor, not much lingers on the palate after the sip. I'd like to try the barrel aged version of this one. It's pretty cool what Adirondack did with the labels on the bottles, they're upside down which makes this bottle worth saving!
752 characters
3.55
/5
rDev
-7.8%
look: 3.5 | smell: 3.5 | taste: 3.5 | feel: 4 | overall: 3.5
Pours a dark brown color with hints of red, a small off-white head.
Aromas begin with full, sweet malts; caramel, biscuit and cookies with a bit of backing alcohol. The aroma is very robust with more carmelized brown sugars as it warms.
The tastes begin with some sweet bread and grows in sweetness with suagr cookie, caramel and a hit of chocolate. As it warms it become more full bodied with some light peaty hints, sweet caramel and a nice spicy finish.
The mouthfeel is very smooth and creamy; mdeium to full bodied for sure. It is dominated by the malt flavor that highlights some nice smoky flavors. I notice some hop spice/bite but it is very subtle to say the least.
Overall not bad for the style but not a hallmark or in the cetegory of AleSmith or Big Sound or the classic like Traquir. Worth a go if you stumble across it but don't break you back to acquire it.
878 characters
4.03
/5
rDev
+4.7%
look: 4 | smell: 3.5 | taste: 4.5 | feel: 3.5 | overall: 4
From tasting notes taken this past summer when I was in lake george.
Pours a deep amber color. Candied malty flaovr. Leaves a wonderful after vibe that is a touch dry and a touch bitter. Dangerously drinkable. The nose was pretty subtle and I didn't pick up much, but enjoyed this brew.
286 characters
3.57
/5
rDev
-7.3%
look: 3.5 | smell: 4 | taste: 3.5 | feel: 4 | overall: 3
served on tap from the pub. Will only serve in pints or in a small sample. Growler not available.
Appearance: Very slight head, just barely off white. Disappears quickly. Color is not dark enough for the style, in a rather bland light-copper.
Nose: Quite hot. Strong smell of alcohol up front. Some brown sugar and caramel come through, but the smell is definitely hot.
Palate: A pretty high amount of carbonation, which is odd, since the head was almost non-existent. Like the nose, the taste was quite hot. The 9.5 ABV is not masked at all. More molasses on the palate and again some brown sugar. No real depth though, but the pint could have been too cold. Maybe with some warmth more flavor would emerge.
Notes: Pretty average scotch ale. Not quite as complex as some others. Have a difficult time finishing the pint due to the dominant alcohol flavor. Eat a big meal with this one.
894 characters

3.95
/5
rDev
+2.6%
look: 4 | smell: 4 | taste: 4 | feel: 3.5 | overall: 4
Now this one I remember pretty well from my trip up to Lake George and luckily I found the notes. Had with a sampler. Delicious look of dark, dark amber and a good brownish head. The aromas were great of alcohol, malt and sugary, almost cake-like flavors. The taste was similar with an almost syrupy sweetness and an apparent roasted flavor. A little overpowering mouthfeel but it does help the drink be the powerhouse it is, especially during the summer heat. Overall, the best thing there.
491 characters
3.95
/5
rDev
+2.6%
look: 4 | smell: 4 | taste: 4 | feel: 3.5 | overall: 4
Poured from the growler into a thistle the beer was a ruby-brown color with a high amount of carbonation that supirsingly streamed up to meet and feed the head. Despite this, only a half finger or so topped the beer even with an agressive pour from the growler. Lacing is quite good, however, thick rings of foam down te sided of the glass. A little odd: lots a carbonation signs, a poor head, but excellent lacing ... interesting.
The nose has a soft malty sweetness with some brown sugar, caramel and mollasses flavors coming through.
The taste reveals some robust sweetness coming through but a suprisingly thin body. Not exaclty big and chewy like some scotch ales ... perhaps a bit too cold. The taste is suprisingly hot, with the alcohol coming through more than expected. Lots of caramel/brown sugar flavors round out the taste and the body goes from a tad thin to a little syrupy with warmth. It seems you really got drink this one at the right temperature. Too cold and the body becomes thin, to warm, and the body become syrupy.
Medium body, that as mentioned, seems to fluctuate more than most beer with temperature changes. Medium caronation, nothing unexpected.
The beer was good, but not stellar. Something I certainly would get again at the pub with a meal, but not something I'd get another growler of.
1,330 characters
4.17
/5
rDev
+8.3%
look: 4 | smell: 4.5 | taste: 4 | feel: 4.5 | overall: 4
This was a diamond in the rough. We had just completed a week of holiday in Vermont and we wanted to drive the kids past Lake George following a stop at Fort Ticonderoga. My eldest son wanted to see where the other Scouts in his Troop had gone last summer for the senior camping trip. I saw the rustic lodge that was the brewery and knew that we had found the place for supper.
I ordered this as my first brew and was blown away. An excellent malty strong ale. Try it you will like it. It has depth, body, a rich aroma and a fine flavor.
540 characters
4
/5
rDev
+3.9%
look: 4 | smell: 4 | taste: 4 | feel: 4 | overall: 4
This is probably the best offering that the Adirondack Pub and Brewery has to offer IMO for brews. Pours to a nice dark amber color with a creamy tan head that almost takes the constancy of a nitro pour. Has very good retention and leaves a lot of lacing at the top of the glass. The aroma is heavy with roasted malt along with a slight sweet candy like smell, some smokiness highlights as well. Very smooth and creamy feel, it is dominated by the malt flavor that highlights some nice smoky flavors. I notice some hop bite but it is very subtle to say the least. Overall this is a real good brew, one that I will get again while traveling through the Lake George area.
669 characters
Fat Scotsman from Adirondack Pub & Brewery
3.85
out of
5
based on
37
ratings.