Beaver Tail Brown Ale
| Adirondack Pub & Brewery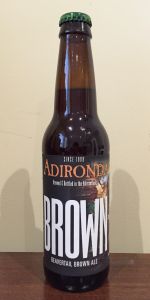 BEER INFO
Brewed by:
Adirondack Pub & Brewery
New York
,
United States
adkpub.com
Style:
American Brown Ale
Alcohol by volume (ABV):
5.60%
Availability:
Year-round
Notes / Commercial Description:
Beaver Tail Brown Ale is a dark mahogany American-style brown ale with strong hop flavor. Single-hopped with Falconer's Flight hops to balance the malt flavor with a citrus aroma and crisp finish.
50 IBUs
Added by ngeunit1 on 04-18-2011
Reviews: 14 | Ratings: 91

3.64
/5
rDev
-3.2%
look: 3.25 | smell: 3.5 | taste: 3.75 | feel: 4 | overall: 3.5
The beer comes in a dark amber brown to brown.
The aroma offers toasty malts, rich bready sweetness, some woody hops, toasted walnuts.
The flavor offers nutty, toasted whole grain, with a medium caramel sweetness with medium plus bitterness of woody hops.
The carbonation is medium plus with a medium mouthfeel as the bitter cuts into that mouthfeel.
354 characters

4.29
/5
rDev
+14.1%
look: 3.75 | smell: 4 | taste: 4.5 | feel: 4 | overall: 4.5
This is a well put together Brown Ale that has lots of taste going on.
Poured for a 12 oz bottle into a Pub glass showed off a nice dark brown brew with a tan head, the head was slight and went South fast which was the only negative I have for this beer. Aroma was a knock out after it warmed about 15 minutes (took a short walk with my Wife) and I was half finished, lots of dark sugar sweetness and roasted notes come through and really wake up the nose. The taste is solid with bitter sweet roasted malty goodness,the bitter sticks around the whole way and makes for a nice finish. Mouthfeel is medium with just enough carbonation to get the job done while keeping things tasty and rich as too many bubbles take away from the flavor depth for me. Overall I think this is one of the better Brown Ales I've had, it has everything I'm looking for in a beer of this style and I have a few more to enjoy very soon.
916 characters

3.31
/5
rDev
-12%
look: 3.75 | smell: 3.25 | taste: 3.25 | feel: 3.5 | overall: 3.25
Poured from a 12 oz can. This beer had a bit of a sour tinge that did not meld with a well made brown. Not sure if this was a bad can or what. It was received in a beer of the month box.
189 characters

3.77
/5
rDev
+0.3%
look: 4 | smell: 3.75 | taste: 3.75 | feel: 3.75 | overall: 3.75
ADIRONDACK BEAVER TAIL BROWN ALE 11/1/15
Another single in a put together mixed sixpack from the Lake George NY Price Chopper. That part of NY state is not exactly crawling with good beer stores.
Enjoying the label art of a beaver by his pond. Poured from the 12 oz. bottle into a Tree House stemmed tulip.
a; Clear copper with a finger thick offwhite head which receded to wispy surface foam and some patchy lacing.
s: Mild caramel malt leaning to - is it my imagination? - wet beaver fur. I imagine.
t: Caramel malt with a medium bitter bite following and lingering to dominate the finish.
m: Light to medium, ok body and intense carbonation tingle.
o: Billed as an "American brown ale," and the hop bite is definitely stronger than your average English brown. In fact it takes center palate stage from the malt, with mixed results.
846 characters
2.94
/5
rDev
-21.8%
look: 3.25 | smell: 3.5 | taste: 2.75 | feel: 2.5 | overall: 2.75
A: Pours a bourbon brown with a good deal of murkiness. Attractive finger of cream colored head.
S: Passionfruit and sticky toffee malts-definitely on the sweet side. Grapefruit and orange citrus aroma.
M: Very springy, medium body and biting, but with medium carbonation level. Rather thin in taste.
T: It has lots of tart citrus-lemon, lime, and grapefruit. Somehow, it seems only those flavors from the hops were extracted. Not a lot of sweetness from Munich malts. The hops really seem to bind to the Red Wheat malt. It's quite light almost shandylike in presentation. Good for summer maybe, but not a rib sticking brown ale.
633 characters
3.93
/5
rDev
+4.5%
look: 3.75 | smell: 3.75 | taste: 4 | feel: 4 | overall: 4
had a pint last night at my favorite local spot, Morrison's.
brew had a nice transparent brown look with a thin head in the pint glass. really nice malt with subtle glazing of brown sugar. very soft and easy drinking. the kind of beer you can gulp. sweetness was good with some nuttiness...everything in the right place. really nice brown ale that sort of reminded me of a less earthy version of Brown Bird from capt lawrence.
427 characters

3.56
/5
rDev
-5.3%
look: 4 | smell: 3.5 | taste: 3.5 | feel: 3.75 | overall: 3.5
Had on tap at Council Rock.Poured into a nonic a deep chesnut brown with ruby hue,a half finger off white head atop.Aromas were quite sweet with caramel and fruity notes,faint nuttiness was there as well.Caramel and fruit on the palate with brown sugar notes lending more sweetness,a light drying earthy pine note in the finish.On the sweeter side for my liking but not to bad.
377 characters
3.92
/5
rDev
+4.3%
look: 3.5 | smell: 4 | taste: 4 | feel: 3.5 | overall: 4
Poured from a 12oz bottle into a pint glass
A: Pours a hazy mahogany brown with a hint of ruby. There is a small tan head that fades quickly to a thin cap.
S: Hoppy nose reminds me of an IPA; some tropical pineapple and pine. Some sweet toffee and a touch of nuttiness.
T: Less fruity than the aroma with the pine flavor and a little bit of grass coming to the forefront. Roasted bready malt, toffee, caramel. The nutty flavor I picked up in the aroma is more potent here.
M: Medium bodied with a good amount of carbonation.
O: A decent brown ale. Much more highly hopped than I had anticipated, almost like a brown IPA.
625 characters

3.83
/5
rDev
+1.9%
look: 4.5 | smell: 4 | taste: 4 | feel: 3 | overall: 3.5
A-Cloudy hazel, three finger light tan head that leaves behind a good deal of lacing.
S-Nuts, some roasted malt, caramel and toffee.
T-Blend of nuts, roasted malt and caramel with some bitterness.
M-Medium bodied, however it doesn't have much carbonation and it is on the watery side.
O-A decent brown ale, however the body could have been much fuller.
356 characters

4.17
/5
rDev
+10.9%
look: 3.5 | smell: 4 | taste: 4.5 | feel: 4 | overall: 4
A: Poured from the bottle into a pint glass. Body is slightly hazy chestnut brown with a small ivory head.
S: Caramel malt with a touch of nuttiness.
T: Malt-centric, with sweet caramel malt and toffee underneath, a touch of hazelnut coffee, then followed up with a nice hop bitterness - slightly lemony - that provides nice balance and a drying finish.
M: Light-to-medium in heft, carbonation is a little low, but works with this style and the flavor porfile.
O: A real nice, easy-quaffing brown ale. I'm often looking for exactly this type of beer in my fridge - i.e., lots of malt flavor, balanced and easy drinking - but rarely finding it (my wife's a hophead, which kinda makes me a hophead). Now that I know about this one, I will try and keep a sixer of it on hand. It's especially nice that it's local. A real solid brown.
834 characters

3.86
/5
rDev
+2.7%
look: 4.5 | smell: 3.5 | taste: 4 | feel: 3.5 | overall: 4
A: Pours a hazy brown body with a medium white head; spotty lacing.
S: First thing I notice is the pine in the aroma; much hoppier than expected. It's balanced by some sweet caramel malts and slightly nutty.
T: Doesn't taste like a typical brown ale. Loads of Centennial hops are the first thing I notice giving it a nice, dry, bitter citrus peel flavor to contrast to the sweet caramel malts. The sweetness is faint but does the job, and malts tend to be more roasty then anything else.
M: Light body; moderate carbonation; crisp and light texture- very refreshing.
O: This is one that is better when it's fresh from the brewery. Sure it isn't bad when it's bottled and out for a few months, but it's sooo much better if you pick it up straight from the brewery. I would have rated differently if I hadn't had it straight from there.
839 characters

3.68
/5
rDev
-2.1%
look: 4 | smell: 3.5 | taste: 4 | feel: 3 | overall: 3.5
Served in a pint glass
A: pours a nice medium amber color that is entirely clear with a hefty amount of carbonation bubbles, pours with a thin amount of slightly off white head that dissipates immediately
S: nice hop notes, some sort of sweetness that seems like it may be from some sort of berry
T: very very slight hopiness, very nice sweetness that seems as though it is typical of an amber or brown, overall great taste that is somehow indescribable
M: STRONG carbonation, leaves the palate smoothly but with a very slight lingering sweetness at the back of the throat
O: love this brew, highly drinkable with great flavor that is not overbearing but also does not leave you wanting more
693 characters

3.86
/5
rDev
+2.7%
look: 4.5 | smell: 3.5 | taste: 4 | feel: 3.5 | overall: 4
A: Hazy cherry brown with a nice white head and some great lacing.
S: Nutty and fruity on the front of the nose with a toasted caramel malt back-end.
T: Malty up-front with a nice toasted nut bread middle and a crisp, dry finish. The range of flavors is balanced and includes notes of tree nuts, bread crust, caramel malts, raisins, some grassy hop notes, and earth.
M: Easy feeling brew with a nice clean finish. A touch watery in the mouth with a tinny feel, but not overwhelmingly so.
O: This is a great, well-balanced brown ale that doesnt kill it with the maltiness like some others. Tasty, refreshing, and light enough for a good session.
648 characters

4
/5
rDev
+6.4%
look: 4 | smell: 4 | taste: 4 | feel: 4 | overall: 4
A - Pours a fairly clear light brown wit ha touch of red in it and a finger of frothy slightly off-white head. The head fades down to a ring around the glass lacing nicely on the sides.
S - Aroma is a blend of some sweet light roasted caramel malts and some rich nutty smells. Some pine and earthiness also in the aroma.
T - Starts out with some nice roasted sweet caramel flavors and some nutty flavor. Through the middle the nutty flavors get a bit stronger and some more roasty flavors come out. The finish is a blend of sweet caramel and just a touch of earthy flavor that lingers.
M - Medium bodied with moderate carbonation. Very smooth and crisp without being watery. Finish feels fairly clean.
D - Very drinkable. Nice and smooth and crisp. Really nice roasted characteristics and nutty flavors mixed in.
825 characters
Beaver Tail Brown Ale from Adirondack Pub & Brewery
3.76
out of
5
based on
91
ratings.