Club Colombia Roja
| Cervecería Bavaria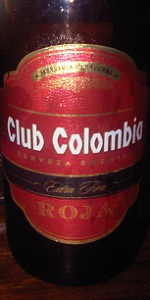 BEER INFO
Brewed by:
Cervecería Bavaria
Colombia
bavaria.com.co
Style:
Vienna Lager
Alcohol by volume (ABV):
4.70%
Availability:
Rotating
Notes / Commercial Description:
No notes at this time.
Added by Andreji on 01-22-2011
Reviews: 8 | Ratings: 24
2.69
/5
rDev
-16.5%
look: 3.75 | smell: 2.25 | taste: 2.75 | feel: 2.75 | overall: 2.75
Amber red color with lots of head with medium retention and leaving laces.
Faint aroma of toasted malts and floral hops and biscuit.
Flavor of toasted malt, slightly with hints of caramel and floral hops and some condiments. Light body with good carbonation.
An ok beer, and better than its famous blond version (which doesn't mean much).
340 characters
4
/5
rDev
+24.2%
look: 4 | smell: 4 | taste: 4 | feel: 4 | overall: 4
So Bavaria, a usually care-free lager mogul here, finally had to step up and face the competition, which has only strengthened in the past few years. And somewhat following the model of many other BMC-types, decided to ship out its very own signature "craft" beer.
Of course, for a much simpler audience than have done budweiser et al (here it's simply "Red Beer", no connotation as to style or anything).
And, of course, taking a much lesser risk- a "christmas one-off" with a magnificent propaganda display so to at the very least void the shelves and come out unscathed (if the experimental beer wasn't gonna work).
But, alas, my critique ends here. I'm as amazed as the reader can be of my 4-or-over total score for this. but- to our surprise- this beer is genuinely good.
Pour has a very glowy red-amber hue reminiscent perhaps of milder o'fest types. not unappealing by any means. a frothy white head- nice contrast and very christmas-like - that leaves scarce lacing but lets a layer sit atop throughout the beer tasting.
Smells of roasted, sweet malts, even the slightest plum notes which turn out to be fairly welcoming. the roast feel contrasts with a mild metallic feel, but no alcohol lies anywhere near. so far, so good.
Taste was also good. off the bat, a quick swish of sweet malts that is overturned at once by a blend of a roast hop feel, i mean, you can tell there's these sweet and kind malts somewhere hiding between the lines of a dry but half-smoked bitterness. If anything, one has to hand it that it *is* complex. and not bad by any means. body stands along its lager lines- that is, rather thin, however much more flavorful than the original (club colombia) and it is adequately carbonated.
In all, I can only hope out of marketing, desperation or you-name-it, Bavaria decides to turn their christmas market test into a permanent to play in the same field as crafts. doubt it will take over- still a long way from the big micro guns- but they could have something decent to play with.
2,030 characters
3.22
/5
rDev 0%
look: 3 | smell: 3.5 | taste: 3 | feel: 3 | overall: 3.5
A: More tawny copper than light amber, but it is close. Small light khaki head that settles to a nice skim which sticks around a bit. Clear with multiple steams of steady bubbles. Just a bit of lace.
S: A mix of floral, fruity, estery euro-lager nose & some pretty fair generic malty sweetness. Background herbal / grassy hops. Crackery & bready base malt with a hint of bread crust. Good strength and a fair Vienna type profile.
T: Similar to the nose but less rich, less sweet & malty, and more hops. Malts are dryer, more grainy & husky, and have less richness from bread crust notes or sweetness. Hops are stronger, but compared to the nose have a narrower and less appealing flavor profile. Herbal, tea-like, and leaning astringent.
M: Almost medium body, but just under by a hair. Carbonation is matched just a bit high with imparts a bit of a crisp feel. Keeps a bit on the semi-sweet side with some hop drying at the end.
D: Not quite up there with the top examples of Vienna lagers from Latin America. Pretty solid though. A bit more richness to flavor and body would bump this one up a bit. A nice "premium" offering from a macro style Colombian brewer.
1,167 characters

2.91
/5
rDev
-9.6%
look: 3 | smell: 3.25 | taste: 2.75 | feel: 2.5 | overall: 3
My nanny who is from Colombia ha her parents come up and visit, and of course I had to ask for them to bring me a local haul.
A - a nice color, orangish-red hue, closer to copper. Very thin and quickly dissipating head. No lacing to speak of.
S - smells of light grains, very faint malt. No hops present. Fruity notes finish the nose.
T - it has a sweet taste of fruitiness, hops are finally present at the end. Definitley get the grains here, overall decent lager taste.
M - light/medium bodied, very crisp. Taste dissipates rather quick on the palate.
D - quite drinkable, its highest point in my opinion. Would be a great warm-weathered drinkable beer.
O - overall a decent Vienna Lager. On of the best South American beers I have had. Would drink again under my own accord.
783 characters
2.98
/5
rDev
-7.5%
look: 3.5 | smell: 3 | taste: 3 | feel: 3 | overall: 2.75
First trip to Colombia, so I thought I would sample a local brew. The Columbia Club Roja was his recommendation. I found it to be rather bland. The first taste is OK; however it was only an initial taste. It became quite bland after that first sensation. Overall, it is not bad. I would probably look for a different beer for my next local sampling.
349 characters
2.98
/5
rDev
-7.5%
look: 3.5 | smell: 3 | taste: 3 | feel: 2.5 | overall: 3
Recent trip to Central and Northern Columbia. I saw it first in the Colombian equivalent of "CostCo" Barrinquilla, Co. in 24ct flats (which won't fit in my hotel room fridge) Later, purchased a single can (2.500 co.) in Exito, a supermarket in Buccaramonga, C0. Flavor is good, not as flavorful as a true german type. Club Colombia Roja is the best of all Colombian brews that I've tried. The "Normal" Club Colombia is a close second in the flavor dept.
453 characters
3.86
/5
rDev
+19.9%
look: 3.75 | smell: 4 | taste: 3.75 | feel: 3.75 | overall: 4
It is the best Colombian widely commercial beer, only defeated by the small local breweries
A significant improvement from its blonde classical sister, it actually has an attitude, not like the widely commercial national brews which are usually light and watered down.
269 characters
4.33
/5
rDev
+34.5%
look: 3.5 | smell: 4.25 | taste: 4.5 | feel: 4 | overall: 4.5
Commercial Colombian beer, above standars, real red body, after taste won't leave your mouth sour, taste is very nice, close to British best red brews.
151 characters
Club Colombia Roja from Cervecería Bavaria
3.22
out of
5
based on
24
ratings.