Costena
| Cervecería Bavaria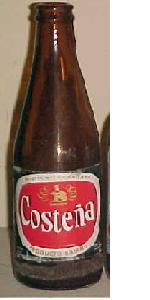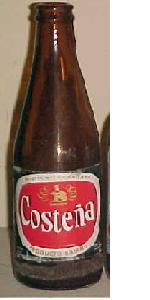 BEER INFO
Brewed by:
Cervecería Bavaria
Colombia
bavaria.com.co
Style:
American Adjunct Lager
Alcohol by volume (ABV):
4.00%
Availability:
Year-round
Notes / Commercial Description:
No notes at this time.
Added by WanderingFool on 02-23-2003
HISTOGRAM
Ratings: 13 | Reviews: 6
Reviews by Luiz0930:

More User Reviews:

3.08
/5
rDev
+11.2%
look: 3 | smell: 2.5 | taste: 3 | feel: 3 | overall: 4
Buenos dias de Cartagena, Colombia! I would like to introduce you to Colombia's version of Red Stripe! Is the beer bad.... no....its perfect for those hot ass days. Is the beer good...no...nothing really desired other than to drink the shit out of it when underneath a palm tree! The color....yellow, white head, weak lacing...stop me if you have heard this before....smell non-existent....taste....see Red Stripe...SESSION....you BETCHA!
438 characters

2.53
/5
rDev
-8.7%
look: 3 | smell: 2.5 | taste: 2.5 | feel: 2.5 | overall: 2.5
A: Pale yellow, short white head that stays for a short bit. Several streams of bubbles. Keeps a ring & leaves a few random but good bits of lace.
S: Some fruity esters, bit of light sweetness, hint of floral & herbal hops. Soft aroma, het somehow not all that clean and it doesn't scream lager. Not bad but not inspiring either.
T: Interesting mix (almost clash) between fruity esters & light malty sweetness on the one hand. And on the other are floral & herbal hops with a fair bit of bitterness. Gets astringent in the finish with a lingering bitterness. Needs some more malts to smooth thing out.
M: Just beyond light body with carbonation matched a bit high. Expansive in a reasonably soft way at first, but it gets increasingly aggressive & coarse.
D: Manages the feat of not having much flavor or character, and also not being all that easily drinkable. Best & highest use is for washing down food.
910 characters
2.25
/5
rDev
-18.8%
look: 2.5 | smell: 2.5 | taste: 2 | feel: 2 | overall: 2.5
In the bottle smells like Welch's white grape. Pours to a pale yellow with a macro bubble head that leaves no lacing when it recedes. Nice bubbles off the bottom of the glass though, like a TV beer. Taste is overall bland, some sweet adjunct malts a slight twang of hops and a sour finish. Not even really thirst quenching, the flavor kind of just sticks on the roof of your mouth. Mouthfeel is thin and watery, carbonation seems low, maybe more would help. Looks like the red-headed stepchild of the Bavaria Group. I'll drink this for free, that's about it.
558 characters

2.5
/5
rDev
-9.7%
look: 2.5 | smell: 2.5 | taste: 2.5 | feel: 2.5 | overall: 2.5

2.9
/5
rDev
+4.7%
look: 2.5 | smell: 2.5 | taste: 3 | feel: 2.5 | overall: 3.5
This columbian beer comes in a small 12 ounce bottle with a silver foil top. It's a clear light yellow color with a bright white head filled with big bubbles. The head dissolves quickly and a musty/bready aroma hovers over the beer. It's thin mouthfeel makes it very drinkable and the taste was that of corn and light malt. A mild bitterness finishes off the sip and the carbonation can be felt in the back of the throat as the beer goes down. A bitter and sticky aftertaste is left behind.
This beer is very typical for a macro brewed lager. Not much flavor and very drinkable, especially when served cold on a hot day.
623 characters
2.75
/5
rDev
-0.7%
look: 3 | smell: 3 | taste: 2.5 | feel: 2.5 | overall: 3
'05 Re-review:
Light coloured mediocre pour with a thin fizzy head with no retention. Smell is predominantly hoppy and some barley, but not sweet.
Taste shares a mediocre tangyness to it, seemed somewhat skunked, thin, a bit hoppy but all rather tasteless- subject to a mere backtaste of bitterness in its poor body and soda carbonation. No good.
351 characters

2.54
/5
rDev
-8.3%
look: 2.75 | smell: 2.5 | taste: 2.5 | feel: 2.75 | overall: 2.5
2.72
/5
rDev
-1.8%
look: 2.75 | smell: 2.5 | taste: 2.75 | feel: 3 | overall: 2.75
Bright golden color with lots of thick head with good retention. Left laces.
Aroma of grassy hops and hints of vanilla.
Flavor of malt sweetness and mild grassy hops. Light to watery body with good carbonation.
This was my preferred adjunct lager session beer while I lived in Colombia. Now getting to evaluate it, and understanding why, it is a bit ahead of the others alike probably due to a higher note of hops (don't get excited, though) and the use of rice as opposed to corn as adjunct. Refreshing, more flavorful with less off-flavors compared to its peers. Offcourse you would be better of with a BBC, 3 Cordilleras, Chelarte, Apóstol or Colon, ignoring price tag.
675 characters

2.75
/5
rDev
-0.7%
look: 2.75 | smell: 2.75 | taste: 2.75 | feel: 2.75 | overall: 2.75
Costena from Cervecería Bavaria
Beer rating:
2.77
out of
5
with
13
ratings