Kaufhaus des Westens (KaDeWe)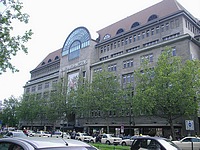 Reviews by NeroFiddled:
NeroFiddled from Pennsylvania
3.73
/5
rDev
-6.8%
vibe: 3.75 | quality: 4 | service: 3.25 | selection: 3.75 | food: 4
If you're going to Berlin you should stop in at KaDeWe just to take a look. You should probably look up the history of it as well, because that's fairly interesting; however, in the end, although it is the second largest department store in the world next to Harrods in London, it's just another high-end department store.
They've added floors over time, simply building up, and now there are 7. The 6th floor is where we want to investigate. This is the area where they sell foods, both prepared and packaged. Spread out across the floor there are 30 different counters. Not all of them sell beer, in fact, there are 4 distinct Champagne bars. As for beer and food though, there's a section for seafood which pours Jever, a Bratwurst counter which pours Franziskaner, another that offers (I think) roast beef and Märkischer Landmann as well as a bier stube that pours Budweiser Budvar, Pilsner Urquell, and Krušovice light and dark. The prices for prepared food and draft beer are not out of line (a Thuringer Rostbratwurst is €2,50 and a ,3L Franziskaner is €3,60. Märkischer Landmann ,3L is just €3,40), and you can find some very good deals on items like French cheese and bread (as compared to the U.S.).
Their bottled beer selection is more expensive. The refrigerated section is fairly small, about 3' or 4' wide, and just 6 or seven shelves high. Additionally, most of it is quite basic. Beyond that there's about 21' of shelving with maybe 8 tiers, and 2 or 3 endcaps that offers much more, including some rare beers (anniversary beers, one-off's, etc).
As to service, there's generally someone in the area re-stocking. They seemed happy to be approached, and willing to help, but lacking in knowledge.
Jan 16, 2014
More User Reviews:


Beginner2 from Illinois
4.22
/5
rDev
+5.5%
vibe: 4 | quality: 4.25 | service: 3.75 | selection: 4.75
Look past the sizzle and find the treasure trove.
So it is with KaDeWe... seemingly the European Continent's largest department store and a true master of presenting everything well... and charging for it, of course.
After our first day in Berlin, my wife gave rave reviews about KaDeWe's food floor. Despite her encouraging me to see it, I procrastinated for over a day. Then, it dawned on me that my beer hunting production in Scandinavia had been confused by each country's rules for selling bottles. And in Germany, I had yet to find a good source. (I'm approaching this goal of drinking half of "The 1001 Beers You Must Taste Before You Die." Having picked the low-lying fruit in the U.S., I now have to travel abroad for significant check-offs on this global list... because most the remaining brews are not distributed much -- or at all -- in the U.S.)
KaDeWe's beer section on the 6th floor is quite small relative to the wine section, let's say a ratio of 6 parts wine to 1 for beer. (For a U.S. superstore like Total Wine, I plunk at 3 for wine to 1 for beer.) But, KaDeWe had what I was looking for. I was thrilled to buy eight bottles on "The 1001" list.
Problem: I had a flight in 36 hours and, of course, had to drink all eight. (I only tasted two.)
Solution: Check out the beer section of department stores on the first day of visiting a city.
Jul 20, 2016
dgilks from Australia
3.34
/5
rDev
-16.5%
vibe: 3.75 | quality: 3.75 | service: 3 | selection: 3
Jul 09, 2015
BlackHaddock from England
3.7
/5
rDev
-7.5%
The KaDeWe used to be the largest department store in Europe, somewhere in Barcelona I believe has taken over that mantle.
Posh prices for posh people, 6 floors of expensive anything and everything, a newer 7th floor has even more eating space.
Floor six is the main food and drink area and what an area. The place is very classy, live fish and lobsters by the counters, champagne and shellfish bars, draught beer at some serving points, but mostly wine to drink with whatever food you wish to eat.
The actual beer to take away selection and area is quite small, but no one buys beer here for home consumption surely. Most people (like my wife and I), just wander around looking and wishing we could afford to purchase something. The beer corner/stand could very easily be missed all together, it is the whole experience of the KaDeWe that people enjoy.
We always took our guests here when we lived in the city. Now when we return, we still walk round, just for oldtimes sake, and still don't buy anything!
Jan 26, 2007
twilight from Germany
4
/5
rDev 0%
Buyer beware!
KaDeWe is unarguably the most famous Department Store in Berlin. Six floors of shopping and an eating area on the seventh. Every time we come here I swing by the beer selection, and every time I am disappointed. The prices.
Although they have a representation of the world with regards to breweries, they tend to focus on light pilsners, and not particularly on what would be good beer. The selection of German Beers is pretty awesome, but alas too expensive. Even beers brewed in Berlin are marked up to a ridiculous amount. You can get some of these beers for cheaper at supermarkets. The problem, however, is that you cannot get MOST of these beers in supermarkets or getränkeläden (drinks stores). There seems to be a focus on the local and national brands at such places, and it is quite difficult to get some of the beers you can get here. For example, a few of the Andechs beers are represented here, as well as a few of the Rothaus offerings. You can also get 5L mini kegs, as well as special gift beers.
That being said, the beer department is not very big, two shelves around and the focus is on German Beer on the one side, and International beer on the other. However, they do carry Jenlain on a regular basis, and that However, you can expect a markup of an euro or two on larger bottles, and 40-80 cents on smaller bottles.
If you're there, definitely stop by the beer section. It's a bit difficult to find, (I always have to stumble upon it) but it does have an excellent German selection regardless of the markup. The international selection does leave something to be desired, but is fine in a pinch, or if you don't have a lot of time to visit some of the other beer stores in Berlin.
As for the deposit, any store that sells a particular brand of beer in a particular container (say, Schoffenhofer in a can) is obliged by law to give up the deposit when presented with the empty container. Also, some supermarket chains have machines that will accept containers and print you out a slip for cash or store credit.
Jan 13, 2007
Kaufhaus des Westens (KaDeWe) in Berlin, Germany
Place rating:
4
out of
5
with
6
ratings