Old Market Pub And Brewery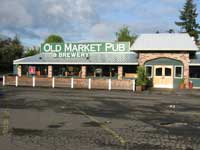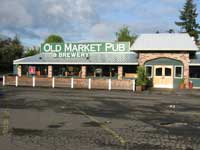 PLACE INFO
Type:
Brewery, Bar, Eatery, Beer-to-go
6959 SW Multnomah Blvd
Portland
,
Oregon
, 97223
United States
(503) 244-0450 |
map
drinkbeerhere.com
Notes:
No notes at this time.
Added by beerguy101
HISTOGRAM
Ratings: 14 | Reviews: 9
Reviews by benito:
3.14
/5
rDev
-15.8%
vibe: 3 | quality: 3 | service: 3 | selection: 3.5
There are some parallels to be drawn between the Old Market and nearby Raccoon Lodge. Both are on found on major, if slightly out of the way, thoroughfares that channel commuters out of Portland to the western suburbs, and both, though technically in the city limits, feel divorced from the ferment of Beervana. Both are themed brewpubs, designed after some other long-gone type of space. And that's where the similarities end.
For Raccoon Lodge's, this has meant that Ron Gansberg's creative lunacy has been underappreciated, only now receiving the attention it deserves. For Old Market, this lack of attention is mostly just and nearly commensurate to what they offer. It is a sports-inspired brewpub with passable beer. Though, there are some quirks that keep things mildly interesting.
Space wise, it is an old market converted into a brewpub that is filled with TVs and lots of families. Nicely, there are a few shuffleboard tables that appeal to my love of bars that cater to a local, stay-awhile-and-play-a-game-wontcha atmosphere.
I'll vouch for what another reviewer pointed out: there is a disproportionately high number of beautiful women working as servers. The wooden paneling and sports bar aesthetic are a little remniscent of Hooters. Funnily, I remember seeing an ad on Craig's List some months back when I was looking for a job in Portland, and the Old Market was hiring new servers and bartenders. "We like to meet people in person" the ad said more or less. Yes, they do.
Anyway, they keep a large array of house beers on tap--about 12 or 13 at any given time, that range from the straightforward to the exotic (apple beer, maple vanilla stout, chile ale). All of the beers I tried were average, though none was exceptional. While the "Hop On!" was the only one that I would order again, there isn't anything in the lineup that I would warn against either. There's some beauty to being ordinary, right?
Overall, I doubt I'll make plans to visit the Old Market again. Though, since I work less than a mile from there, it seems moderately likely that I'll pass through again. I imagine then I will be neither impressed nor offended, again. That seems to be this place's MO.
2,197 characters
More User Reviews:

4.31
/5
rDev
+15.5%
vibe: 4.25 | quality: 3.75 | service: 4.75 | selection: 4.5 | food: 4.5

3.86
/5
rDev
+3.5%
vibe: 4.25 | quality: 3.75 | service: 4 | selection: 3.75 | food: 3.75
Average pizza, decent bar food, pretty good breakfast on the weekends. Bar has good activities in the back (21+ only) such as table shuffleboard, pool, etc. Lots of TVs for sports. Beers are better than a typical bar, but not at the quality level of typical Portland craft breweries.
286 characters

3.75
/5
rDev
+0.5%
vibe: 3.75 | quality: 3.75 | service: 3.5 | selection: 4
This was stop #14 for my wife and I on a 21-day pub-crawl from Michigan to N. CA and OR. We stopped here on a Friday, late afternoon to try their beers, but ended up having a snack as a go-along. The pub is located on a busy road, and the place was just getting busy. There is a large beer garden adjacent to the building that looked inviting, but the weather looked threatening so we went inside. This place is large, with tables and booths everywhere, although there was a partitioned area in the middle that broke up this large space.
We decided to sit at the bar since this was a quick stop in order to visit as many breweries as we could before day's end. There were 22 beers available, so we ordered the pub's standard sampler flight of 9 of them. (Many of the other beers were tempting to substitute on the flight because the 'standards' were not our favorite styles, but the next pub awaited us so we didn't mess around with that.) All of the beers were brewed to style or better, with most of the beers being graded at a B level. The outstanding one was the British Bombay IPA, which we rated at A minus. Our snack was very tasty, and everything on the food menu looked good, but we did not rate the Food into this review since we had only the appetizer.
We enjoyed chatting with the bartender and the people at the bar, and received some great tips for places to visit that came in handy during the Portland portion of our pub-crawl. There was just something about this place that definitely would draw us back if we are in the area again.
1,561 characters



3.73
/5
rDev 0%
vibe: 3.5 | quality: 4.5 | service: 3 | selection: 3.5 | food: 4
The food is fantastic, especially the beer battered fries. At any given time I could probably close my eyes and pick any random dish from the menu and be pleased with it. The beer is quite good but over priced in my opinion. About $4.19 for a pint of microbrew last I checked. My personal favorite is "hop on" which is much more hoppy than the IPA. THe Black Magic NItrogen stout is also quite decent. The place can be a little difficult to get in and out of when there is moderate to heavy traffic but overall it is quite easy to locate. I will probably end up in there again but not if I am on any sort of budget.
615 characters
3.28
/5
rDev
-12.1%
vibe: 3.5 | quality: 3 | service: 3 | selection: 3.5 | food: 4
This is a very convenient place for me to visit, living across the street from it. A few decent beers, good food and a local feel help, but the odds are, if I didn't live so close, I probably wouldn't visit that often with other venues I like more in Portland.
The interior is open, with a fairly low ceiling. It has a somewhat rough, unrefined feel to it, left over from the produce market. Not bad in itself. A couple really big TVs that are nice to watch a football game. Maybe it's appropriate that this place has a country feel to it, but it seems that it would fit in better if it was surrounded by fields. Maybe I'm just being picky.
Service is average. Prompt enough, no bad experiences, but nothing beyond the call of duty.
They've got a pretty wide selection of house taps. Lots of stuff to try, but not all that great. A few macros. Recently I've tried their IPA (OK, nothing special), Stout (really didn't like it), and Golden. (OK).
Their pulled pork sandwich is really good. I've had a few other things, and came away with few complaints. I remember thinking the calzone a friend of mine ordered was enormous.
This is the kind of place I wish I could like more. I love to support the local brewpub. It's worth a try, worth gathering there every once and a while, but there's other more worthy beer destinations in PDX.
1,347 characters
3.33
/5
rDev
-10.7%
vibe: 3 | quality: 2.5 | service: 3.5 | selection: 4 | food: 4
I've been waiting to review the Old Market Pub for some time.... After 5 visits, I figured....It's time....
I run hot-n-cold with this establishment, which is why it's taken so long to review.
The building is along a rather busy road...I almost get hit leaving every time! Interior is shaded of it's past... A Produce market. Big, open, wood beams, cement floor, drafty... This is a homemade establishment right down to the bar with looks like was build in someones garage. So, it not very warm and homey, it's more like going to dine and drink in your neighbors basement.
On one visit, I noticed that the back door was open and someone was brewing up a batch of beer! Yee haaa! Being a 20 vet homebrewer, I had to stick my nose in and chat it up with brewer or whoever... ;-} As I walked into the open door way, a rather grizzly guy step is front of me and said, "What do you want?" I stated that I was checking out the brewing action and started asking a couple brewing related questions... I was quickly ignored, stiffled and directed out rather gruffly.... Nice hospitality to a fellow brewer!
The beer selection always vast....but disappointing. Most beers are about the quality of an Intermediate Homebrewer, which puts them in the mediocre to maybe good category. I wish they could concentrate on 3-4 good beers, rather than 12 non-functional beers. There are few decent quality beers and then an array of odd ball beers make with everyting from Tabasco sauce to wild berries. I commend the experimental effort, but the quality needs to come up. Oh, and they carry that yellow fizzy crap that has NO place in a brewpub.
The food is the star to me.... The menu is vast, but unlike the beers, the food is all above average! Sandwiches, pizzas, burgers, chicken, burritos, salads, interesting specials and pretty darn good fries! Priced well and tastin good...
So, you might ask, "Why have you been to this place 5 times?"
Well.... The foods good and fairly cheap and I can find at least one beer that'll fairly tasting. Plus, it's right down the street from John's Market. So, if I want a quality beer, I've either just bought some or on my way to buy some.... ;-}
2,190 characters

2.73
/5
rDev
-26.8%
vibe: 2 | quality: 3 | service: 2.5 | selection: 3 | food: 2.5
I could have sworn I'd already reviewed this place. I was just coming back to update my review after the addition.
Oddly enough, I visited this place on my first trip to Portland while scouting for a home. I enjoyed it then, but was grossed out by the chilli beer. The food was pretty good, the french fries were excellent, and the atmosphere was casual and friendly.
On successive visits, we had somewhat diminished service. (Our waitress charged us wrong then came out into the lot to our car to get us to fix the bill - I'm not sure why we went back in - it was only 2 difference )
Last night we were appalled by the high school feel of the place. There was a private party that must have been a greek event, but lungs help me if it wasn't too smokey and crowded with boisterous people.
The main pub has a small outdoor eating area with a few picnic tables that are better later at night (less traffic). The main dining area has seating for 100, most of it in high back booths which are nice for conversation. There are also some impecibly glossed tables near some big screen televisions playing misc. sporting events. A bar with a dozen or more taps runs the length of the building. Until recent renovations, it was a typical pub. However, the renovations haven't been finished for some time and there is still exposed plywood and drywall, and it surprises me how much like a large wholesale warehouse the place feels now.
There are generally 3 or 4 good beers on tap, many others are hit but mostly miss. There's also a fairly full bar and a couple macro taps.
1,580 characters
3.63
/5
rDev
-2.7%
vibe: 3.5 | quality: 3.5 | service: 3.5 | selection: 4 | food: 3.5
There are still a few neon signs advertising Coors Light and Corona in the windows facing Multnomah Blvd., and still a few regulars who order them and (gasp!) drink them. PBR and Bud are also in the house. But rest assured, there is good craft beer in the house.
Old Market is a restaurant. Potted plants hang from grocery scales amid antique homesteader bric-a-brac and a loyal local crowd. Near Cinco de Mayo the place erupts with piñatas. Kids are welcome in the main restaurant, which features long banquet tables and nostalgic memorabilia. There is also a small wet bar with jars of malted barley on display and a smoky side room full of pool tables, shuffleboard, video games and lottery machines. The rear banquet room has recently opened after extensive remodeling.
The staff is friendly and might be characterized as predominantly charming young women in black T-shirts who possess little knowledge of craft beer styles. I happen to enjoy charming young women in black T-shirts with or without any appreciable knowledge of beer and was right at home with the staff. The house beers span the gamut from lackluster to intriguing with notable standouts such as the smooth'n'creamy Black Magic Stout and the highly hopped Hop On! amber. When available, the spring seasonal Spiced Lager is a must-try.
The food is standard bar fare but tasty. A number of appetizer specials are offered after 10PM. What I didn't care for was the music. Ambient music fills the restaurant, a jukebox pumps up the game room, and still another radio blares from the kitchen. The ensuing cacophony can be maddening.
Next to the ATM machine is an electronic stress tester device. I found some irony in this juxtaposition.
The bottom line here is that good beer and food are available. You can bring the kids, drink booze, shoot pool, smoke your lungs out and have a good time if you choose.
1,884 characters
3.95
/5
rDev
+5.9%
vibe: 2.5 | quality: 4.5 | service: 4 | selection: 4 | food: 3.5
Coming across the Old Market pub was a pleasant surprise because it's definitly off the beaten path (though on a pretty well trafficed road). However, we almost considered not going in because it looked...unimpressive is the only thing that comes to mind, but decided not to make any judgement about the beer based on the first impression.
Thankfully, we did go in, but more on those reasons in just a bit.
My first impressions were only reinforced when entering because there was definitly a very "unfinished" aspect to the place - some construction going on and some parts of places looked incomplete. I also wasn't impressed by the fact that the entire floor was concrete, giving it almost the feeling of being under a canopy at a beerfest in some parking lot. Hmmm.
Once sitting in one of the many booths located through out the restaurant, I had a chance to read the menu and there seemed to be a bit of everthing. The menu also offered some explanation as to the "unfinished" feel of the place - apparently issues with building permits and all.
Prices seemed to be reasonable, especially if your there on Sunday ($1.99 bloody marys), Monday ($1.99 margaritas) or Tuesdays ($1.99 something else?). I had an apetizer which I liked ( which usually that doesn't speak well for it as my tastes tend to be bland), and me wife really enjoyed the salsa they used. Nothing significant or noteworthy.
Now to the good stuff - the beer! As always I ordered the sampler which had 9 of the 12 or so beers they have. All of the beers were quite good, but three I tried were memorable, Hop On!, their golden ale, and their Spiced Lager was outstanding!! (Tasted like the Hogwarts Kolsch that I so miss from Port Halling).
Due to its kinda out of the way location (for me at least), and the forgetable atmosphere, I doubt I'll be back anytime soon, but if they ever bottle some of their beers I'll be one of their biggest supporters.
1,940 characters
Old Market Pub And Brewery in Portland, OR
Brewery rating:
3.17
out of
5
with
61
ratings