DAB Pilsener
| Dortmunder Actien Brauerei / DAB
BA SCORE
77
okay
15
Reviews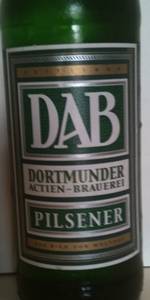 BEER INFO
Brewed by:
Dortmunder Actien Brauerei / DAB
Germany
dab.de
Style:
German Pilsener
Alcohol by volume (ABV):
4.80%
Availability:
Year-round
Notes / Commercial Description:
No notes at this time.
Added by BeerAdvocate on 02-13-2002
Reviews: 15 | Ratings: 39
1.78
/5
rDev
-42.9%
look: 1.25 | smell: 1.25 | taste: 2 | feel: 2 | overall: 2
Now a days you can get this beer at any supermarket in Costa Rica, is a really non-expensive beer for being an import. I have tried this beer many times and it didn´t impress me much, but recently I had a couple and I thought It was pretty decent.
★
248 characters
2.06
/5
rDev
-34%
look: 3 | smell: 2 | taste: 2 | feel: 2 | overall: 2
The quintessential pilsner color, an unblurred golden yellow, the head bright white and frothy, the size is appropriate with the resultant lace a fine sheet. Crisp and refreshingly clean nose, somewhat sweet as is the malt start. Top is thin in feel, with the finish crisp in its acidity, the hops sparingly applied, droughty aftertaste, can't say it did much to change my bias against lagers and pilsners
★
406 characters
2.27
/5
rDev
-27.2%
look: 2.5 | smell: 3 | taste: 2 | feel: 2 | overall: 2
Got this on at the LCBO in St. Catharines, came packaged in a 500ml can. Appearance: Golden with a highly carbonated white head, leaves dcent lacing not too impressed. Aroma: Definitely seems a bit ridden with semi sweet grassy tones with a semi sweet two row malt bockbone, hops are here but lacks much more than that very clean. Taste: Alcohol is a bit too noticeable here, grainy sweetness some lemongrass twang to it, finishes with a bitter bite of herbal hops. Mouthfeel: Lackluster high carbonation, light bodied fizzy German mass produced bier. Drinkability: Take it for what it's worth not part of the German art of brewing I have come to know and love, more of a mass produced German swill.
★
699 characters
2.58
/5
rDev
-17.3%
look: 5 | smell: 2 | taste: 2.5 | feel: 3 | overall: 2.5
Nice in some aspects and bad in others. It has a perfect pilsner color. Crystal clear, medium carbonated, and a snow white loose knit head. Smells typical of good saas hopping and green bottles--skunked. Maybe a bad bottle, maybe not. Difficult to detect malt character, spiciness, or esters beyond the bad aromas. Flavors are better balanced. I get some mild sweetness, citrusy, herbal, and earthy flavors, but do get the skunked flavor with the noble hopping. Body is moderate and firm. Finishes crisp and moderately dry, other than the... . I'd like to give this one another try to determine if my bottle had been mistreated.
★
628 characters

2.6
/5
rDev
-16.7%
look: 2.5 | smell: 2.5 | taste: 2.5 | feel: 3.5 | overall: 2.5
Picked up a bottle of this in Essen Germany for very cheap, so wasn't expecting much. Poured a pale gold with large foamy head. Average lacing.
Smelled a bit grassy and malty, but a bit on the weak side.
Tasted much like it smelled, however with a floral taste to it as well. Still a bit anemic tasting.
Mouthfeel was a bit better. About average body for a Pils, somewhat carbonated and crisp.
Not a terribly appealing brew, but I've had worse. If you never try this beer you're not missing out on anything. There are a lot better beers of this type around. It was about half a Euro for a pretty good sized bottle, so in this case you get what you paid for.
★
661 characters
2.88
/5
rDev
-7.7%
look: 4 | smell: 3.5 | taste: 2.5 | feel: 3 | overall: 2.5
After pouring this beer and viewing it in its natural habitat (my testing glass), I was very impressed. The colour is light but appealing, the head was thick and foamy and the aroma was very clean. Then I tasted and mouthfeel was what I anticipated....AAhhhh. Then the taste.....OhOh...drat,very hoppy, maybe should have a bunny picture on the label. Oh well, life's like that.
★
378 characters
3.15
/5
rDev
+1%
look: 3.5 | smell: 3.5 | taste: 3 | feel: 3 | overall: 3
A-light golden color with a thin white head
S-bready with some slight bitter notes
T-crisp clean with some hoppiness, but not much of a lingering finish
M-light body with moderate carbonation
O-decent, but not special, OK with food, but not for savoring
★
257 characters

3.26
/5
rDev
+4.5%
look: 3.5 | smell: 2.5 | taste: 3.5 | feel: 3.5 | overall: 3.5
A: Pours pale golden with a really large white head. Dissipation takes some time and leaves decent lacings.
S: Bready kind of sweet malt with some faint bitter hops and even fainter citric notes.
T: Sweet bready malt, light roasted. Bitter hops. I'm tasting floral hops, quite surprisingly a bit piney - very faint American stylee (I know there's no American hops in it, but still...).
M: Long nice aftertaste with a clean bitterness that lingers. Body is medium and the rich carbonation is smooth.
D: A German Pilsener that's weak in smell but otherwise a nice example of the style. Next time I'm in Germany I'm getting myself a case.
★
642 characters
3.38
/5
rDev
+8.3%
look: 3.5 | smell: 3 | taste: 3.5 | feel: 3.5 | overall: 3.5
Good head that lingers for some time. Bright golden colour.
Malty aroma with some hops. It has a very balanced taste between the sweetness from its maltand the bitterness from its hops. Bitterness lingers in the after taste. Faithful, actually a master recipe for its style.
★
274 characters
3.43
/5
rDev
+9.9%
look: 3.5 | smell: 3 | taste: 3.5 | feel: 4 | overall: 3.5
12oz bottle into a glass.
A- Yellowish golden with hardly a cap from a hard pour, no lacing.
S- European hops, some grassy scents, maybe some lemons, malted barley, a simple nose from a simple style.
T- A bit better than anticipated, bright earthy hops give a grassy taste with a bit of grain in the back. A good amount of pale malt leaving for a rather sweet finish with some corn and a bit of bread.
M- Light and hardly carbed, this is smooth and goes down easy. The body is light and where it needs to be at. The grainy malty aftertaste lingers a bit than leaves just as quick. In and out.
D- On a hot day, a German Pils is what the doctor ordered, yet I still cant drink more than two without yearning for something else. They all pretty much taste the same no matter who brews it. The fresher the better.
★
814 characters
3.47
/5
rDev
+11.2%
look: 3 | smell: 3.5 | taste: 3.5 | feel: 3.5 | overall: 3.5
500ml can poured into a pint glass.
A - Poured a clear yellow. Not much of a head. Minimal lacing.
S - Bread, grass and citrus notes.
T - Light sweetness, citrus notes and a bitter hop finish.
M - Bellow average carbonation, some tang and a crisp finish.
D - Decent yet average Pilsner.
★
291 characters

3.52
/5
rDev
+12.8%
look: 3.75 | smell: 3.5 | taste: 3.5 | feel: 3.5 | overall: 3.5
Had on-tap in Frankfurt, Germany. Poured into a small stein.
L: Pouts a clear golden color with moderate white head. Mild retention.
S: Grains and malts. Clean.
T/F: Malt forward and semi-sweet. Mostly clean... a little grass/hay. A little hops at the finish but not strong. On the fizzy side.
O: A solid if unspectacular German macro pilsener. Easy to drink and good with a meal. Wouldn't seek it out but it'll do in a pinch.
★
435 characters

3.6
/5
rDev
+15.4%
look: 3 | smell: 3 | taste: 4 | feel: 3 | overall: 4
Classic pale yellow German Pilsner pour with a quickly fading head but decent lacing. Grassy, grainy nose was pretty typical for the style. Taste was much the same with a good amount of grassiness with a hint of a metal. Nice crisp dry bitterness made it very drinkable. Would make a great lawn mower beer. I enjoyed this a lot more than some of the previous reviews and will definitely seek it out next time I'm in Berlin. In fact, I'm wishing I had another right now...
★
471 characters

3.6
/5
rDev
+15.4%
look: 3.5 | smell: 3.5 | taste: 3.75 | feel: 3.5 | overall: 3.5
Bottle poured into a glass
Golden color with no carbonation and a thin white foam cap. No lacings
Faint malt and more of hops aroma.
Light to medium light mouthfeel. Malt, hops and fresh beer yeast taste. Grassy. No aftertaste . Clean , crisp and quaffable. Classic pilsener beer taste. Would have another.
★
310 characters
4.5
/5
rDev
+44.2%
look: 4 | smell: 4 | taste: 5 | feel: 4 | overall: 4.5
On tap at Ludwig's Garten in Philadelphia, PA on 1/5/08. Served in tall stange glass.
A - Clear golden body with very light carbonation and short, rocky white head that transformed into a whispy film. Not much lacing at all. Textbook pilsener appearance.
S - Grassy noble hops with grainy and bready malt aroma. I also sense a light aroma of sweet grapes and white wine that became more apparent as the liquid warmed up.
T - Pretty much tastes as it smells - grassy hops and grainy, bready light malt. Finishes almost like a white wine. This is about as crisp and clean as it gets! Finish is perfect. Exceptional balance of ingredients make this an exemplary representation of the German pilsener style.
M - Medium body with watery texture and dry, crisp finish. Nice and prickly on the tongue.
D - True classic German pilsener all the way. Exremely easy to drink. I am surprised by the low scores for this beer. Perhaps it is much better on tap.
★
954 characters
DAB Pilsener from Dortmunder Actien Brauerei / DAB
3.12
out of
5
based on
39
ratings.