DAB Maibock
| Dortmunder Actien Brauerei / DAB
BA SCORE
82
good
11
Reviews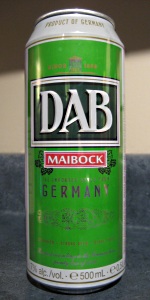 BEER INFO
Brewed by:
Dortmunder Actien Brauerei / DAB
Germany
dab.de
Style:
Maibock / Helles Bock
Alcohol by volume (ABV):
7.00%
Availability:
Spring
Notes / Commercial Description:
No notes at this time.
Added by biboergosum on 06-25-2013
Reviews: 11 | Ratings: 38

3.74
/5
rDev
+6.9%
look: 4 | smell: 3.75 | taste: 3.5 | feel: 4 | overall: 4
DAB Maibock has light yellow colour and an almost neon complexion. It becomes so brightly illuminated when held up to the light I'm confident it might glow in the dark. Though clear there is some chill haze perceived. A pearl white head blossoms from the pour but gradually withers.
Maibocks look as light as standard lagers and are every bit as simple too, but they offer a much taller, fuller flavour. It has less to do with specific ingredients - both share the same ingredients list: plain, ordinary pilsner malt - but rather with the quality and quantity of those ingredients.
The best German malts, even the palest of pale, are full or rich flavour. Enough have been added to DAB Maibock to give it a lightly sweet, distinctly bready perfume. The taste follows suit with the flavour of lightly toasted white country bread. There's not much else to note; there's little hoppiness, although fruity esters are perceived at low levels.
Equally important are those things not noted: sugar, harsh ethanol, corn syrup or other industrial adjuncts. This full-bodied lager is clean as a whistle and, overlooking the broader frame, doesn't publish a fraction of the 7%; this makes a 'stronger' impression because of the breadth of its malt, not that of its alcohol content. It's tremendously quaffable.
Maibocks (aka Helles Bocks) are closely associated with the spring and, obviously, the month of May specifically. They're perfectly designed lagers for that time of year: enough strength and sweet and wholesome maltiness to ward off the cool weather, but also enough refreshment and a sunny golden complexion to usher in the warmer months. DAB's is a good one.
1,665 characters

3.73
/5
rDev
+6.6%
look: 3.75 | smell: 3.75 | taste: 3.75 | feel: 3.5 | overall: 3.75
Cool to see a stronger lager in a can available that is not ultra strong garbage. This is a pleasant bock that is fresh and lively but with a deeper malty finish that works with the ABV. I hope this becomes a common find in the government stores in BC as I would like to keep a few in the fridge for those cold nights.
318 characters
3.72
/5
rDev
+6.3%
look: 4 | smell: 3.75 | taste: 3.75 | feel: 3.75 | overall: 3.5
500ml can. Not a lot of new products hit the shelves around here from established German brewers, so it was even weirder finding next to no information about this offering in a slightly more than cursory online search. Oh well - I am sure of the beer in front of me (and it ain't no frontal lobotomy).
This beer pours a clear, bright golden yellow colour, with two fingers of loosely foamy, and somewhat bubbly off-white head, which leaves some decent coral reef lace around the glass as it evenly subsides.
It smells of bready, biscuity, and semi-sweet pale malt, soft, sugary white grape must, floral, lightly herbal hops, and a tamely metallic alcohol astringency. The taste is more reservedly sweet pale bready malt, a fading biscuit edginess, an apple mush and stale stomped Muscat grape fruitiness, earthy, kind of weedy hops, and a well sublimated booze warming.
The bubbles are generally quite lacking in vigor, the body an adequate medium weight, all without any particularly pithy and/or sugary backwash. It finishes off-dry, the malt sweetness well tempered by the lingering noble hops and lurking heat.
Not a bad Maibock, per se, but a bit too muddled, the freshness of a few main ingredients coming into question. We're not that far past the heart of this style's seasonality, so that's no excuse. Variably drinkable, I suppose, until that extra alcohol either puts you off, or dulls your senses accordingly.
1,425 characters

3.62
/5
rDev
+3.4%
look: 3.25 | smell: 3 | taste: 4.25 | feel: 3 | overall: 3.5
This Germany strong beer with an ABV of 7 %, have a distinguish taste. I can't discribe the taste and I like it.
The color is a nice yellow rich beers, and look like a white wine.
A must have again beer.
206 characters

3.61
/5
rDev
+3.1%
look: 3.5 | smell: 3.75 | taste: 3.5 | feel: 3.5 | overall: 3.75
500ml can poured into tulip 28/9/13
A clear bright golden yellow with a few particles being moved around by plenty of tiny bubbles, two fingers of foam hangs around for a few sips and leaves zero lace
S floral honey, pizza dough, candied corn, dry cereal, a little grass and faint booze with a hint of green apple
T more booze then the nose with a metallic flavor, not to bad but the smell was a little better, not as much floral honey that I thought was a highlight on the nose
M medium bodied, pin prick bubbles quickly flattens out, a little heat and sweet grainy finish
O way better then many of the high test cheap euro cans I've had over the years, this one's drinkable and I could see this one dishing out a cheap buzz for those in need of such a thing
not a bad Maibock but nothing to go looking for, not my favorite style to begin with easy enough to drink unlike many others I've tried
905 characters

3.57
/5
rDev
+2%
look: 3.5 | smell: 3.25 | taste: 3.75 | feel: 3.25 | overall: 3.75
500 mL can picked up at TBS; best before March 2014. Bocks are a fairly rare species in these parts, and maibocks specifically are no exception - in fact, out of the 500+ beers I've tried, I think I've only had one or two examples of this style. Naturally, I couldn't pass up the opportunity to try a new one. Served slightly chilled.
Pours a clear golden-yellow colour, topped with one inch of frothy, foamy white head that slowly seeps away, coating the glass with a messy swath of lacing as it does so. Decent aroma - lots of bready malts and some honey sweetness, in addition to toasted biscuits, white grapes and a whiff of ethanol. Suitable for the style, but nothing particularly interesting going on.
I have similarly neutral feelings toward the flavour - but to be fair strong lagers have never been a passion of mine. The malt backbone is mostly bready, underlain with a pronounced honey sweetness. Notes of raisin butter tart also come through toward the finish, with a light brushing of grassy, earthy hop bitterness to complete the profile. The aftertaste is somewhat sweet and slightly boozy, but fades quickly. Medium-bodied, with rather aggressive carbonation initially - I probably served this too cold, but given a chance to warm this maibock improves noticeably. This one's drinkability is obviously limited by the abv and slight ethanol heat, but it's certainly not a chore to finish off the glass.
Final Grade: 3.57, an acceptable B grade. DAB Maibock is probably the best German-made example of the style I've tried so far, but that really isn't saying much given my limited exposure - if nothing else, I'd take this over Holsten's equivalent without a second thought. I don't think this style is really up my alley, but this is a decent lager for the colder months that I'd consider picking up again. It's the sort of thing I'd want to drink while shovelling the driveway or before taking a walk in the cold - the more complex, imperial barrel-aged whatevers can wait until I come back inside.
2,019 characters

3.57
/5
rDev
+2%
look: 3.5 | smell: 3.25 | taste: 3.75 | feel: 3.75 | overall: 3.5
500 ml can purchased from LCBO for about $2.50 CDN. Served cold into a pint glass.
Appearance - clear, pale golden straw in colour with a tremendous number of bubbles. Capped by a finger and a half of head that has some staying power.
Smell - very heavy malty presence. Lots of bready and caramel notes. Maybe just a touch of sweet cherries blended in.
Taste - sweet with some bready malts mixed with caramel and enough bitterness to counterbalance than nicely. Refreshing but with full flavor. Very grainy tasting on the finish and almost a touch of mocha on conclusion.
Mouthfeel - velvety smooth, moreso than I thought possible. Carbonation is actually on the lower side, but thee is a creamy rich decadence here too. A bit syrupy but it works here.
Overall - a solid bock, that is flavourful enough for beer advocates, to make it interesting, but light and refreshing enough to also just be something to drink non-chalantly during and afternoon of sports. Definitely work at least trying this one.
1,006 characters

3.54
/5
rDev
+1.1%
look: 3.75 | smell: 3.5 | taste: 3.5 | feel: 3.75 | overall: 3.5
500ml Can from the Ottawa LCBO for $3 or so
Appearance - Gold colour with a large size white coloured head. There is an average amount of carbonation showing and there is some fair lacing. The head lasted for around 4-5 minutes before it was gone.
Smell - Hops, corn, breads/grains, crackers
Taste & Mouth - There is an above average amount of carbonation and I can taste breads/grains, hops, and a grassiness. There is also a bit of a honey sweetness, corn, and a soda cracker flavour.
Overall - Pretty spot on for the style. Not the most exciting beer, but if you are a fan of the style pick this one up.
610 characters
3.31
/5
rDev
-5.4%
look: 3.5 | smell: 3 | taste: 3.5 | feel: 3.25 | overall: 3.25
This poured a dark golden colour with a finger thick white head that has good retention. The nose was a bit off putting. There are some bready malts, some apple and earthy hop notes. The malt definitely comes through on the taste along with some caramel and maybe cherry that I didn't get on the nose. There is very little actual bitterness at the start but was getting a coated sensation around the back and sides of the tongue. The mouthfeel is okay with a mild carbonation. Wouldn't call this a bad beer but not something I could see sitting down and drinking a lot of.
578 characters
3.27
/5
rDev
-6.6%
look: 3.5 | smell: 3.25 | taste: 3.25 | feel: 3.25 | overall: 3.25
Sometimes a beer pushes you away with its first impression - this Maibock definitely did. It smells like a shitty adjunct or malt liquor and doesn't look much better. The flavour is smooth enough, but certainly not rich and layered like most other beers in this style. Overall, well priced but not something I would go out of my way to try again.
346 characters

2.93
/5
rDev
-16.3%
look: 3 | smell: 2.5 | taste: 3.25 | feel: 2.5 | overall: 3
Purchased at the LCBO for just over $3.00 for a 500ml can. Served at 4deg C in a draught glass.
A- Opens well and pours a small head that is gone in 10sec. Medium gold color. Clear
S- Not much here at all. As a hybrid this should have some decent malt but no it does not
T- Big let down. Was hoping for more but got less. Less malt then expected. Less bitter, less balance. This is like a mix between a DAB lager style and a touch of a bock. Not a blend but a mix
M- Not much here at all again.
O- Not very good at all. Seems like a beer created by some executives sitting around without any new ideas. I can hear it now.... "well lets take this beer that sells ok and mix it with this beer and see what happens". Would never buy this again even for half the price. Bad alcohol flavor beer that sticks right out at you.
Food Pairing
If you wanted to pair this thing to something I guess it would be........ some kind of dish medium spicy but I won't eat with it
Enjoy
976 characters
DAB Maibock from Dortmunder Actien Brauerei / DAB
3.5
out of
5
based on
38
ratings.