Grieskirchner Jörger Weisse
| Brauerei Grieskirchen AG
BA SCORE
82
good
95
Reviews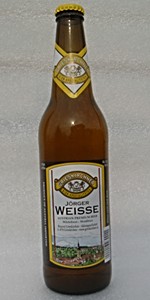 BEER INFO
Brewed by:
Brauerei Grieskirchen AG
Austria
|
website
Style:
Hefeweizen
Alcohol by volume (ABV):
5.10%
Availability:
Year-round
Notes / Commercial Description:
No notes at this time.
Added by SurgeonGeneral on 01-25-2006
Reviews: 95 | Ratings: 131
3
/5
rDev
-17.1%
look: 3 | smell: 3 | taste: 3 | feel: 3 | overall: 3
The tail end of a bottle, right before tasting some Homebrew. Cloudy and yellow with a reasonable head, not too much lacing. The aroma and flavor are both bog-standard hefeweizen, yeast and esters. Not nearly as spicy or as complex as some others I've tried, and the typical hefe flavors aren't nearly as strong as I'd like. The mouthfeel is a little on the thin side. There's nothing really seriously wrong here-- just an average beer in all respects, not much else to say about it. Refreshing (like most wheat beers), but there are much better style examples out there.
★
571 characters
3.82
/5
rDev
+5.5%
look: 3.5 | smell: 4 | taste: 4 | feel: 3.5 | overall: 3.5
Grieskirchner Jörger Weisse pours out a creamy white head over a cloudy pale
yellow brew. Carbonation is very slow, and the nose is a nice citrus, malt and yeast
combination. This smell is distinct, and it's what makes it a whitbier and not a hefe-
weizen. I never thought there was that much difference between the styles but now
it's pretty clear. Maybe they are on the same evolutionary limb but different branches
for sure. The flavor is malt, of course, but also citrus and something else- cloves perhaps?
Mouthfeel is clean, tingly, and crisp. Very mild spicy aftertaste. This is a really good brew
anybody who likes a nice whit or a hefe would get along nicely with this brew.
★
692 characters
3.71
/5
rDev
+2.5%
look: 4.5 | smell: 3.5 | taste: 4 | feel: 3 | overall: 3.5
Into a wiezen glass, pours a deep, cloudy golden yellow with a real nice head receding to film and has sweet splotchy, slowly receding lacing, very nice. Aroma is classic wiezen, very nice banana esters that feel a little musty due to wheaty tones, cloves and spices present but subtle. Taste lacks a punch, but the essentials are there. Good banana, wheat, a twinge of tang and some spice, very subtle. Mouth is a little meh, some nice carbonation, but the body isn't full enough to support it, vexes me so. I really want this to be really good, but it just falls short. Glad i picked it up, would reccomend another to try it, but not more.
★
641 characters

3.67
/5
rDev
+1.4%
look: 3.5 | smell: 4 | taste: 3.5 | feel: 4 | overall: 3.5
1pt .9oz brown bottle
Grieskirchner Jorger Weisse was a hazy yellow color with a white head. The head didn't last long with very little lacing. The aroma was banana, clove, and wheat. The taste crisp and about the same as the smell. The mouthfeel was a tad thin with average carbonation. The drinkability is good. Overall it's a little light for the style, but is still a good beer.
★
385 characters
3.13
/5
rDev
-13.5%
look: 3.5 | smell: 3 | taste: 3 | feel: 3 | overall: 3.5
Pale straw in color, semi-cloudy, thin white head drops quickly to a ring. Wheaty, grassy, bready aroma, with some lemony zest to it. Not too complex. The first thing I noticed in the taste was grainy. Freah wheat is fine in a good hefe, but this was the generic grainy taste. A little banana/clove flavor, a little kind of sparkling zesty-ness like lemon. Easy to drink, but this one is a snoozer. BORING! If I was from Austria, I would be pissed off that this beer represents my country somewhere, just like I am pissed off Budwieser represents the US in other countries.
★
573 characters
2.8
/5
rDev
-22.7%
look: 2.5 | smell: 2.5 | taste: 3 | feel: 2.5 | overall: 3
Little hazyness, orange color. White foam, not too much, and not too long. Quite carbonated.
At the smell cloves, over all. Then yeast and banana. Quite balanced.
Even the taste is pleasant and balanced. Sweetie, but not boring. Yeast, cloves. Quite drinkable.
Cloves in the aftertaste, too, and banana, but here again, sweet but not too much.
Quite low body.
After all, quite pleasant.
★
391 characters

3.38
/5
rDev
-6.6%
look: 4 | smell: 3.5 | taste: 3 | feel: 3 | overall: 4
This "bier-specialitaten", this "whitebeer-weissbier" disengages it's vessel and fills the weizen glass pale yellow iun appearance, very hazed, a big, plumpwhite head that dies down with a quickness. A mess of bubbles crowds the side of the glass.
Sweet nose, muted banana/clove, perhaps more spice than fruit, but with an enchanting yeasty smell. And then a hit of bubblegum.
Taste stands fully on the side of "average"...nothing sticks out, stands forward or in any way asserts itself. Some soft citrus, mild yeasty character, tiny twange of wheat, minor banana-y notes, pillowy, no sharp edges at all in this.
And, I have to admit it, dull. Needs a lot more spark, some zest and zing.
Drinkable, but in no way shape or form is this a beer I'd recommend to anyone, especially anyone who wants to try out an excellent example of the style. No, sir, this is not that.
★
880 characters
3.85
/5
rDev
+6.4%
look: 4 | smell: 4 | taste: 4 | feel: 3.5 | overall: 3.5
Pale yellow and very cloudy (good for style) with a thick white head that dissipates kind of quickly but leaves a nice ring around the glass.
Aroma is hugely wheaty with honey notes and a hint of phenolic (clove). Also very appropriate for the style.
Flavor follows the same profile as the aroma. Very tart wheat flavor that lends it the lemon kick (without adding a slab of lemon in the glass) but also a nice spicey background of fermentation esters.
Light bodied with pretty high carbonation level. Very much a refreshing hot weather beer.
A very pleasant but not blowaway example of Hefeweiss. This bottle is kind of old (about a year) so I imagine fresh this might be really nice.
★
697 characters
3.6
/5
rDev
-0.6%
look: 4 | smell: 4 | taste: 3.5 | feel: 3 | overall: 3.5
Bright yellow and hazy in colour with strong carbonation. Strong lemon rind aroma, with some spice and over-ripe banana. More lemon in the mouth with secondary notes of vanilla and clove. Starts off medium bodied, but thins out a bit on the finish. Pleasant enough summer quaffer, but not quite as good as others that I've had, as it lacks a bit of sophistication.
★
365 characters
4.07
/5
rDev
+12.4%
look: 3.5 | smell: 4 | taste: 4 | feel: 4 | overall: 4.5
pours out a nice golden, less opague than some other top hefes. decent head, not anything to write home about. the nose has a bit more citrus in it than some, smells light. taste wise? damn fine. banana, yeast, and lemon zing...all fine qualities of the hefe, and this beer gets them right. refreshing as hell, crisp in the mouth, while some weisse beers may be a bit more flavorful, this one takes the cake in drinkability. its a quencher. good stuff.
★
452 characters
4.1
/5
rDev
+13.3%
look: 4 | smell: 4 | taste: 4 | feel: 4 | overall: 4.5
Poured from 16.9oz bottle(room temp) a hazy straw colour with a medium sized head of foam that dissipates slowly but stays for the entire session.
The smell is very wheaty and there's the strong nose of cloves. Pretty inviting.
The taste has an abundance of clove, banana, and wheat flavour but it's not overpowering....it's actually quite smooth and enjoyable.
The more I sip, the more I appreciate how the different "tastes" within this Hefe work so well together making for some pretty darned good drinkability. Yes...this will be one of my staples this coming summer season.!
Bottom line: Excellent Hefe with super smooth yet tasty taste.
I recommend it!
★
670 characters

4.05
/5
rDev
+11.9%
look: 4 | smell: 4 | taste: 4.5 | feel: 2.5 | overall: 4
From a 16.9oz bottle into a Two Brothers Ebel's Weiss glass...
Appearance: Attractive cloudy golden yellow with a fluffy white head that should have stayed around longer.
Smell: Citrus with a strong note of banana that verges on vanilla, clove.
Taste: Bubblegum and yummy, clean finish left me wanting more.
Mouthfeel: The real negative about this beer was the lack of carbonation and light body. Out of character for what I'm used to for this style. It was flat before I was halfway done with the glass and I drink too quickly.
Drinkability: I could drink a lot of these. This was dropped off as a sample from a distributer who would like to replace Hacker Pschorr on our beer list with this. I'd think about it because I find it interesting, but it really lacks the carbonation and mouthfeel that I think most people might associate with this kind of beer.
★
874 characters
4.82
/5
rDev
+33.1%
look: 4 | smell: 4.5 | taste: 5 | feel: 5 | overall: 5
1 pint .9 fluid oz bottle.
Appearance-Pours a bright white, tow finger with alright retention. Leaves a bit of foam on the glass with each sip. Colro was a pale and cloudy mix of banana and lemon peel yellow. Good consistant lacing.
Smell- The best smelling weizen I've ever had so far. Cloves, bubble gum, bananas, and fluffy crystal malts.
Taste- If any could understand whta this great weizen tastes like. It is more of an intangible sensation than ny traditional flavor profile. It reminds me of walking along the White River in Arkansas in late Spring. Lots of natural earthy water mixed with sunshine. That sounds terribly cheesy, but I think this is the best tasting weizen I've ever had. Alos noted some light grapefruit, Big League Chew, and the taste of lemon peels.
Mouthfeel- A good watery palate. Starts out crisp and citrusy and ends grassy clean.
This beer went very well with mamas homemade meatloaf with garlic cloves put in the loaf with some McIllhenny Green Jalepeno Tabasco sauce.
★
1,020 characters
3.95
/5
rDev
+9.1%
look: 4 | smell: 4 | taste: 4 | feel: 3.5 | overall: 4
Foggy goldenrod. The sun (although nothing less bright) is visible on the other side of the glass. It looks like the semi-firm, cumulus cloud white cap will last for a bit due to the slow, steady carbonation striking its underside. Lace, for the moment at least, is limited to a short collar; a testament to the persistence of the head. This is a good looking hefe.
Every one of the classic hefe weizen characteristics is noted in the nose: soft, lightly tangy wheat; abundant banana and just a pinch of clove. I especially like the enthusiastic banana esters. I hope they're at least as prominent on the palate.
Jorger Weisse is a good version of the style, no ifs, ands or buts. It may not be a taste bud saturating flavor bomb, but then few hefes are. There's a perfect amount of sour wheaty tang (mild-moderate) to go along with a bittersweetness that slightly favors bitter over sweet. All in all, the balance means that this is a beer that should appeal to a wide range of people.
Sugared banana isn't quite as upfront as the nose suggested, although it's still considerable. After several sips, I've decided to grant a 3.5/5.0 on my hefe weizen banan-o-meter. I have no interest in using a clove-o-meter for my hefe reviews, but this one could use a bit more spice. A more aggressive yeast strain would benefit what is already a wonderful beer.
The flavor doesn't last as long as it might due to a body that fails to hold its structure through the finish. I hestitate to use the word watery, but a little more heft, a little more viscosity would do wonders. The carbonation is both fine and subdued.
Jorger Weisse may be a lighter sort of hefe weizen, but it's also decently bananarific, well-balanced and ridiculously drinkable. If you think that only Germans can brew successfully in this style, think again meinen freunde.
★
1,847 characters
2.94
/5
rDev
-18.8%
look: 2.5 | smell: 3.5 | taste: 3 | feel: 2.5 | overall: 2.5
Serving Temp: 45F Serving glass: Weizen
Aroma: Spicy yeast character dominant, along with the typical bannanas & clove are there but not as assertive as many Weizens. A bit of lemony hoppinesss and sweetness in there as well that I've not noticed in many other Weizens.
Appearance: Meh. A very cloudy pale golden color exemplifies the style, but where is the head? A modest one on an aggressive pour is yielded, and it quickly fades away into the drink. What gives?
Taste: Yeast presence is noticably restrained, and the taste is pretty straightforward. A more noticable hoppiness than other Weizens I've had, and much sweeter. Without the yeast kick, a little bland.
Mouthfeel: Ligth bodied, but very little carbonation. Almost flat. Perhaps the lack of punch arrests some of the yeastiness from attacking the tongue so aggressivley as in other Weizens?
Drinkability: Not something I'm looking forward to trying again, although I will give it another shot. I thought at first I might have had an off bottle it was so flat, but I've confered with others who have reviewed this beer.
★
1,099 characters
Grieskirchner Jörger Weisse from Brauerei Grieskirchen AG
82
out of
100
based on
95
ratings.