Weisse (Whitebeer)
| Brauerei Grieskirchen AG
BA SCORE
82
good
10
Reviews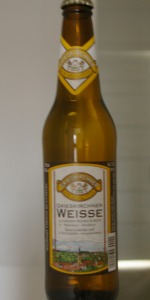 BEER INFO
Brewed by:
Brauerei Grieskirchen AG
Austria
grieskirchner.at
Style:
Hefeweizen
Alcohol by volume (ABV):
5.10%
Availability:
Rotating
Notes / Commercial Description:
No notes at this time.
Added by beertunes on 06-07-2010
Reviews: 10 | Ratings: 17

2.68
/5
rDev
-23.6%
look: 3 | smell: 2.5 | taste: 3 | feel: 2 | overall: 2.5
I am finally nearing the end of my backlog of bottles! I will be so glad to divest myself of glass and get back to CANs that it is indescribable.
My pour created an initial finger of bone-white head with good retention. Color was an extremely cloudy orangish-yellow. Nose had muted esters of banana and lemon zest. Mouthfeel was thin-to-medium with light fruity flavors. Finish was semi-sweet and slightly fruity. This was a mostly disappointing example of the style, but given its low cost, I guess that I got what I paid for.
528 characters
2.93
/5
rDev
-16.5%
look: 3 | smell: 2.5 | taste: 3 | feel: 3.5 | overall: 3
Small head over a completely cloudy golden yellow burst. Aromas are wheaty, if nothing else. Mouthfeel is mild carbonation and thin, which does its best to hold up a slightly less than exciting flavor. Nothing too terribly discernible by way of a traditional hefe ... that is to say, I'm not getting many of the hefeweizen yeast qualities I expect in a beer like this (and I might chalk it up to just not being a hefe at all). It's wheat and hay, a little citrus fruit, bitter, but not much else. Definitely refreshing on another muggy NY day.
Just to note, I get the slightest hint of banana when the beer warms...but it's so slight that it's almost as if I'm imagining it...
677 characters

3.06
/5
rDev
-12.8%
look: 3 | smell: 3.25 | taste: 3 | feel: 3 | overall: 3
Hazy orange-amber with failed retention on what was a promising looking disc of white foam.
Wheaty breadiness, soft banana, mild clove. No citrusy component, which it could have used. Tame.
Wheat crusts, light apple, banana, and clove spice. A little too rich for the maltiness without enough hefe yeast to brighten up the flavor. Finish is a little powdery. Amber grain note and general attenuation of characteristic flavors are distracting flaws.
Drinks with a light body. Light burst of carbonation doesn't do a whole lot.
Very average. Not as good as the Jorger Weisse, by a longshot.
592 characters
3.35
/5
rDev
-4.6%
look: 3.5 | smell: 3.5 | taste: 3 | feel: 4 | overall: 3.5
I poured this into a frosty pint glass. It was a nice straw color with a nice haze. Slighlty banana/clove aroma and flavor. A nice refreshing beer, I can only imagine them going down quite nicely in the summer. It's not a winter beer.
It's very easy to drink, however the banana/clove flavor starts to get a bit strong as you drink it.
336 characters
3.5
/5
rDev
-0.3%
look: 3.5 | smell: 3.5 | taste: 3.5 | feel: 3.5 | overall: 3.5
poured into a proper Weizenglass, the beer is a cloudy light gold, with very little white head building. It dissipates right away , leaving no lacing. I don't think this is a Hefeweizen, rather a Witbier.
The smell is light, but fruity, some clove.
Tasting the beer, the citrus fruits are the start, malty notes, clove and banana hints building the end.
Very light bodied beer, good for hot summer. Not much carbonation. I rather prefer a proper Hefeweizen.
457 characters
3.53
/5
rDev
+0.6%
look: 4 | smell: 3.5 | taste: 3.5 | feel: 3.5 | overall: 3.5
A - Poured out a hazy, straw-yellow color with a two-finger, bubbly, white head of foam. It left some sudsy trails of lace.
S - It smelled of banana, clove and yeast. Nice aroma but not as strong as I'd like.
T - It tasted of clove, cracked wheat and banana. There was a mild spicy/yeastiness.
M - It was crisp, sharp and smooth. A light bodied ale with a clean finish.
O - This is a nice hefeweizen. Sessionable and affrodable, too.
437 characters
3.75
/5
rDev
+6.8%
Cloudy in complexion with a fingernail thin eggshell white head that covers part of the top. The color of the beer is pale golden. Banana esters with a hint of lemon and a sourdough note comprise the aroma. The flavor is initially just a hint of lemon and more so banana. The fade is short but is predominately the sourdough note. The mouth is a bit thin,but refreshing.
376 characters

3.88
/5
rDev
+10.5%
look: 4 | smell: 3.5 | taste: 4 | feel: 4 | overall: 4
Cloudy apricot blonde with a fine creamy white head that leaves some blobs of lace on the glass. All of the classic Wit components are present in the aroma, orange zest, coriander and wheat malt. The flavors are also par for the course. Well balanced between wheat malt tang and coriander with orange peel and a touch of soft banana, finishes dry. Medium bodied with prickly carbonation. A decent Wit thats easy drinking if a tad tame for my liking. This beer is clearly a Weissbier, not a Hefeweizen.
501 characters
3.98
/5
rDev
+13.4%
look: 4 | smell: 3.5 | taste: 4 | feel: 4 | overall: 4.5
This doesn't seem to be the same as the Jorger Hefe already listed and there isn't a style category for Austrian Whitebeer (which is what this called on the label). If I'm wrong on any of this, please correct this entry.
Poured into 10oz glass. Poured a cloudy, white-ish yellow with an inch of sharp white head that decent retention and minimal lacing. The aroma was a mellow wheat scent with a bit of spice in the background. The wheat flavor was a bit more pronounced on the tongue and the bit of spice was sharper.
The body was full and crisp. Drinkabilty was excellent, I could easily have several of these low ABV beauties. Overall, a very nice beer, worth trying this summer, if you see it.
703 characters
4.02
/5
rDev
+14.5%
look: 3.5 | smell: 4 | taste: 4 | feel: 3.5 | overall: 4.5
16.9oz bottle, Sam Adam glass, 'Production Number: 040900 L18'.
This is a nice hazy, light yellow Hefeweizen. The head isn't impressive, its white, but this beer would get a 4 if there were some towering foam.
The smell is very banana bread. Wheat, sugar, bread.
This beer has a very nice spice to it. Sweet banana and clove combine for that classic flavor. There is a lot of flavor here.
Really light in the mouth, and therefore very refreshing.
I don't often turn to wheat beers, but this one is impressing me.
521 characters
Weisse (Whitebeer) from Brauerei Grieskirchen AG
3.51
out of
5
based on
17
ratings.