Rieder Festbock
| Brauerei Ried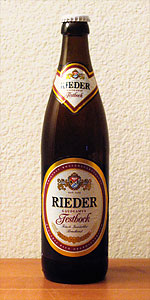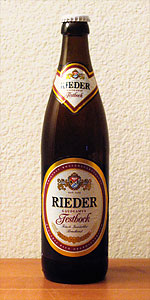 BEER INFO
Brewed by:
Brauerei Ried
Austria
rieder-bier.at
Style:
Maibock / Helles Bock
Alcohol by volume (ABV):
7.00%
Availability:
Winter
Notes / Commercial Description:
No notes at this time.
Added by Halcyondays on 02-02-2010
HISTOGRAM
Ratings: 12 | Reviews: 9
None found.
More User Reviews:
4.1
/5
rDev
+4.3%
look: 4 | smell: 4 | taste: 4 | feel: 4 | overall: 4.5
Best Before 14. 2014 for a Helles Bock?
Pours a very hazy pale golden color with one finger of dense head. The head held on for a long time before settling to a thick cap. Nice amount of lacing is left down the glass.
Plenty of Noble hops in the aroma giving it a spicy, grassy aroma. Pale malt also makes its presence known quite well.
Hop driven flavor. A lot of grassy, earthy, and spicy hop flavors. The malt gives a semi-sweet foundation. Not the deepest flavored 7% ABV beer, but well-rounded.
Deep, rich body for a pale lager. Also nicely carbonated. Has enough life in the finish to cleanse the palate.
An very good change of pace winter beer. Not everything has to be dark and roasted.
699 characters
3.5
/5
rDev
-10.9%
look: 3.5 | smell: 3.5 | taste: 3.5 | feel: 3.5 | overall: 3.5
3.72
/5
rDev
-5.3%
look: 3.5 | smell: 4 | taste: 3.5 | feel: 3.5 | overall: 4
Poured from a brown 16.9 oz. bottle. Has a cloudy golden color with a 1 inch head. Smell is sweet, some spices. Taste is good, some sweetness up front, a touch of spice and alcohol, a bit of malts. Feels medium bodied in the mouth and has good drinkability. Overall a good quality brew.
286 characters
3.93
/5
rDev 0%
look: 4 | smell: 3.5 | taste: 4 | feel: 3.5 | overall: 4.5
500 ml returnable bomber. All it says is best by 14.
Pours a nice vibrant gold with a nice white head that leaves a bti of lacing.
The smell is your typical fare. It is a Munich Helles base with the slightest heightened levels of caramel and hops.
The taste is grainy with some hops in the middle and aftertaste. The finish is semi-dry. It is a good clean Maibock with no off flavors, one of the better ones I have tried it isn't too rich, there is balance.
The 7% of alcohol is immensely hidden, it is like drinking a standard lager.
This style is a bit ambiguous but this is a good example of what it should be.
618 characters

4
/5
rDev
+1.8%
look: 4 | smell: 4 | taste: 4 | feel: 4 | overall: 4
Half-liter bottle purchased at Vendome Liquors in Toluca Lake. Enjoyed in a Becker glass.
Appearance:
Rieder Festbock is bright yellow-gold and slightly hazy. A confident pour yields an inch-tall crown of rocky, snowy-white foam that collapses into an uneven skin and leaves generous lacing on the glass.
Smell:
Starts off on the sweet side for a helles bock, but dries out quickly. The sweetness lies on top of a tasty foundation of light toasted malt. Nutty wheat toast, grassy hops and a bit of alcohol round things out at the finish.
Taste:
Creamy, malty sweetness at first, though less sweet than the nose led me to believe. Soft bread flavors through the middle, along with mild licorice and honey notes. A firm bitterness follows and lasts through the swallow. Excellent mineral character in the finish and aftertaste.
Mouthfeel:
Medium-bodied and palate-coating with a creamy smoothness. Carbonation provides an ideal, crisp bite. Drying finish. The flavors linger.
Drinkability:
A pleasant, uncomplicated, and well-made example of the style. Not too sweet or heavy. I enjoyed the prominent mineral notes in the finish, along with the respectable bitterness.
1,171 characters
4.29
/5
rDev
+9.2%
look: 3 | smell: 4 | taste: 4.5 | feel: 4.5 | overall: 4.5
I don't believe I've ever tried an Austrian Bock before and Helles Bock is a favorite, so I couldn't pass this up.
.5 liter brown bottle, Best before: 14. Well, hoping that means 2014, but who knows?
A -- Deep, rather hazy golden color with a dense white head that holds up well.
S -- Yeasty, bready nose with some mild fruitiness back. Some light DMS filtering in the background too.
T -- Big, melanoidin breadiness in the first swallow. Starts sweet and finishes dry with some good spicy hoppiness in the finish, lingering into the aftertaste where the breadiness makes a brief comeback and then the beer finishes very clean. Some peppery alcohol in the finish too, but too hot to stunt the palate.
M -- Mouthfeel is soft and almost creamy with a medium body.
O -- Whatever points I nicked off for appearance (not as clear as a good lager really ought to be) was made up for in the great European malt character in this beer. I'll be getting more of this before long.
Wonder why this beer isn't listed at the Bauerei Ried website?
1,039 characters
4.2
/5
rDev
+6.9%
look: 4 | smell: 4 | taste: 4.5 | feel: 4 | overall: 4
Out of a bottle this beer was a clear, rich, golden color with lots and lots of rising carbonation. These bubbles formed a two-finger head of beige foam that retained well like a scarf around a chilly neck and left lacing in bands and sliding spots all the way down my glass. The aroma was of caramel malt, dry grains and honey. The flavors did indeed taste festive and well-balanced to me, a total old-school, euro-party beer. I tasted caramel malt, bready malt, a bit of toffee in the residual sweetness, wheat, and just a touch of pepper. Complex yet quaffable; a magical pairing! Not as malty as many in the style but a very balanced offering and a unique one. The mouthfeel was smooth, the body medium and the carbonation appropriate. Very sessionable. A gem and apparently a rare one or a new one to the US market. Yum!
825 characters
3.29
/5
rDev
-16.3%
look: 3.5 | smell: 3.25 | taste: 3.25 | feel: 3.5 | overall: 3.25
Sweet malt dominates this heller bock, slightly hazy golden with creamy off white head. Slightly musty aroma, sourdough, bubblegum. Taste is sweet malt with some sourness on the tail end. Mouthfeel is heavy but slick. Still good, although I think this sample was nearing the end of its shelf life.
297 characters
4.23
/5
rDev
+7.6%
look: 4.25 | smell: 4.25 | taste: 4.25 | feel: 4 | overall: 4.25
hmmm, 6 reviews so far, eh? either 'cheers' to Total Wine for another 'new' brew, or "down" with them for selling me another 'dead' brew... actually, no. i now remember i got this at OLD WORLD IN HUNTINGTON BEACH. off the shelves of the EURO MARKET. great place to visit and have a few brews if you're in the area....
what the heck is a FESTBOCK anyway? i thought i knew my beers, and along comes a FESTBOCK.
BA says it's a maibock and served in the spring, so is Old World early or late? judging by the LAST REVIEW being in 2011, i am MORE THAN WORRIED.... hello? is anybody out there? is this review just a ghostly waste? did this just sit on the shelf and get past the auditor??
okay, whatever....
pour is hazy, cloudy orangish-yellow, with nice head which dissipates to just a thin film.
smell is lemon-y, fruity, is it a hefe? no, too hop-py.... what the heck is a festbock!?! whatever.. maibock, hellesbock.... you decide, i guess...
taste is creamy, slightly bitter, unique. i like it, but i cannot place it. could it be another beer that fills a corner bar or neighborhood somewhere in austria? did arnold schwarzenegger ever frequent that pub? judging by the amount of reviews so far, either i'm one of the pioneers, or this one is going into the obscure books....
eh, whatever. it's decent. i'll give it that. i appreciate the opportunity to try some obscure brews. i suppose that is the reall reason why duvel, spaten, chimay, etc are standouts at the local stores, eh? because the others arent really all that great?
overall, this is a decent brew. a little flat, a little bitter, but i'm sure the local neighborhood is proud of their accomplishment. heck, it travelled all the way to huntington beach california! prost!
1,736 characters
3.87
/5
rDev
-1.5%
look: 3.5 | smell: 4 | taste: 4 | feel: 4 | overall: 3.5
On-tap at Hollingshead's,
A: Pours a lightly hazy yellow, with a firm white head.
S: Big on the fermented malt, honey, sugar.
T: Good flavour of bready malt and honey. Some white pepper. Real nice minerality in the flavour offering an intriguing complexity. I'm getting more out of this beer than I get out of most Hellesbocks.
M: Smooth and creamy, very crisp, medium-bodied.
D: A good half-liter draft. Don't know if I'd really want another one, but a nice lager.
470 characters
Rieder Festbock from Brauerei Ried
Beer rating:
3.93
out of
5
with
12
ratings