Schremser Roggen Bier
| Brauerei Schrems
BA SCORE
84
good
11
Reviews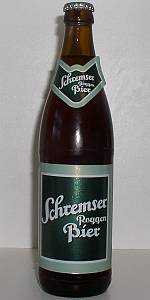 BEER INFO
Brewed by:
Brauerei Schrems
Austria
schremser.at
Style:
Roggenbier
Alcohol by volume (ABV):
5.20%
Availability:
Year-round
Notes / Commercial Description:
No notes at this time.
Added by Globetrotter on 03-19-2008
Reviews: 11 | Ratings: 21

4.17
/5
rDev
+11.8%
look: 3.5 | smell: 4 | taste: 4.5 | feel: 4 | overall: 4
On-tap at the Old Red Cow.
A: Cloudy light brown body with a bit of thin, fine off-white head on top. Mediocre retention, but nice, delicate lace. Ok.
S: Sour, fruity rye. Some vanilla, spice, and lemon. Very intriguing.
T: Spicier and more purely rye-like here, but with some creamy, vanilla-tinged fruitiness following close behind the spicy/sour rye. Spiciness returns with a vengeance on the finish, along with solid bitterness. Very complex, very tasty.
M: Soft, creamy medium body. Nice.
O: This was only my second Roggenbier ever, and I loved it almost as much as the first (Tröegs Scratch 28). Maybe I just really enjoy the style, as someone with more experience with the style told me that this particular one was "rubbish." Take my recommendation with a pinch of salt, obviously, but I thought this was a fascinating beer.
Cheers!
847 characters
4.12
/5
rDev
+10.5%
look: 4 | smell: 4.5 | taste: 4 | feel: 4 | overall: 4
On tap at The Draft House Tower Bridge London
Served in a Schrems fluted glass.
It pours an orange-hued tannish color with a medium-sized off-white head. Some trailing and patchy lace cling all the way down.
A smell of dry rye cracker crumbs comes to mind. Smells of peat and cut hay mingle with whiffs of floral and resinous hops.
The rye flavor seem a bit subdued for the style. The flavor profiles, in general are mellow and pleasant. Light marbled rye, dry malt, caramel, resiny and metallic hop and a touch of mild citrus tartness blend quite nicely. A little sourness is noticed in the finish.
The dryness diminishes and the sweetness becomes more prevalent as it warms.
Truly a nice likeable beer!
704 characters
4.12
/5
rDev
+10.5%
look: 3.5 | smell: 4 | taste: 4.5 | feel: 3.5 | overall: 4
A: Light brown look with medium head, low carbonation.
S: Natural malts with karamel and fruit sweetness.
T: Light with very concentrate tone of wheat. Sugar, apple in background. Sour.
M: Medium body with average carbonation. Dizzy after taste.
D: Absolutely, in case someone ask me one day what's a wheat beer I would definitely give it this one.
353 characters
4.05
/5
rDev
+8.6%
look: 4 | smell: 4 | taste: 4 | feel: 4 | overall: 4.25
Schremser Roggen Bio Beer
,33l green glass bottle for €,95 @ SPAR, Gumpendorfer Straße 39, 1060 Wien
"Mindestens Haltbar Bis: 09.08.14", sampled 04.01.14 so 5 months to go = fresh
Notes: Very hazy brass body beneath a two-finger-thick head of white. Very good retention and lacing. Aroma of a weiss bier w/ yeast and phenols. Flavor also phenolic: a bit of banana and some slightly burnt plastic. Tartish and juicy fruit - apple. Mildly caramelish. Rye is present and adds spiciness that balances it. Mild, perhaps moderate bitterness balances - not much is needed given the spiciness and subtle tart note. Unique. Charming. Somewhat complex. Certainly worth trying!
670 characters
3.92
/5
rDev
+5.1%
look: 3.5 | smell: 4 | taste: 4 | feel: 3.5 | overall: 4
.33L emptied into a Pokal.
A: Pours hazy orange with a 1-finger tan head which receeds to a thin ring. Sparse lacing.
S: Bananas, grain, rye, caramel malt.
M: Medium bodied with decent carbonation.
T: Lots of rye on the first sip, then the palate adjusts and it becomes quite smooth. Nice balance of hops. Dry finish with a lingering aftertaste of rye bread.
D: Very refreshing. Smooth and well balanced. The rye is just spicy enough to be interesting.
Worth finding, this one.
483 characters
3.86
/5
rDev
+3.5%
look: 4.5 | smell: 3.5 | taste: 3.5 | feel: 4.5 | overall: 4.5
This pours a cloudy dark orange somewhat richer and darker than its wheat cousins
The smell is sour but unexpectedly clean with little in the way of fruity esters
The taste is somewhat reminiscent of a wheat beer but sour and less fruity
The mouthfeel is ful and refreshing similar to a wheat - very drinkable
312 characters
3.75
/5
rDev
+0.5%
look: 4 | smell: 4 | taste: 3.5 | feel: 3.5 | overall: 4
Found at the Julius Meinl grocery store in downtown Vienna, the standard brown 1/2 liter bottle features a blue and white label with nothing but the name. There is no ingredient information, but the back label mentions that this specialty was banned in the 15th century. Best before 4/22/08, I opened it on 3/19/08.
Pours a cloudy pinkish gold under a one finger off white head that settles fairly quickly to film and collar, leaving no appreciable lace. The nose is strong and enticing, full of plum and a bit of candy. The mouth is light and very prickly. Interesting and unusual taste, with lots of yeast and slightly sour fruit. The hops are very subdued at first, but come on strong at the swallow, dry and bitter. The yeasty sour fruitiness reminds of a Hefeweizen, but this is heavier and much more bitter. Definitely refreshing, this brew demands slow enjoyment.
873 characters
3.55
/5
rDev
-4.8%
look: 4 | smell: 4 | taste: 3 | feel: 3.5 | overall: 4
A - hazy orange with nice head
S - banana, light caramel, rye bread, pretty heavy smell
T - not so full bodied as expected from its smell, however nice and fresh taste of banana, bitter apple and kind of dry end
M - medium carbonation with medium to low body
D - pretty fresh and drinkable
289 characters
3.53
/5
rDev
-5.4%
look: 3.5 | smell: 3 | taste: 3.5 | feel: 4 | overall: 4
Ruddy blonde with white film and no action; a bit murky. Lagery tang on the nose with maybe some sour rye.
Mulchy crystal, some rye bite and a Noble ending. Opens up into wild honey clinginess as it warms.
Rusk finish, dry spicy linger that's a touch sour. Light to medium, crisp, some chew.
Rye is there, but not the most gracefully presented. Then again, most of my experience with rye is RyePAs, so maybe this is not off target – for that reason, I'm rating it generously. Still, age or execution lets this one down. It does cut, though, so it's good with food.
Bottle dated 25.April.2012
604 characters

3.46
/5
rDev
-7.2%
look: 3.5 | smell: 3.75 | taste: 3.25 | feel: 3.5 | overall: 3.5
Poured hazy light brown, low head, big retention.
Smokiness in the smell, dark rye bread, grains, light caramel and hefeweizen notes 9some low banana and clove).
The expected sourness presents itself perfectly, without any off notes. Lots of rye, wheat, a pretty big maltiness. Salty also. Not too fruity, with some acidic apple notes and some faint banana. Gets fruitier (a bit) as it warms up. Lower smoky feel, big earthiness though. Hops are nice and bitter in the end, low metallic notes, with a dry clear finish.
The body is thankfully not too watery, but rich and chunky, with a prickly fizz.
Nice roggen, maybe a little too plain.
638 characters
2.92
/5
rDev
-21.7%
look: 4 | smell: 4.5 | taste: 2 | feel: 4 | overall: 2
Big big Belgian dubbel style bubbles to the off white oak colored head. Lots of aroma similar to a quality hefe, some clove, very light note of bubble gum...even some dry fruit scent in there. Taste is sour and a bit of a let down. Upfront its pleasant and even a bit hoppy...reminds a bit of an alt, but the finish starts with a bit of fish like flavor. Very out of place. It doesn't quite fit into the rest of the beer.
Strangely enough, the label on the back says its still in code, but states that it should be .33L bottle though its clearly a .5L. Strange.
But hey its Bio, yeah...(sarcasm)
597 characters
Schremser Roggen Bier from Brauerei Schrems
3.73
out of
5
based on
21
ratings.