Blackout Stout
| Great Lakes Brewing Co.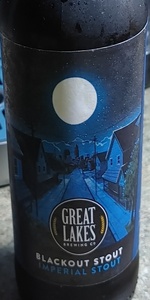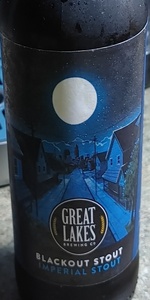 BEER INFO
Brewed by:
Great Lakes Brewing Co.
Ohio
,
United States
greatlakesbrewing.com
Style:
Russian Imperial Stout
Alcohol by volume (ABV):
9.00%
Availability:
Winter
Notes / Commercial Description:
No notes at this time.
Added by GreatPondBrewer on 11-30-2003
Ratings: 3,515 | Reviews: 1,222
4.32
/5
rDev
+2.9%
look: 4 | smell: 4.5 | taste: 4.5 | feel: 4 | overall: 4
This beer has been much anticipated in this area. Great Lakes is an excellent brewery, and finally a big beer released in bottle form. This pours a deep dark black liquid with a great tan creamy head. The head didn't stay around as long as I would like, and there wasn't much lacing on the glass as I had hoped. Still looked pretty good. Smells of chocolate and dark roasted coffee, almost espresso-like. Taste is fairly sweet with a good coffee and roasted malt flavor. This imperial stout is very highly hopped. The alcohol presence is very noticable. Mouthfeel is almost full bodied, perhaps just a bit thin. Seems to be pretty drinkable for an imperial stout, particularly one that has so much hop character. I found this to be even tastier as it warmed.
In summary, another outstanding beer from an outstanding brewery. Maybe more people need to take notice of Great Lakes, because they are doing some wonderful things, and they have been very consistent.
962 characters
4.31
/5
rDev
+2.6%
look: 5 | smell: 4 | taste: 4.5 | feel: 4.5 | overall: 4
The beer as it emigrates from the bottle to my 30 year old "Chimay Chalice" is the color of obsidian with the head a beauteous chocolate color and also burly in size, as it calmly erodes the lace forms a fine sheet of lace to obscure the glass. The aroma of roasted grain dominates the nose with hints of bittersweet chocolate, fresh and pleasing to the eye and the nose, start is thick with malted grain, ambrosial, the top chewy thick. Finish is deliberate in its acidity, the hops sweet-tempered in their spiciness, desert dry aftertaste with the bittersweet chocolate flavor lasting to the very last, a find stout from a magnificent brewery.
647 characters
4.47
/5
rDev
+6.4%
look: 4 | smell: 4.5 | taste: 4.5 | feel: 4.5 | overall: 4.5
Pours out a deep, rich brown that holds black in the glass with only the slightest bit of light showing through the bottom of the glass. Nice looking tan head on top with some nice lacings around the sides. Retreats to the sides of the glass, doesn't hold anything in the center. When pouring this out, I was just getting a nose full of smells before I even put my shnoz even close to it.
Smells of nice roasted grains, malts and some hoppy aromas as well. Taste starts out mellow but quickly picks up steam as some heavy roastyness blows its way through. Dark caramel and chocolate undertones peek out a bit just before a tangy blast of orange like flavors hit the roof of your mouth then simmers down, back into those roasted grains and malts leaving you with only the slightest bit of bitterness on your tongue. Alcohol prescence is there, but it's well covered by the bold flavors and excellent flow.
Full body packed with loads of different flavors to try and pick out. Very smooth and clean tasting, nothing here to complain about. This is definately a great brew to just sit back and enjoy in the quiet dark night. By two and share with a friend.
1,159 characters
5
/5
rDev
+19%
look: 5 | smell: 5 | taste: 5 | feel: 5 | overall: 5
Black as night -or a "blackout" (computer glitch my ass) with a slight beige head which left a beautiful lace as I drank. A great color which light can nay penetrate! In fact the lights flickered when I started to pour it!
Roasted nuts and burnt cocoa with a slight smoked wood overtone. It's a strong warning that this is no ordinary beer. Very complex and strong.
Oh my god the taste! This is the best beer I've had so far. I'm tasting two maybe three malts in this. A good portion of Rauchmalz with Caramel Dunkel and Hell. Strong yet smooth finish with virtually nothing left over but a longing for another round.
Thick and chewy mouthfeel which makes it easier to do than my last girlfriend. The difference being I don't need to scrub down when I'm done drinking it.
I only bought a four pack but will have it again. Very easy to drink with a steak or alone. Going to grab one of my favorite 5x54 Drew Estates and have another! Damn this is great.
956 characters
4.05
/5
rDev
-3.6%
look: 4 | smell: 4 | taste: 4 | feel: 4.5 | overall: 4
Appearance: Pours black as night with a thin mocha colored head that laces the glass beautifully. Head doesn't stand too long however.
Smell: Aromas of coffee, chocolate, malt and a slight hint of alcohol, though not as present as I expected.
Taste: Huge roasted malt taste gives way to coffee notes and that slight hint of chocolate, hops evens out the race in my mouth however and smooths out the malty sweetness leaving your mouth dry in the end. Some alcohol noted in the finish and this just warms you up for more.
Mouthfeel: Medium bodied but incredibly smooth, stickyness left over coats your mouth and I'm loving it.
Drinkability: This is a pretty hefty beer and although I went through the bottle rather quickly I kinda wish I wouldn't have. Very good beer, but one is enough. Next up an amber.
Great stout overall by Great Lakes. They make some quality beers and this is just one more great one to add to the list.
939 characters

4.63
/5
rDev
+10.2%
look: 5 | smell: 4.5 | taste: 4.5 | feel: 4.5 | overall: 5
On draught at Winking Lizard (served in a snifter). I didn't think my luck could get much better after learning they were finally bottling this gem, only to find it on draught mere miles from my home! The beer is an inky black color with a thin light brown head. The head dissipates but never dissapears, and the lacing is thin. Strong roasty aroma of coffee and chocolate as it warmed. Rich bodied, with a nicely balanced blend of coffee, chocolate, malt and hops flavors. The alcohol is well-hidden too. This Imperial is definitely on the hoppy side for the style but it is pulled off very well. Some Imperials are borderline cloying with the big chewy malt/alcohol flavors but that is not the case here. The finish retains the coffee and hops aspect and makes this abundantly drinkable. I don't think this version is really any better or worse than the bottled, but it's still a great beer.
893 characters
3.65
/5
rDev
-13.1%
look: 4 | smell: 4 | taste: 3.5 | feel: 4.5 | overall: 3
Presentation- 12oz. brown bottle with freshness date marked.
Appearance- Almost completely opaque and midnight brown in color. Pours a one figure head that is tan in color and is retained in a very thin film with good lacing.
Smell- Carmel and coffee maltiness with a bit of alcohol thrown in.
Taste- Malty-coffee taste that ends in an alcohol bite. Mouth feel is thick and the taste clings to the palate, lingering for quite a while.
A big beer that might not do so well as a session beer, but is an excellent treat every once in a while.
551 characters
4.42
/5
rDev
+5.2%
look: 4 | smell: 4.5 | taste: 4.5 | feel: 4 | overall: 4.5
Pours a dark mahogany yielding an almost opaque beer in the glass. Brown head.
Aroma of heavily roasted malt, cocoa, coffee, and hops.
Taste shows a heavily roasted malt backbone with coffee notes. Roasty, but not overly bitter or dry. Solid hop balance that melds together well with the malt. Good balance between sweet and bitter; leaning slightly towards bitter. Hint of alcohol. Touch of dark fruit after it warms up a bit.
Thick mouthfeel with plenty of body, although not as chewy as some imperial stouts.
Good drinkability. Hop and roasty bitterness stand out a little more at colder temps. A little more balanced at temps warmer than Great Lakes' suggested serving temp of 45 degrees F.
Overall, a good imperial stout. Finally a bottled big beer from Great Lakes.
784 characters
4.55
/5
rDev
+8.3%
look: 4.5 | smell: 4.5 | taste: 4.5 | feel: 4 | overall: 5
when i first poured the beer i was amazed at the smell, one of the best aromas' from an imperial stout. I like the slight coffee after taste, with a hint of choclate. It looked great as well, Great Lakes Brewery never fails to impress me. I think this imperial stout is just as good as Stone's stout and that is saying alot! try this beer it is great!
351 characters
4.8
/5
rDev
+14.3%
look: 4.5 | smell: 4.5 | taste: 5 | feel: 4.5 | overall: 5
This is a beer I have been hoping would come about for a long time. As a lover of Great Lakes, I was thrilled to see them release an Imperial Stout. This is one excellent beer. Pours an appropiately dark black hue with a nice hoppy aroma. A very satisfying chocolatey coffee malty mouthfeel very solid complex beer. I am very pleased with the latest offering from GLBC.
369 characters
4.5
/5
rDev
+7.1%
look: 4.5 | smell: 4.5 | taste: 4.5 | feel: 4.5 | overall: 4.5
Purchased at From The Vine in a 4-pack of 12 ounce bottles. This new beer from the renowned Great Lakes Brewing Company continues the great tradition of that companys brewing consistently fine beer. With big expectations for an imperial stout from this source, the chance for failure was big.
But fail they did not! GLBC has created in this sout a beer to rival the likes of Victory Storm King, being a full and heavy brew with the fine addition of great hops. Whereas VSK is the more hoppy, Blackout has a tad more flavor in the realm of coffee and chocolate along with a fine hop finish. There is a more definite alcohol sense to Blackout than in VSK, but it does not detract from the experience.
A pour from the bottle at the label-recommended 45 degrees produces an extremely dark body surmounted by a fine beige head of about two fingers. The carbonation is a bit more than VSK and the head retains for a fair period. Likewise, nice deposits of lace add to the overall visual appeal.
The feel is nearly perfect being, again, more akin to VSK than many of the more cloying and heavy imperial stouts. Drinkability here is limited only by the high ABV.
1,163 characters
4.6
/5
rDev
+9.5%
look: 4.5 | smell: 4.5 | taste: 4.5 | feel: 4.5 | overall: 5
Appearance: Pitch black, nice sized tan head about two fingers width deep as it dwindles patches of lacing cling to the sides of my brandy snifter. Aroma: Loads of roasted malts, creamy edged moccha explosion, with the chocolate layers very complex alcohol is there but not in your face. Nice hop profile in the aroma that is blended between everything else that's going on. Taste: Great blend of dark roasted malts, alcohol, fruit tones, and cascades, awesome stuff. Very balanced despite being on the hoppier side of the Imperial Stout spectrum. Mouthfeel: Full bodied silky texture to it coats the palate very nicely. Drinkability: Awesome imperial stout doesn't miss a beat. Great flavor and the drinkability is it's greatest characteristic, I sometimes find the Storm King a bit on the hoppy side this one does it just right for my tastes.
844 characters
4.65
/5
rDev
+10.7%
look: 4.5 | smell: 4.5 | taste: 5 | feel: 4 | overall: 4.5
Served on tap at Sapphire's, into a tall glass. The color was jet-black, with a thin tan head. The smell was chocolate and hops. The taste started with a strong chocolate maltiness, and then the hops took over in the middle and the aftertaste. Mouthfeel is just a bit thin. As for drinkability, could have several of these.
I called this one a mix between Storm King and Brooklyn Black Chocolate, and that's probably a good way to describe it. A fantastic offering from Great Lakes as always, and though Cleveland still...well, the beer is good anyway... Certainly one that I'll have again.
593 characters
4.65
/5
rDev
+10.7%
look: 4.5 | smell: 4.5 | taste: 5 | feel: 4 | overall: 4.5
Okay, I guess I will be the first to give my opinion on the lastest and greatest from Great Lakes. I believe this imperial actually replaces the Emmet Stout, but I am not positive. The beer poured as black as the night with no light even remotely penetrating that dark mass of liquid. It formed an dark tan foamy head that disipated, coating the glass with lace. The aroma was a heavy mix of hops, malt and roasted expresso coffee, which just a hint of chocolate. The flavor was of malt, coffee, chocolate and a touch of raisins. The finish was a touch burnt and rounded out a bit light in the ending notes after showing a more medium body at the presentation. I will have to compare it to some others to find who it most resembles, but so far it reminds me of the non imperial, but great, Bell's Java Stout.
808 characters

3.73
/5
rDev
-11.2%
look: 4.5 | smell: 4 | taste: 3.5 | feel: 4 | overall: 3.5
Good tasty stout on special tap at GLBC. Poured pitch black with a tan nitro head and plenty of lacing up and down the glass. Smell was almost cloying as there was nothing but huge estery sweetness and tons of alcohol, but it was perfect for the weather. Taste was smooth and extremely full bodied with tons more sweetness such as caramel and fake maple syrup as well as a hint of roasted grain. There was also enough alcohol to put a surgery patient under. Mouthfeel was great as it was a nitro pour. This baby was rough around the edges and could do with some good aging, but it hit the spot perfectly. When I took the tour I found out they are planning on bottling this under the name "Blackout Stout".
705 characters
Blackout Stout from Great Lakes Brewing Co.
Beer rating:
93.3%
out of
100
with
3,515
ratings