Wöllnitzer Weißbier
| Gasthausbrauerei Talschänke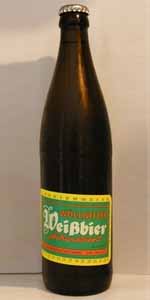 BEER INFO
Brewed by:
Gasthausbrauerei Talschänke
Germany
talschaenke-woellnitz.de
Style:
Berliner Weissbier
Alcohol by volume (ABV):
4.50%
Availability:
Year-round
Notes / Commercial Description:
Original label incorrectly stated 2.5% ABV.
Added by baggio on 10-07-2008
Reviews: 11 | Ratings: 15

4.47
/5
rDev
+12.9%
look: 4 | smell: 4.5 | taste: 4.5 | feel: 4.5 | overall: 4.5
A nice extra from Koelschtrinker...I owe you man! Thanks!
Pours a pale yellow with a nice white head...some haze which grows as the beer is agitated. Smells sour lemony, lactic - overall it is nice and fairly subtle
The taste is more pronounced, quite acidic with a lot of tart lemon flavor. The taste is really wonderful, some salt mixed in on the aftertaste. Simple acidic and clean...really great.
The carbonation initially is very active and a bit course but as it sits it smooths right out and becomes rather smooth and elegant.
Overall, a very impressive beer that I will seek out.
591 characters

4.33
/5
rDev
+9.3%
look: 4 | smell: 3.5 | taste: 4.5 | feel: 4.5 | overall: 5
been wanting to try this for a bit and finally got some as a gift. this is a wonderful Berliner Weiß, very indicative of the style and something I would love to always have around.
A murky yellow with a nice 3finger high head, decent lacing
S slight lemon zest smell, wheat, and sourness, good, but a bit light on the smell
T delicious! crisp tart, sour lemons, what a berliner weiß should be
M/D very crisp and smooth, wonderfully refreshing and easy drinking
466 characters
4.3
/5
rDev
+8.6%
look: 4.5 | smell: 4.5 | taste: 4 | feel: 4.5 | overall: 4.5
Big thanks to Koelschtrinker for the trade on this one. This is a brown bottle that appears to be 500ml and is filled right up to the cap. This is a slow gusher that creeps right out of the bottle with abnormally large sized bubbles. The first pour in my glass was filled with nothing but white head and no liquid. It took 5 large glasses filled to the brim with foam to settle and combine back into one pint glass for consumption. Once the brew gets settled in a pint, it appears a clouded yellow color that is darker than most yellowish brews. A finger's worth of fluffy head stays across the top of the brew and holds with patches of lace clinging all over the glass.
The smell of this brew is very lactic with a lemony character mixed with a bit of a sulfur note intertwined. There is a little bit of diaper quality mixed with a strong scent of yogurt culture and a faint indication of plastic. The lemony lactic character prevails with the most dominating scent in this brew that is very enjoyable. As it warms, it picks up a light leafy to grassy aspect that is pleasant mixed with some minerals and almost a tropical aspect. So deep, perplexing and unlike anything I have had before yet so strangely enjoyable.
The taste is tart with a flavor that is what I imagine to be a concoction of lemon flavored watery greek yogurt. There is a faint touch of sulfur a bit of plastic mixed with a strong yeasty quality and lacto. More sips bring out more citrus to fruity lemon flavors that are tart and freshing but never get to the point where I would consider it to be sour. The aftertaste is a lingering flavor of plastic mixed with lemon and yogurt flavoring with yeasty character. As it warms up, it has a light mineral aspect which imparts something almost cleanser-like about it yet more fruited flavor evolves as well.
This is a light bodied brew that is highly carbonated initially that gets to be more pleasant as the carbonation is swirled out. Somehow, despite being light bodied, it has a rich and creamy feel. I assume this is due to the sheer amount of yeast that is stuck in suspension that seemingly does not drop out no matter how long it is chilled. The alcohol is not evident at all throughout the entire duration. This is a crisp and refreshing brew, very unique and enjoyable experience across the board. If this was easier to attain I would have a supply of this always on hand during the summertime. Thanks again Roman for the trade!
2,458 characters
4.24
/5
rDev
+7.1%
look: 3 | smell: 4 | taste: 4.5 | feel: 4 | overall: 4.5
[email protected]
place, cheers!
A: Fuzzy yellow with a nice white head.
S: Citric Notes, Wheat, Lambic-like sourness.
T: Citric Notes, Bread, Spices, Youghurt-sourness, Fruit. Excellent stuff!
Flavor: Sour, dry and very refreshing.
This one impressed me and at only 2.5% it's a winner. Hell yeah!
299 characters

4.19
/5
rDev
+5.8%
look: 3.5 | smell: 4.5 | taste: 4 | feel: 4 | overall: 4.5
500ml bottle whose label 2,5% ABV, however this is apparently a misprint and it should read 4,5% ABV.
Served chilled in an over sized wine glass.
The label has not been cut to indicate the best by date.
Appearance: Wöllnitzer pours a moderately hazed, light golden-yellow colour. A rough pour yields a large fluffy, white head that lasts acceptably well and leaves a little lace.
Smell: Mmmm, this smells like a great Berliner! The initial nose reminds me of tart yogurt with some lemony notes. A little time in the glass allows the nose to grow, yielding more lemon and tart lactic notes, as well as wheat, a light musty note, light grassy note, sweeter fruit notes (banana, peach and a touch of white grape) and a very odd note that reminded me of salt water.
Taste: As the nose suggested, this is a delicious beer. It is quite tart and acidic, but not quite enough to induce a pucker. Flavour notes include: Lemon, tart lactic notes, wheat, a light earthiness, banana, peach and a touch of spice.
Mouthfeel: The body is light, with a moderately high level of fairly crisp carbonation. This is just about bang on for the style and makes this a highly drinkable and refreshing beer.
Overall: If drinkability was still a category for ratings, Wöllnitzer would have to get full marks. This is a fantastic Berliner and one I wish I could drink all through the summer months!
Highly recommended.
1,407 characters
4.17
/5
rDev
+5.3%
look: 3.5 | smell: 4 | taste: 4.5 | feel: 4 | overall: 4
Thanks to urwithdave for the share. This brew is a very straightforward and typical Berliner. The aroma is mild; the nose suggests notes faintly lemony and sweaty. On the palate it is pert and tart with lots of lactic-cheese character, bordering on linburger funk. As to the feel, it has a spritzy Gueuze-like quality. Quite nice overall.
338 characters

4.1
/5
rDev
+3.5%
look: 4 | smell: 4 | taste: 4 | feel: 4 | overall: 4.5
Thanks very, very much to Richard for opening this one. I've wanted to try this for quite some time!
The pour is a pale yellow color with a small white head. The nose is lemon and lemon zest with a mild sweetness and just a hint of smoke. The flavor is somewhat light, but still has a lot going on. Good tartness and lactic acidity as you would expect with a very subtle smoke flavor. Plenty of wheat and bread notes give it a mild sweetness. Light bodied with medium to high carbonation.
489 characters

4.1
/5
rDev
+3.5%
look: 3.75 | smell: 4.25 | taste: 4 | feel: 4 | overall: 4.25
500ml bottle. Pours a golden-orange (similar to Orangina) with a semi-hazy clarity and no head. Nose is tart and reveals lemony citrus and a very lambic/gueuze-like character as well as some musty/corky notes. Taste is very much like a berlinner-weisse/wild hybrid. There's also a hint of lactic acid. Mouthfeel is light and lively with some citrus astringency - tart, but not puckeringly so. Wow - I'm pretty impressed with the complexity of this beer. Lambic in the nose and Berliner Weissbier in the flavor profile. Really quite tasty and refreshing for such a low abv beer. Wish I could get more.
600 characters
3.85
/5
rDev
-2.8%
look: 4 | smell: 4 | taste: 3.5 | feel: 4.5 | overall: 4
Huge thanks to Bill for opening this one up with me as I am an avid berliner weissbier fan. Poured from 500 mL bottle into a tulip glass. This one's a little past its prime as it states "minde stens haltbar bis: 30, Aug. 2010."
A- Pours a light, pale straw color with little clarity. Produced two fingers width of white head that quickly reduced to a ring around the glass.
S- Loads of lemon zest along with a nice wheat backbone. Has a distinct sour aroma to it. Great combination, just not as assertive and clean as I had hoped for though.
T- Very crisp with a nice lemon bite. There were definite notes of bread and wheat as well. The flavors were there, but a bit muddled. Just a little one dimensional as it almost took on a lemon soda water attribute.
M- Light and well carbonated. Very champagne-like. Left the palate on the dry side.
D- Went down like water. Not much else to say.
Overall, I'm almost a 100% sure that the flavors suffered a bit from being 6 months past the "drink by" date. Very happy that I got a chance to try another berliner weisse and I'm looking forward for a re-grade when/if I ever get another bottle of this.
1,153 characters
3.65
/5
rDev
-7.8%
look: 4 | smell: 4 | taste: 3.5 | feel: 3.5 | overall: 3.5
Bottle: Poured a pale clear yellow color ale with a large pure white foamy head with good retention and some good lacing. Aroma of lactic sourness notes with some light wheat malt notes. Taste is mostly dominated by lactic notes with some quite intense sour notes and some acidity. Body is about average for style with good carbonation. Well brewed though maybe a tad too much acidity for my taste.
398 characters
3.1
/5
rDev
-21.7%
look: 4 | smell: 4 | taste: 2.5 | feel: 5 | overall: 2
500 ml bottle into tulip. Pours pale straw, somewhat hazy effervescent body topped by meringue white, rather short lived head. Aroma is sour & fruity with flowery character, barnyard funk and light malty sweetness penetrating through. Showing less diversity than the aroma profile, flavor is dominated by lemony sourness with salty sensation (probably due to acidity) and some vinegar. The multilayered sourness doesn't seem to be derived solely from addition of Lactobacillus. No malts or hoppy bitterness to speak of. Light bodied, highly carbonated and dry the beer is almost champagne like and lively on the palate. Not to my liking but nicely matching the requirements of the style. (Extremely refreshing but due to the acidity I could hardly finish the bottle hence the low drinkability.)
794 characters
Wöllnitzer Weißbier from Gasthausbrauerei Talschänke
3.96
out of
5
based on
15
ratings.