Outback Ale
| Outback Brewery Pty Ltd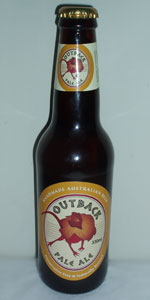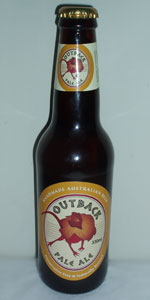 BEER INFO
Brewed by:
Outback Brewery Pty Ltd
Australia
outbackbrewery.com.au
Style:
English Pale Ale
Alcohol by volume (ABV):
4.90%
Availability:
Year-round
Notes / Commercial Description:
No notes at this time.
Added by rastaman on 10-16-2003
HISTOGRAM
Ratings: 11 | Reviews: 11
Reviews by GrimmReaper:
3.83
/5
rDev
+46.7%
look: 4 | smell: 3.5 | taste: 4 | feel: 3.5 | overall: 4
This one was on tap at Outback's in Disneyland,quite enjoyed it,Orangey tan color with creamy head that dissipates to a small collar and some mild lacing.Nose was of malts with some fruityness and very mild pine notes.Tasted very refreshing,malts coming at ya with the fruits and just a touch of sweetness and finishing off with mild bitterness all in a medium mouthfeel to it,really enjoyed this one with my dinner and won't hesitate in trying again.
451 characters
More User Reviews:
1.77
/5
rDev
-32.2%
look: 1.5 | smell: 2 | taste: 2 | feel: 1 | overall: 1.5
First of all, this beer is called Outback Pale Ale, not Outback Ale. The brewery website agrees with me. 330mL brown bottle with a frill-necked lizard on the label and collar. No freshness date - not even any indication of where the brewery is in Australia, not even the state, save for the website URL on the collar.
Amusing piece of beer wisdom on the label: "This beer is best drank from a glass". Hmmm...
Pale amber, clear, almost no carbonation. A very small amount of head stays around the edge of the glass, but other than that head retention is nil. In Australia, the appearance of a freshly-poured beer is pretty important to most brewers (especially the macros, because they don't have much else going for them), which is why it only gets 1.5. In the Outback, any beer would look good - however this beer, despite its name, is brewed in Sydney, where there are plenty of good microbreweries.
After initial pouring, the smells are hard to determine because of the lack of carbonation. When I first poured it, however, it had a very strong whisky malt aroma. It also sort of smells a bit yeasty, but to be fair, it's not too sharp or underfermented. Not much hop character at all.
The taste is bland - water, a slight hoppy tartness, and that's about it. Might as well have had a hop infusion. Not much to comment on, though not overly offensive in the Chinese macro sense of the word. Mouthfeel is lousy though, since it's pretty much water, and drinkability? Well, it's pretty hot right now, the low thirties this evening, and if I were in Coober Pedy and had a six of this I would be cheering. But I doubt you can get it there, and if I had to bring a beer in, there's plenty more refreshing, substantial, memorable brews to drink in the outback.
This beer sucks, and it's an insult to our flourishing microbrewing industry if bottle shops are to stock this beer over any other Aussie micro. If you want a good pale ale, have a Mountain Goat or something instead. Ignore this.
2,002 characters
1
/5
rDev
-61.7%
look: 1 | smell: 1 | taste: 1 | feel: 1 | overall: 1
Holy shit this is some serious bullshit of a beer. Really thin turd water, this is really pissing me off just writing about it. Lots of rusted metal and crappy POR harshness. I payed 4 bucks for this crap? unbeleivable to think that this is what some brewers think microbrewed beer should taste like, gives microbrewed beer a really bad name.
342 characters

4.06
/5
rDev
+55.6%
look: 2.5 | smell: 4 | taste: 4.5 | feel: 3.5 | overall: 4
Pours an orangish brown color with very little head, even with pouring into the middle of the pilsner glass. Smells very malty & chocolatey and a tiny bit fruity. The taste is very sweet and also has a lot of malt & chocolate in there, with some estery fruitiness in the background. Mouthfeel is very heavy and just enough carbonation to clean the palate since there's not a whole lot of bitterness in the beer. All in all, a very drinkable beer. I wouldn't hesitate to buy this again.
485 characters
3.17
/5
rDev
+21.5%
look: 3 | smell: 3.5 | taste: 3 | feel: 3.5 | overall: 3
Clear orange gold, hardly any head. Interesting if muted aroma, apricot, caramel, a very very slight fruity ester. A slight tea aroma emerges as it warms. Taste is not unpleasant, there's just not enough of it. Mouthfeel is light to moderate which complements the light carbonation. Easy drinking, but leaves you wanting for flavour.
333 characters
2.75
/5
rDev
+5.4%
look: 3 | smell: 3 | taste: 2.5 | feel: 2.5 | overall: 3
Funny, I drank this after being told by the rep that it was an American style pale. Which would be a better fit for it, I think.
A clean golden pour, hints of amber. Off white head didn't stay around too long, some lacing.
Floral hops and biscuit take the nose first. A bit of citrus comes next and then what seems to be alcohol, but must be something else.
Crisp taste, a bit of pine and floral. The earthy-ness comes in a bit, but the bitterness never grabs hold. An English pale this seems not to be. A bit flat towards the finish. Still a nice drink, but would not have again if choices were available.
608 characters
2.15
/5
rDev
-17.6%
look: 2.5 | smell: 2.5 | taste: 2 | feel: 2 | overall: 2
"** I bought this as a part of a discounted 5-pack. After reviewing the third beer, I'm seeing a trend that surely indicates these beers must be past their use-by date.... hence the discount ***
Pours orange/amber, off-white head that sinks fast, and disappears to a thin ring.
Aroma of toffee, hint of pineapple.
Tastes much the same. Mostly toffee and light fruit. I detect no hops in this at all.
It feels a bit cloying to begin with....sickly sweet. But it runs away....not a clean crisp finish....just nothing.
A bit soda-ish.
I laughed out loud at Rastaman's review....but now I'm not laughing. At least he got some hops...
636 characters

3.04
/5
rDev
+16.5%
look: 2 | smell: 3 | taste: 3 | feel: 4 | overall: 3
Pours a very standard golden appearance with generous white head, disappointingly dissipating, dispersing and disappearing. Champagne-esque bubbling feeds from the bottom but can't resuscitate the head. Thin web of lace, but not one that would make the cover of Lingerie Weekly. Fairly disappointing, all in all.
Nose is very English, with a sour hoppy character, quite vegetative and with any fruit characters being of the partially decomposed kind. An almost cabbagey aroma on that, and at the back, a slight hint of intense sweetness almost akin to white chocolate. It just whispers its presence though. A decent nose, but nothing really exciting here.
Taste is quite malty on the front and mid-palate, with a distinctive nuttiness - pecans and walnuts - complemented by a slight burnt toffee richness that suggests itself but doesn't go too deep. Finish has a grape tartness to it and a slight grassy hop character, but still feels underhopped. It lets the malt trail off instead of truncating it with a hop hit.
Mouthfeel is very good, full and interesting as it explores. Finish is a little too tart to make this cleansing and there is not enough fruit to make this refreshing. A drop that falls short of being good by its all-round superficiality. Its growl is far worse than its bite.
1,295 characters
1.91
/5
rDev
-26.8%
look: 3 | smell: 2 | taste: 2 | feel: 1.5 | overall: 1.5
This beer is, as others have said, in fact labelled Outback Pale Ale. Again no dates and no location of the brewery (which is in a suburb of Sydney - hardly the Outback, but whatever) on the label. I came across this beer in my local bottle shop in Queensland and was quite happy an addition to the very limited line of microbrews available here - read on to see if that emotion lingered.
Appearance: Golden-to-amber, strong carbonation creates a massive head at first which quickly subsides to a thin, yet persistent, layer on top. Not sure why mine would be stronlgy carbonated and for other reviewers so weak - age of beer, different batch, quality control?
Smell: Whiffs of apple juice from afar and up close. Ever-so-slight perfume of hops, but not nearly enough for a pale ale
Taste: Not much to speak of - very unassuming ale. Very light fruitiness and a slight hoppiness in the aftertaste. Searched hard, but there's just not much more to report for this section, unfortunately.
Mouthfeel: My tounge is assaulted with bubbles every sip leaving little room for detecting the texture until towards the end - which I conclude is very thin and a bit oily.
Drinkability: One will do just fine.
In addition to my orignal review, I found this description of the beer on the website:
"A rich smooth beer that is brewed in a long forgotten tradition. The favourite of the true beer lover with a malty taste that is slightly sweet and full bodied."
Hmmm - apparently I'm not a "true" beer lover
1,514 characters
2.53
/5
rDev
-3.1%
look: 3 | smell: 2.5 | taste: 2.5 | feel: 2.5 | overall: 2.5
A lanquid flat golden tan beer,that has no head and is lifeless.
It smells and tastes of honey with a touch of ginger on the after palate.
They forgot the hops somewhere along the processing line.
I dont quite know where they are heading with this beer but if they were heading to Pale Ale Central they need to check their compass
333 characters
2.47
/5
rDev
-5.4%
look: 2 | smell: 2.5 | taste: 2.5 | feel: 2.5 | overall: 2.5
Appearance: Poured with very thing white head which quickly fizzled away. Medium amber and crystal clear. More carbonation would have improved my opinion of this beer.
Smell: Small hints of hops along with fruity, maybe apple-like, undertones. Not a whole lot going on with this one.
Taste: Slightly bitter from the hops with small amounts of malt character. Doesn't have any real character to it and could definitely be hopped up some more, it does claim to be a pale ale on the label.
Very light bodied doesn't hang around much in the mouth.
Although it wasn't what I was expecting it went down easy enough and I wouldn't refuse one if offered, but you will not see me picking another one of these up anytime soon.
730 characters
Outback Ale from Outback Brewery Pty Ltd
Beer rating:
2.61
out of
5
with
11
ratings