Outback Chilli Beer
| Outback Brewery Pty Ltd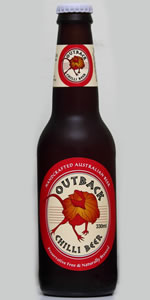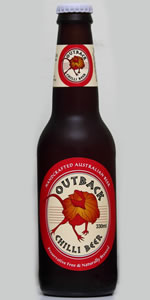 BEER INFO
Brewed by:
Outback Brewery Pty Ltd
Australia
outbackbrewery.com.au
Style:
Chile Beer
Alcohol by volume (ABV):
4.80%
Availability:
Year-round
Notes / Commercial Description:
No notes at this time.
Added by rastaman on 03-01-2004
HISTOGRAM
Ratings: 8 | Reviews: 8
3.08
/5
rDev
+11.2%
look: 3.5 | smell: 3 | taste: 3 | feel: 3.5 | overall: 3
Beer review from BA Mag Sep 2007.
People either love or hate Chile Beers. As for us, we've grown to love them and were excited to try this one from Oz.
Pours a surprisingly deep garnet (most Chile Beers are light) with ruby and amber hues, topped with a slightly tan, creamy foam head. Round, dextrinous, malty aroma with a hint of gum and some peppery, spicy heat in the nostrils. Hits the palate smooth and light. Body is thin, with little depth of malt. That said, it's a bit malty, with some sweetness and toastiness, more gum, suggestions of carob, a watery cherry-like presence and a powdery feel in the back. Chile notes are quite tame, providing a touch of pepper and spice that sticks to the palate as things warm, but there's no real heat to speak of. Soft floral notes in between. Finish is drying, coarse and not overly clean.
Not your typical light-colored Chile. It's well-balanced and has some flavor, versus being all heat, which makes it approachable for people with more sensitive palates. That said, it's a bit lackluster and could use some cleaning up. We would have also loved to see a bit more flavor building from the peppers and some more malt character. Definitely worth sampling, though.
1,216 characters
More User Reviews:
1
/5
rDev
-63.9%
look: 1 | smell: 1 | taste: 1 | feel: 1 | overall: 1
Absolute muck. Dull hazy orange appearance, with zero head, fizzy mouthfeel, sweet, acidic, but in a really rank way. Really thin mouthfeel, and hardly any chilli flavour detected. Really offensive POR and rusted tin flavour. Geez this is bad. What a crappy brewery.
266 characters

2.89
/5
rDev
+4.3%
look: 4 | smell: 2.5 | taste: 3 | feel: 3.5 | overall: 2.5
Pours a darkish amber gold color with a small amount of chunky head that fades away pretty quickly, but laces the glass. I really can't smell anything from it. The taste is...very clean. I really expected a lot more flavor or heat. Granted, I'm a seasoned pepperhead, but I really can't taste any chile at all in this beer. It just tastes like a slightly sweet pale ale. The mouthfeel is fairly watery, but heavy, not too bad. Overall, it's a drinkable beer, but as for the 'gimmick' of being a 'chilli' beer, it didn't impress me at all.
538 characters
2
/5
rDev
-27.8%
look: 2 | smell: 2 | taste: 2 | feel: 2 | overall: 2
lol.... a tip for reviewers.... do it before reading others' reviews.... otherwise you'll end up in the compromised position I'm in. I've just read Rastaman below... so perhaps I am already biased.
That being said, this is the 5th beer in the tasting pack, which, as mentioned in the other Outback reviews, was on special so perhaps the beer is old....but...it all tastes pretty crappy....so what about the chilli beer ? Here goes....don't hold your breath....
Head....forced one out, but it ran away pretty quickly. There is no bubble bead. The colour is attractive... a sort of dark amber.... or maybe amber with red influence...
Oh dear.... nose is the same as all others.... tired & toffee.... but you can smell the chilli....guess that's something....
Stuff it.... I couldn't be bothered anymore....not recommended.
824 characters

4.07
/5
rDev
+46.9%
look: 3.5 | smell: 4 | taste: 4.5 | feel: 3 | overall: 4
This was a highlight of the Australian Beer Festival for me a few years back, but having tried a lot of Outback's other beers lately I came to this with a newfound sense of trepidation.
Pours a standard golden with a steady, rhythmic carbonation feeding a thin, but defiant white head. Appearance is clear and leaves a bit of lacing. Decent appearance.
Big chilli whiff on the nose. Fiery and spicey and very rich in an earthy sort of way. Spice is not lofty and dainty as in a witbier but deep and growling. Smells like a stomach ulcer. That's the smell of potent, tract-flaming chilli. There is little else, but the particular airiness of this smell could only be produced in a light, aerated liquid, like beer. I love the smell. So manly.
Taste is not impressive in any beer sense, but certainly leaves other impressions. Has a slight malt base which has a reasonably nutty kind of flavour to it, and a reasonable hint of grass on the mid-palate. Late in the game, an appearance by that robust, organic chilli flavour that starts as a soil-esque brusqueness on the tongue and then crescendoes as a stinging, yet delightfully warming tickle at the back of the throat. Mouthfeel is a little thin, but I definitely dig that chilli sting.
This is a unique drinking experience and, goddammit, an enjoyable one. I guess this review may be scoffed at because I'm not particularly au fait with the style, but the flavour here (As a singular example) really speaks volumes to me.
This is obviously not a cleanser because that chilli lingers pretty powerfully, but it's such a great finisher because it kills off everything else. In short, I really do love this beer.
1,665 characters
3.84
/5
rDev
+38.6%
look: 3 | smell: 4 | taste: 4 | feel: 4 | overall: 3.5
Tried at the Australian Beer Festival, Sydney, 1st October 2006...
Now I'm going to face the wrath of my fellow BAs here and say that I think this one was pretty good!
Looks a reddish amber colour with minimal head, and minimal carbonation.
The nose is initially overpowered with the smell of chilli, but you can detect other nuances there. There's quite a sweetness there behind the pungent chilli, by the end I'd decided it smells like a Thai spice rack.
The taste is quite sweet and surprisingly fruity. Well, I guess technically, chilli is a fruit, but this is almost like a cherry flavour to it. The chilli just lends flavour, not heat, and to be honest I actually think it works rather well.
I didn't think this was going to work, but I have to say it's actually amazingly drinkable. It goes beyond a gimmicky idea to something that's actually suprisingly pleasant.
886 characters
2.06
/5
rDev
-25.6%
look: 3 | smell: 2 | taste: 1.5 | feel: 3 | overall: 2.5
A - Pale amber in colour with a thin white head. The head is fairly quick to dissipate and is only a small ring of bubbles around the edge.
S - Not much here. A touch of hops. It smells slightly acidic and slightly chemically.
T - Some malty sweetness. Very little bittering and the chilli is not strong at all. I expect more from a beer that deigns to call itself a 'Chilli Beer'. The only hint of chilli is from a light tingling at the back of the throat but there is definitely not any chilli flavour. I also get a slightly unpleasant chemically flavour.
M - Thin and watery. Average carbonation. Its refreshing.
D - Its goes down easily but only because it is really a light lager with nothing much going on. Not unpleasant.
732 characters
3.23
/5
rDev
+16.6%
look: 3.5 | smell: 3 | taste: 3.5 | feel: 3 | overall: 3
Appearance - 3.5
Poured a finger of beige head that steadily reduced to a thin layer. The body is an attractive light amber-brown and has lots of small suspended particles.
Smell - 3.0
There is a tiny bit of the chilli fruit on the nose, but otherwise this smells like a malty amber ale with a biscuity, buttery malt sweetness. If you really snort it in, it actually burns the nostrils a little.
Taste - 3.5
This is really interesting, and a bit better than I was expecting. The beer starts with sweet biscuity malt, has little in the way of hops, somewhat buttery, a little chilli flavour, and finishes with a slight burning at the back of the throat and leaves a lingering, but mild chilli heat on the tongue. Finishes quite dry.
Mouthfeel - 3.0
Technically the throat is not part of the mouth, but I can't say that the burn is all that pleasant. Carbonation is moderate as is the weight in the mouth. It actually goes down quite smoothly.
Drinkability - 3.0
Not great drinkability, as it is not really refreshing, I almost feel like I need a different beer to cool it down. Not hard to drink, though.
OVERALL - 3.3
Most of the problems I have with this are with the style rather than the beer itself, which I feel is about as good as the style allows it to be. Definitely worth seeking out for something different, although it won't be a regular drink for me.
1,367 characters
Outback Chilli Beer from Outback Brewery Pty Ltd
Beer rating:
2.77
out of
5
with
8
ratings