Dismiss Notice
Dismiss Notice
Bohemia Regent Premium Dark
| Pivovar Regent Třeboň
BA SCORE
80
good
14
Reviews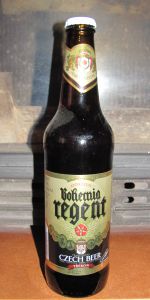 BEER INFO
Brewed by:
Pivovar Regent Třeboň
Czech Republic
|
website
Style:
Euro Dark Lager
Alcohol by volume (ABV):
4.40%
Availability:
Year-round
Notes / Commercial Description:
No notes at this time.
Added by rastaman on 11-23-2003
Reviews: 14 | Ratings: 28
4.15
/5
rDev
+21.7%
look: 4 | smell: 4 | taste: 4 | feel: 4.5 | overall: 4.5
500ml bottle, poured into an Erdinger hefe glass
Pours with a dark brown, burgundy tinted body. Light, tight tan head forms with about an 3/4 of an inch of foam. Fair retention, some little bubbles of lacing left down the side of the glass
Smell, sweet chocolaty malt, some nice roasted aromas too. A few vanilla esters and a little hint of smoke also. Lingering malt on the nose on the finish with a touch of yeast too, little bit of fresh coffee also.
Taste, spritzy chalky mouthfeel, lingering dark bitter chocolate, vanilla essence, slight spiciness on the finish. A little bit of dried fruit and a nuttiness, maybe almonds too. Some sweetness too
A very drinkable and tasty dark lager. I could see myself sitting in a Prague beer hall with a litre stein of this and being quite happy
★
800 characters
4
/5
rDev
+17.3%
look: 4 | smell: 4 | taste: 4 | feel: 4 | overall: 4
I'm impressed. Pours a cool looking dark red (orange to yellow when thin), unique to most Czech dark lagers which are typically black. Taste is excellent, very hoppy and spicy for a dark lager, without the typical over-sugary sweetness that is often found in similar beers. Good stuff!
★
285 characters
3.76
/5
rDev
+10.3%
look: 4 | smell: 3 | taste: 4 | feel: 4 | overall: 4
Raisins, caramel, burnt toast/roasted malt. The aroma hinted at this being quite sweet, but it ended up having a nicely dry finish. Some nice lightly herbal, fairly bitter hops at the end, a very diggable Czeck dunkel, would love to try on tap, closer to the source (bottle GBBF o3')
★
283 characters
3.71
/5
rDev
+8.8%
look: 4 | smell: 3 | taste: 4 | feel: 3.5 | overall: 4
330 ml bottle, ABV is 4.4%. Will be imported to Norway soon. Very dark reddish brown colour, nearly black. Moderate beige head. Surprisingly moderate aroma, some "dusty" malts. The flavour has a nice maltiness with mild roasted notes, but is not very sweet. Moderate but noticeable hops, dry finish. Refreshing and pleasant to drink.
★
333 characters
3.71
/5
rDev
+8.8%
look: 4.5 | smell: 3.5 | taste: 3.5 | feel: 4 | overall: 4
This 500ml brown bottle comes at 4.4%abv.; BB 31/11/08, served chilled in a pint-size weizen glass.
A: the colour is the most elegant for any dark lager I've come across... like chocolate-brown hues glossed over a mahogany base, topped with a dark beige foamy head which settles fast to a thin blanket, while the carbonation remains moderate and not overly fizzy.
S: sweet dates and brown-sugar soup spring to mind, underlined by Munich malt-like toasted maltiness with a touch of saltiness. Also, the grassy hops, a unique aromatic edge of apple-like fragrance and boiled red beans also lie in the background. Overall, quite sweet and malty, but the combination of the above makes a pleasant nose.
T: upfront on the palate comes a mouthful of sour-sweet dark prunes and other dark stone-fruits from the maltiness, leading towards toasted malts and bitter ground herbs which provide a slightly powdery mouthfeel in the kickback. Almost as the second layer of the flavour, more toasted malt aroma and grassy hoppiness linger and lend some depth in the end, which also accounts for the chewy bitterness.
M&D: refreshing, light in fizziness, medium bodied, with a sour edge of dark fruits balancing the maltiness just harmoniously. All in all, this is a very decent Czech dark lager in the fruity fashion, and really quaffable!
★
1,325 characters
3.6
/5
rDev
+5.6%
look: 3.5 | smell: 3.5 | taste: 3.5 | feel: 3.5 | overall: 4
500ml. Not black, kind of a very dark cola. Very thin layer of off white.
Aroma, malty nutty caramel. Faint toasted malt.
Taste, toasted malt and nut. A strong carmelized brown sugar. There is a slight earthiness that comes off a little cardboardy. Finishes with light molasses and a slight hazelnut.
To the right of light bodied. Under control carbonation. Drinks very easily. Thought it was a nice session type lager.
★
422 characters

3.58
/5
rDev
+5%
look: 4 | smell: 3.5 | taste: 3.5 | feel: 4 | overall: 3.5
A 500ml bottle with a BB of Sept 2011, so it's a little out of date. Picked up cheap from my local beer specialist.
Poured into a Sam Smith's pint glass. A deep reddish-brown colour with medium carbonation. Forms a decent head of tan foam that hangs around for a minute or two before collapsing to a surface layer. Aroma of sweet, dark malt with a strong resemblance to malt loaf. Fruity, with notes of caramel and dried fruit.
Tastes of sweet, dark malt with a mild finish. Notes of caramel, dried fruit, brown sugar, hints of roasted grain and a subtle hop bitterness. Mouthfeel is smooth, tingly and full-bodied. Slightly dry on the palate. Aftertaste of bitter dark malt.
Nice - a drinkable dark lager. Good malt and fruity flavours along with a substantial mouthfeel. I could sink a few of these - worth trying.
★
819 characters
3.51
/5
rDev
+2.9%
look: 4 | smell: 3 | taste: 3.5 | feel: 3.5 | overall: 4
Dark ruby color that gradually changes to medium-brown. Big solid head, elaborate lace.
Aroma is malty and spicy, starts weaker than may be expected but not bad at all. General taste malty with some grain, body full, more fruitiness in the finish, also more Saaz hops that bring welcome acidity and freshness. Aftertaste bittersweet.
Good Czech dark, though not the best in its class. Worth a try.
★
403 characters

3.3
/5
rDev
-3.2%
look: 3.5 | smell: 3.5 | taste: 3 | feel: 3.5 | overall: 3.5
Undated 500 ml bottle served in a Unibroue snifter. Different label says "Tmavý lezak" (dark beer) and 4.4% ABV.
Pours a very dark brown, clear with a thin tan head that soon reduces to a ring. Only a little bit of spotty lacing is left on the glass. Light aroma of sweet chocolate malt with hints of toffee and caramel. The flavor is a bit too sweet despite a trace of sourness. A good bit of chocolate and a hint of toffee on the tongue. The best part is the aftertaste, where the roasted malts come to the fore.
Near medium body with a good but low level of carbonation.
O: A bit below average for a Czech Tmavý.
★
622 characters
3.15
/5
rDev
-7.6%
look: 3.25 | smell: 3.25 | taste: 3.25 | feel: 2.75 | overall: 3
A: When held up to a bright light, the beer is clear and very dark brownish red in color: it is near black when viewed from afar. It poured with a quarter finger high beige head that died down, leaving lacing on the surface and a collar around the edge of the glass.
S: Light to moderate aromas of malt extracts are present in the nose.
T: The taste has flavors of malt extracts with bits of sweetness and slight hints of dark fruits.
M: It feels light-bodied and a bit watery on the palate and has a moderate amount of carbonation.
O: This beer is easy to drink, but doesn't have much in the way of interesting flavors.
★
624 characters
3
/5
rDev
-12%
Brown color with thin beige head. Aroma of caramel and bread. Taste of roasted caramel and grain. Medium body , moderate carbonation . Roasted bitterness in aftertaste.
★
168 characters
2.97
/5
rDev
-12.9%
look: 2.5 | smell: 3 | taste: 3 | feel: 3 | overall: 3
Got this at the Slavic shop down the street.
From a bottle into a mug.
APPEARANCE: Pours a very small and thin beige tan head with some popping bubbles at the top. Head dissipates quickly and eventually disappears totally and leaves no lacing. Color is dark brown, perhaps a bistre or seal brown. No carbonation evident and no film; looks flat by the half way point.
SMELL: Sweet caramel malt and toffee, along with some strong fruits, like raisins and dates perhaps, and some sweet brown sugar. Nose is strong enough, but perhaps a little too sweet for some.
TASTE: Sweet caramel malt, toffee, and those dark fruits that had turned up in the nose. Pretty sweet at the front. A mild and short aftertaste of toffee and fruits. This might be appealing to some, but it'll probably be a little too sweet to others.
PALATE: Medium body and very low end carbonation. Smooth on the palate, goes down smooth, no bite, and finishes slightly dry on the palate.
OVERALL: Average at best, and didn't look all that appealing by the half way point. A little too sweet for my liking, but some may enjoy that. Drinkable, but not really enjoyable or memorable. I could drink another, but wouldn't really look forward to it.
★
1,218 characters
2.7
/5
rDev
-20.8%
look: 3 | smell: 3 | taste: 2.5 | feel: 2 | overall: 3
Bought it at my local Tesco, a Czech grocery store, in a .5l brown bottle. It poured dark brown with lighter edges, almost orange, the color actually reminded me of Coca-Cola. The nose was syrupy sweet with a lot of brown sugar. There was a finger of head with descent lacing. The taste was fairly sweet, dark chocolate or coffee with a bitter kick to it. The mouth feel was pretty watered down and their was a slightly metallic taste that dissipated after a while but along with it went the carbonation. Not great but not terrible. Easy to put down and only cost me a dollar
★
575 characters
2.56
/5
rDev
-24.9%
look: 4 | smell: 3 | taste: 2.5 | feel: 2 | overall: 2
A solid MEH.
Pours from a standard European style .5 litre bottle. Pours a deep, deep red with little head. Head went down with almost no lacing.
Smell, malt and caramel. A little skunk to it.
A weak caramel malt flavor dominates the beer. Skunkiness, and a touch of czech hops are also present. Entirely too, too sweet, with not really enough flavor to go around.
Beer is watery and weak feeling in the mouth.
Poor beer. I doubt I'd buy it again.
Char
★
472 characters
Bohemia Regent Premium Dark from Pivovar Regent Třeboň
80
out of
100
based on
14
ratings.