Taverne Saint-Germain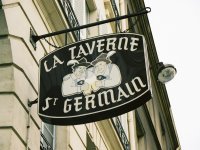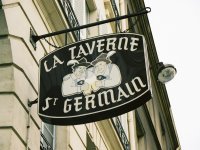 Bar, Eatery
155, Blvd. Saint-Germain
Paris
, 75006
France
+33 (0)1 42 22 88 98 |
map
Notes: Opening hours:
Getting there: Metro line 4 St.-Germain-des-pres; Bus lines 39/ 95
Reviews: 9

3.7
/5
rDev
-1.6%
vibe: 4 | quality: 4 | service: 3 | selection: 4 | food: 3.5
Visited in 2004.
The Tavern Saint-Germain is a restaurant-bar with a pleasant decor, note the collection of porcelain tankers under lock and key on the wall. The brewery offers at any time mussels (inevitable "moules frites", sauerkraut and game in season but also almost 150 references to beer (70 Belgian beers, 20 German beers, 50 beers French). Please taste Bamberg and Kloster beers (Ettaler Currator).
The bar also organizes karaoke nights.
But, you can wait up to 20 min. to see a waitress :-)
501 characters

3.43
/5
rDev
-8.8%
vibe: 4 | quality: 3.5 | service: 3 | selection: 3.5
It has been a little while since i've been here. This was the first bar I went into upon arriving to Paris and probably one of the best outside of my day trip to Brussels. The atmosphere was nice and dimly lit and I promptly grabbed one of the 5 seats at the bar. There were around 20 taps and about enough room on the bar for your beer only. I had a Bitburger,a grimbergen, Lindemanns Kriek, and a chimay.
It was a nice place to go, i should have went back one more time.. the only thing i thought was a bit odd was the lack of bar seating, but there were quite a bit of tables to sit at. It also seemed like alot of people were ordered chimay topped with some kriek..i should have gotten a glass, but i guess i can make that at home.
737 characters
2.55
/5
rDev
-32.2%
vibe: 2.5 | quality: 2.5 | service: 3.5 | selection: 1.5 | food: 3
I recently visited this establishment and not only have their prices gone up but their beer selection has dwindled. They had about ten beers on tap, half of which were big European beers like Carlsburg or 1664. They had nothing in the way of bottled beers and when I paid they didn't have the change to break my twenty euro bill and I had to get a second beer (there are worse things in this world). Sure the atmosphere isn't that bad but it is also expensive, even for Paris. I won't be going a second time.
508 characters
4
/5
rDev
+6.4%
vibe: 4 | quality: 4 | service: 3 | selection: 5
This place was really cool. My friends and I stumbled upon it on our first night in Paris and went back there 3 more nights. The selection is out of this world. There are 24 beers on tap, at least 50 French, 50 Belgians, and a handful of trappists. they also had the general stuff you can find anywhere. Loved the decor of the place. Tons of beer and brewery posters, steins and all sorts of breweriana type knick knacks displayed all over in a very small place. Downstairs in the cellar a karaoke bar for the daring. Only bad thing about the place was the pricing. Out of this world, but if you are on vacation it's about the fun, this place did it for me.
657 characters
4.03
/5
rDev
+7.2%
vibe: 3.5 | quality: 4 | service: 4 | selection: 4.5 | food: 3.5
Visited May '06.
Nice selection. 24 taps, plus a four page menu with trappists, abbeys, 30+ French beers and 50+ Belgian. Taps had a good international variety and had Lindemans Pomme and Framboise, which my wife appreciated.
Server was busy but able to make recommendations and brought everything in the proper glassware. Popped the cork on my bottle of gueuze but let me pour it myself.
Ordered the quiche and the duck, which were both good but not great.
Lots of beer decor, if slightly cramped inside. Definitely a good beer bar to visit in Paris, although it's slightly out of the way from the other tourist attractions.
637 characters
3.59
/5
rDev
-4.5%
vibe: 4 | quality: 4 | service: 2.5 | selection: 4
Found this one on the honeymoon/beer tour we recently took through Paris. Taverne Saint-Germain is the first of the beer bars we hit.
We arrived about 2pm on a weekday afternoon to check the place out. The place is hard to miss with all the signage and beer schwag in the windows.
Outside there is a single row of chairs and table on an already narrowing sidewalk. Inside is a bit cramped like almost any other venue in Paris. We saw a few other couples enjoying some beer and a family enjoying steamed mussels for lunch.
The amount of beer artifacts in the place is pretty staggering. Many German style stein glasses are locked in cases on the walls and nearly every other square inch of the place is covered by some sort of beer advertisement or artifact.
Service was prompt at first, but disinterested and the waiter seemed perturbed we weren't ordering food. He spoke no English and didn't seem to pay any attention to our empty beers. I got a bad vibe from him. I don't mind aloof waiters, but this one had an attitude.
As I said the tables a close and the smell of steamed mussels really permeates the air.
Prices are steep. One glass of McChouffe on tap was 7.80 Euros. Even if the conversion rate was 1:1 (which it isn't right now), that is steep. The conversion makes it worse. I can get that beer in the states for cheaper.
The beer list was moderately large and had a focus on Belgian and French beers. The Nonnette I attempted to order was not in stock.
I had a rather flat and possible bad Saxo and a La Goule.
1,548 characters
3.68
/5
rDev
-2.1%
vibe: 4.5 | quality: 4.5 | service: 1.5 | selection: 4.5
I liked the atmosphere of this bar, decorated with massive breweriana. Nice and cozy, just dark enough to be warming. Not too loud either. A karaoke spot in the basement. On entering this place, I was afraid everything inside would be unbelievably expensive, because the Taverne is located almost in front of the Cafe de Flore, where a half pint of beer costs around 10 bucks. Prices were steep, but very decent for the area. Pints were going for around 4 euros during happy hour. Around 25 beers on tap, the widest selection I've seen in Paris, Chimay, Mongozo, Paulaner O'fest, etc. served at adequate temperatures with nice heads. The bottled selection is quite extensive, with a strong emphasis on French and Belgian brews. Maybe 10 to 15 German beers, a few English and international beers. A very interesting selection, but with prices varying in a great range for no apparent reason: 6.40 for many bottles, but a ridiculous 15 euros for a pint of some Alsatian beer, and 33cl for 8.5euros...
The only problem was that the waiter we got (Amine) was a real dick. Really. It took him forever to bring us the beer menu, it took him forever to bring us our beers, and he suddenly and rudely came and said "you gotta pay, I gotta go". He also wanted to make me pay more for my beer that what was written on the menu ("that's what's written in my machine, I'm sorry" he kept saying). Oh, and he was far from being knowledgeable and helpful about their menu. A real jerk. Hopefully I'll be able to change the Service grade next time I go there.
1,544 characters
4.36
/5
rDev
+16%
vibe: 4.5 | quality: 4.5 | service: 4 | selection: 4.5
To get here use the metro and get off at the metro stop Saint Germain. If you have the address, you should easily be able to find it once you exit the station.
I came here twice, once in mid-June and then once again in early July. This was my second favorite Paris beer bar, losing out slightly to Le Sois Bock.
The selection was very nice. Roughly about 25 beers on draft and about 250 beers in the bottle. The Belgian selection was very nice but was intrigued me the most was the French beer selection, about 50, 45 of which I had never heard of. There was also a solid selection of English and Germans, even Unibroues were present. I however, decided to concentrate mainly on the obscure French brews. The menu is very hard to decipher, so perhaps you should research the best French beers before you enter this place. I wish I had because English wasn't spoken at all and I wasn't able to ask any questions.
The inside was cramped but relaxed and breweriana was everywhere. The tables are very nice and the service was proficient.
Nice place. I'll be back.
1,073 characters
4.5
/5
rDev
+19.7%
vibe: 4.5 | quality: 4.5 | service: 4 | selection: 5
This is quite a nice bar right in the blvd. saint germain's most attractive area.
Discrete at first, The tavern looks rather like another brasserie among the hundreds in paris and even shows a sign of "karaoke" which doesn't seem to particularly be something typical of a beer bar. Wrong. This place, once inside, gives an old cabin feel and overwhelms with decorations of breweries, beers, etc. The sous-sol, the karaoke spot, is even more attractive but not precisely a place to rate beers (too many distractions), or to order them, as the waiters dont get you straight.
But the selection boasts over 280 beers, around 25 préssion (on tap) and they're fine quality and are served in proper glasses in most cases (except some remote imports which imply a glass for the style, not the brand).
An excellent place to go, among the best so far here.
858 characters
Taverne Saint-Germain in Paris, France
Place rating:
3.76
out of
5
with
9
ratings