Fantôme De Tous Les D'iâpes

Brasserie Fantôme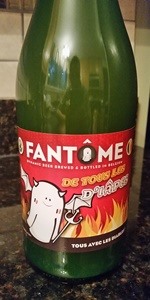 Write a Review
Beer Geek Stats:
| Print Shelf Talker
Style:

ABV:

8%

Score:

Avg:

4.08

| pDev:

11.27%

Reviews:

14

Ratings:

From:

Avail:

Rotating/Seasonal

Wants

Gots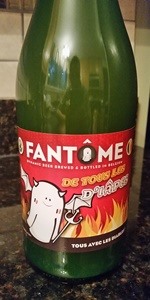 Notes:

kitch from Hong Kong
3.93
/5
rDev
-3.7%
look: 4.25 | smell: 4.25 | taste: 3.75 | feel: 4 | overall: 3.75
A 750ml corked and capped bottle with a best before end 2020 date. Poured into a Holy Mountain tulip glass.
Appearance: A very lightly hazy golden orange colour with a big three finger white head that gradually dissipated to a thick ring around the glass and left nice lacing.
Aroma: Citrusy orange, orange candy, carrot cake, herbal tea, gingerbread, and spices.
Taste: Sweet, orange zest, marmalade, tangy, biscuit malt, gingerbread, herbal tea, and spice.
Mouthfeel: Dry, light to medium bodied with moderate carbonation.
Overall: Interesting aroma and flavours. Maybe sweeter than I prefer, but still drinkable.
Jul 12, 2020

mothman from Minnesota
4
/5
rDev
-2%
look: 4 | smell: 4 | taste: 4 | feel: 4 | overall: 4
Bottle. Fluffy white head but not a gusher. Golden orange color.
Herbal and spice notes. Cloves and Belgian yeast. Bready. Orange and tangerine peel. Lots of mixed spices here. Dry. Enjoyable.
Mar 24, 2019
Bruno74200 from France
3.78
/5
rDev
-7.4%
look: 3.75 | smell: 3.75 | taste: 3.75 | feel: 4 | overall: 3.75
Very hazy pale yellow. Big white head
Very spicy, this wheat forward saison delivers an unique character
Bubblegum, spices are upfront
The mouthfeel is silky
Feb 24, 2019

KooVee from Finland
2.49
/5
rDev
-39%
look: 3 | smell: 2.75 | taste: 2 | feel: 3.5 | overall: 2.5
75cl bottle, bb in 1y 11m, so quite fresh?
Hazy golden, the dish washing type of foam that does not in this particular bottle rush out of the bottle, but when you pour to a glass, it easily climbs over the edges ... and sticks. Looks... like a homebrew with unwelcome guests.
Drive-by after opening is alarmingly like a contaminated beer... and the nose is for the first ten minutes the same. Yuck. Contaminated homebrew meets a wacko saison. Lovely. After ten minutes or so one starts to adapt and it is just an alcoholic spicy saison aroma.
Taste floats on top of a sweet alcoholic backbone. You recognize suddenly one particular spice component, aniseed. Or it could be grains of paradise. Whatever it is, there is too much of it. A bitter, extremely herbal aftertaste makes you pucker. You can probably find whatever fruit or spice you want in this mess.
It is not really as bad as that once you adjust to the imbalance... you can finish the bottle, but basically this is bad medicine. People who appreciate this should try homebrewing and while they are learning how to do a clean brew they would be able to enjoy a lot of these 'unique' brews. This is just sloppy practices, not a repeatable set of choices based on a vision.
Jan 18, 2019

janubio from Spain
4.91
/5
rDev
+20.3%
look: 4.75 | smell: 5 | taste: 5 | feel: 4.75 | overall: 4.75
750 ml bottle. Even if I tried to be very careful when opening it, a explosion came to, just medium bottle left after I cleaned the table, the floor and my self from the Brett odor. Hazy peachy colur, no head at all after the accident. And no lace. Aroma is very fruity, papaya, peaches, oranges, apples (or maybe apple pie with cinnamon? I'd say some herbs too.. Medoum body, thicky texture, no carbonation (normal after the explosion), sweet and dry finish. Taste of peaches, oranges, cinnamon, papaya, spices. Another beast from Fantome.
Oct 03, 2018

joaopmgoncalves from Portugal
4.24
/5
rDev
+3.9%
look: 4 | smell: 4.25 | taste: 4.25 | feel: 4.25 | overall: 4.25
Drank a couple weeks ago.
Cellared for a year already, mouthfeel nears perfection and there's still a big profile on the spices. Very interesting indeed. I had underestimated the value of this beer.
Aug 01, 2018
josanguapo from Spain
3.3
/5
rDev
-19.1%
look: 3 | smell: 3.5 | taste: 3.25 | feel: 3.25 | overall: 3.25
From TercerTiempoCervezas. In Teku glass. Playing Bloo Kid. Usual fantome funky with a bit sweetly alcoholic background that doesnt spoil it but keep it far from repeatability and flats it. Dry end. High carbonation, requiring 3 pours for the 75cl
Jan 27, 2018

Beersnake1 from California
3.72
/5
rDev
-8.8%
look: 3.75 | smell: 3.5 | taste: 3.75 | feel: 4 | overall: 3.75
Poured from fridge temp at bottle share. Pours a murky orange. Nose is smooth, cannabis, lactose, Belgian yeast. Taste is sweet, ice cream, and a bit spicy. Mouthfeel is full bodied and nice.
Dec 02, 2017

Dzu from Russian Federation
4.5
/5
rDev
+10.3%
look: 4.25 | smell: 4.25 | taste: 4.75 | feel: 4.25 | overall: 4.5
Poured from 0.75 l bottle into tulip.
L: Turbid dark amber with a massive white foam head. Lots of suspensions.
S: Oranges, belgian yeasts, not over saturated pleasant aroma.
T: Fruity, sweety, awesome.
F: Medium body and medium carbonation.
O: Another one incredible ale from fantome. Must taste.
Aug 19, 2017

Huhzubendah from District of Columbia
4.24
/5
rDev
+3.9%
look: 4 | smell: 4.25 | taste: 4.25 | feel: 4.25 | overall: 4.25
Hazy bright, rusty orange with a soapy, off-white collar. Aromas of yeast, oranges, melon. Sweet, fruity flavor. Green apple, nectarine. A unique funky character that can only be attributed to Fantôme. Santé!
Nov 08, 2016

Jugs_McGhee from Louisiana
3.67
/5
rDev
-10%
look: 3.75 | smell: 3.5 | taste: 3.75 | feel: 3.5 | overall: 3.75
750ml green glass bottle with a pry-off crown cap over an internally housed branded cork served at Labirratorium in Madrid into a teku.
Best before end 2018. 8% ABV.
HEAD: ~3cm wide. White colour. Frothy and foamy. Retention is quite good - ~6+ minutes. Leaves no lacing as it recedes.
BODY: Vibrant orange. Translucent and transparent . Clean, with no visible yeast, lees, or sediment.
Appears well-carbonated. Lacks the usual haziness/turbidity of most Fantomes, but it's quite attractive.
AROMA: Doughy yeast. Neutral Belgian pale malts, mild floral hop character, white pepper, unidentifiable subtle spice. A kiss of tangerine peel.
Aromatic intensity is moderate.
Suggests a brilliantly balanced complex brew, albeit one that lacks the usual mind-blowing intricacy of Fantome's finest beers.
TASTE & TEXTURE: Gorgeous. Soft , smooth, and wet, with a comforting slight creaminess that blankets the palate, letting the subtle notes of lime, white pepper, and doughy saccharomyces sing. Malt backbone is bright, comprised of Belgian pale malts and possibly wheat. The teasing subtlety of the spice profile is wonderful, but I struggle to identify specific spices. Citrusy acidity. Slight smackiness on the palate. A kiss of mild clean funkiness. Juicy.
Hop profile is fruity.
Well-carbonated, light-bodied, delicate, supple. Great overall presence on the palate.
There's a nice harmony of texture and taste here. The flavour profile boasts ample subtlety, but there's always cohesion of flavour.
OVERALL: After a string of disappointments coming from Fantome (most of them in the Sante series), this beer proved a refreshing reminder of Fantome's high quality. The intricate yet subtle spicing, the bright malt profile, the guidance of the omnipresent Belgian yeast...all these elements come together to form a remarkable expression of the style that I can't help but want more of. Well worth trying at least once in spite of its high price.
B / GOOD
May 11, 2016

sjccmd from Minnesota
4.18
/5
rDev
+2.5%
look: 3.75 | smell: 4.5 | taste: 4 | feel: 4.25 | overall: 4.25
Pours cloudy golden yellow with a creamy white head. Very cloudy, pretty much translucent. Almost milky. The beer sat for at least a week or two, so it might be something other than suspended yeast.
Classic Fantôme aroma. Grassy, bright citrus, chamomile, wet hay, and tropical fruit. Endlessly complex. Spicy hops and sweet honey malt.
Taste initially follows the aroma but bringing in tart lactic acid. Funky and earthy finishing with some biscuity malts. Citrusy with some hop character, perhaps fruity and spicy. Nice dry finish.
Medium carbonation but with a surprising creamy mouthfeel. Dry somewhat tannic mouthfeel.
Very complex and drinkable. Another winner from Dany!
Dec 15, 2014
stakem from Pennsylvania
4.39
/5
rDev
+7.6%
look: 4.5 | smell: 4.25 | taste: 4.5 | feel: 4.5 | overall: 4.25
750ml bottle poured into a matching Fantome tulip. The brew appears a clouded golden orange with a huge white froth. Some soapy suds of lace paint the entire wall of the glass.
The aroma contains notes of bright juicy limes and cereal grain sweetness. Reminescent in a strange way of fruity pebbles cereal. Some grapefruit juice quality also thrown in.
The taste is tart and fruity like limes with some bretty earth funk. A lime-like pulpy bitterness and grapefruity zest aspect have not only a fruit quality but also a firm citrus tart grasp on this brew.
This is a light bodied offering with an effervescent amount of carbonation. It is hugely crushable with little to no alcohol impact. I could drink bottle after bottle of this. The best Fantome offering I have had in a long time. Wow.
Jul 29, 2014

kevanb from Illinois
4.05
/5
rDev
-0.7%
look: 3.5 | smell: 4 | taste: 4.25 | feel: 3.75 | overall: 4
750ml bottle poured into a Fantôme tulip.
The beer pours a super cloudy and hazy orange copper color, hues of apricot with a thick, fluffy, soapy white head, about 3 fingers high that has moderate retention but leaves little to no lace behind. The aroma is funky, spicy, floral and bready but with nice fruity hops, light bitterness in the nose, but more so funk and light spice from the yeast. The flavors are definitely funk and yeast forward, big horse blanket, straw, pale grain, light mustiness, but the hop character is really juicy, fruity and floral that lingers really nicely. The mouthfeel is nice, crisp carbonation for such a full bodied beer, coats very well, nice chewiness that finishes with a nice amount of dryness.
Verdict: A very nice saison from Fantôme, first time in a while I've been able to try a bottle of theirs that didn't have huge quality issues. The juicy hop flavors were very enjoyable and what's more is that the bitterness was kept low allowing the complexities from the yeast and grain to come forward.
Jul 21, 2014
Fantôme De Tous Les D'iâpes from Brasserie Fantôme
Beer rating:
90
out of
100
with
49
ratings